In the build-up to Google I/O, which starts on May 17, Google has come forward to announce a few wins for its automotive portfolio: It has released the Android Auto mobile app, and two big-name automakers, Audi and Volvo, have taken up the Android mantle for their newest vehicles.
The company has announced the availability of its Android Auto mobile app on the Google Play store, which effectively turns your mobile device into an in-car infotainment system, gives you a pure(ish) Android experience in your brand new 2017 car or does it through aftermarket upgrades,with electronic companies such as Kenwood or Pioneer. The idea is that whether you're using your mobile device or your in-car system, Android Auto is now standardised.
Google's strategy for Android in your car is fairly simple: stick to what Android does right, clean up the interface, make it a little bigger, and then let the partners re-skin it, if they want to convey a stronger brand image. The interface restricts the use of certain more 'distracting' apps, and presents information in a cleaner way so the driver is less inclined to start tapping away at the screen and stays focused on the road ahead. If you have a decent mic on the device, it'll also let you issue voice commands, à la OK Google. 3rd party apps are still very restricted, though, and feature mostly video/chat/messaging and some online music services.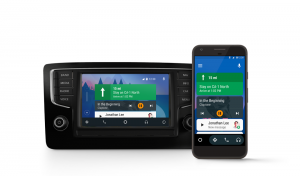 Audi and Volvo, as part of the announcement, come in  to lend their name as early adopters of the new & improved Android Auto – and will be demoing the new system at Google I/O. It probably comes as no surprise that the high-end automakers are also renowned for their security and reliability, which Google might want to have rub off on its own brand.
The Android Auto project began at Google I/O 2014, but overall industry support had been slow to build. The software lacked standardisation throughout the industry, and many automakers were still locked into deals with infotainment system suppliers, who relied themselves on open-source licensing for their software. Now with Android Auto making it to the big leagues, we're about half the way there: true integration will only arrive with CAN Bus integration, something that automakers will likely develop as ad-hoc APKs for their own vehicles.
KitGuru Says: It has taken quite a long time for Google's in-car computing option to mature, and it might've found renewed interest riding on the coat-tails of autonomous vehicle initiatives and "AI". However, we're not convinced this is the final form of Android Auto as CAN Bus integration would bring a lot more to the table… and that is the real industry support Google would need to get a leg up on the competition.