If you want to (re)watch *that* episode of Stranger Things, or are just Netflix and chilling with the bae, you might come across some trouble with using the Netflix app. Google Play might want to tell you your device is not compatible, even though it was working last week.
After looking into the situation, AndroidPolice got a reply back from Netflix stating that it uses Google's own Widevine DRM system to rate devices and validate installation. Widevine classifies devices as Level 1 or Level 3, depending on their security status and whether the device is provisioned by the manufacturer (i.e. it's not illegitimately unlocked or otherwise rooted). But this does not seem to explain the reports of Level 1 devices (highest security rating on Widevine), being refused installation, they said.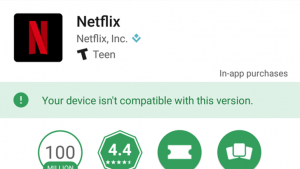 While Netflix officially argues installation of the app is blocked on devices which are rooted or unlocked, it seems there is another aspect to Google Play validation: as a paid service, Netflix relies on SafetyNet, Google's payment API used on Google Pay. To put it plainly, if the device looks dodgy for making transactions, then it's a plain "no" on installation. But just on Google Play. Even stranger is that if you already had the Netflix app installed, you won't be barred from using it.
All is not lost, though. Until Netflix changes its mind on this level of security you can still install Netflix if you're using a 3rd party APK market (just be careful it's not from a dodgy source), or simply by using APKMirror to get the installation file, including Netflix 5.0.5 build 16199,  the latest one. You'll have to allow Android to install it by changing your system settings, though.
KitGuru Says: There are so many ways to circumvent this sort of blocking that it's not even funny. By blocking installation of the Netflix app, this will lead to users seeking out the app from other sources, some of which may be potentially harmful.