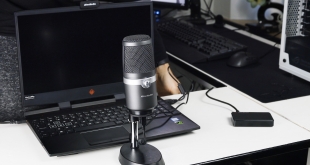 If you are looking to enter the world of live streaming or content creation then there is certainly a lot to learn, especially when it comes to hardware – and budgets can easily become stretched. For some this area can be quite daunting. AVerMedia have come to the rescue with the Live Streamer BO311 kit to make your journey much easier, more portable and much more affordable. The BO311 kit comes with everything you need to get started; a 1080p 30fps webcam, a USB condenser microphone and a tiny capture card capable of 1080p60 recording and pass-through all for just £229.99.
Watch via our Vimeo channel (below) or over on YouTube at 2160p HERE
Specifications:
PW313 Webcam
Capable of 1080p 30fps or 720p 60fps
USB 2.0 required
Has a wide horizontal 60 degrees field of view
2MP 1 /2.7th inch CMOS sensor
360degrees swivel and ball joint head for adjustment
Easy to use privacy shutter
Animated, face tracking, stickers
Dimensions 90 x 53 x 47 mm
Weight 130g
Read my dedicated review of the PW313 HERE!
GC311 Live Gamer Mini Capture Card
Micro USB 2.0 interface
Video input and output via HDMI 1.4
Capable of recording 1080p60
Pass-through capability of 1080p60
Dimensions 100 x 57 x 18.8 mm
Weight 117g
Tiny and super portable external capture card
Read Mellissa's dedicated review of the GC311 HERE!
AM310 USB Microphone
Requires USB 2.0 port as USB powered
Unidirectional condenser microphone
Cardioid polar pattern
Sample rate of 48 kHz
16-bit bitrate
Frequency response of 20 – 20,000 Hz
Dimensions 90 x 130 x 270 mm
Weight 468g
Purchase the AVerMedia Live Streamer BO311 over at Overclockers UK HERE for £229.99.
Pros:
Great value for a complete setup
Individually boxed items within the kit box
Provides everything you need to get started with content creation
Super portable set up
Good quality 1080p capture card
Budget price point is appealing to beginners
RECentral 4 is very easy to use
Works with other recording/streaming software
Cons:
No HDMI cables
Microphone stand isn't the best build quality
Webcam needs lights to ensure quality
KitGuru says: if you're looking to start streaming, creating content or you've already began your journey but you're now looking for a portable setup then the AVerMedia BO311 kit is certainly something to check out. During our testing we found each item complimented each other as a whole and we wouldn't say any one of these products lets the others down. If you're in the market for a 4K setup then this is not the kit for you but for streaming this is an excellent starting point.
Be sure to check out our sponsors store EKWB here