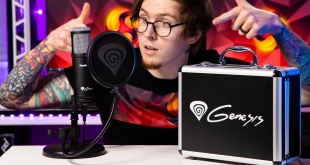 If you're a content creator or live streamer looking to improve your overall quality, you may be wanting to jump into buying your next webcam or camera… but don't! Ask yourself, 'is my audio quality good enough?' Audio is arguably the more important of the two and Genesis think they have the solution to your audio problems. Today we're checking out the company's Radium 600 "professional" USB microphone, but just how good is it? Let's find out.
Specifications:
Included metal flight case
Included metal adjustable desk stand
Included foam filter and pop filter
Included USB-B to USB-A cable 180cm
Matte black colourway
Condenser microphone
Frequency response 30 – 18,000 Hz
Sensitivity -36dB
Cardioid pickup pattern
Controls: mute, gain, headphone volume
5mm headphone jack on the microphone
We've not yet found the Genesis Radium 600 in stock, however we have been told to expect pricing around €92/£80.
Discuss on our Facebook page HERE.
Pros:
Excellent audio quality.
Condenser microphone captures your voice frequencies very well.
Black matte finish looks great.
Mute, gain, headphone controls and jack on the side.
Included metal flight case for travel.
Included dedicated pop filter and foam filter.
Great price point.
Cons:
USB only, no XLR option.
Included adjustable stand is awfully unstable and could cause audio issues with frequencies being picked up.
Very thin amount of shock absorption on the base.
KitGuru says: Considering you get a fair number of accessories for the (expected) £80 price point, the ease of use and and sound quality is great. If you're looking for a decent, affordable microphone then check out the Genesis Radium 600.
Be sure to check out our sponsors store EKWB here