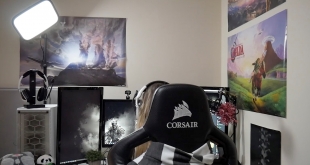 Elgato seems to be one of the few companies working to keep up with the rising demands of streaming communities as it continues to release beautiful, easy to use products that really improve the quality of streams and videos. With the amount of products it has released, the company has also appealed to a wider audience, not only just broadcasters but home workers, editors, photographers, make up artists and much more. 
The Elgato Key Light is designed to bring high-end studio lighting into your home – it contains 80 premium LEDS which output a whopping 2500 Lumens. The Key Light was made to replace those messy setups that a majority of broadcasters seem to have these days, with huge light boxes/ring lights taking up floor space where the only way to accommodate these heat generating lights is by having your desk in the middle of the room. Instead, Key Light clamps directly to your desk, creating a much tidier solution.
Watch our video review via YouTube below: 
Specifications:
Brightness – Up to 2500 Lumens which is adjustable.
Colour range – 2900 – 7000(K) Kelvins
Power Consumption – Up to 45 W
Product dimensions – 1.18 x 13.77 x 9.84 in, 30 x 350 x 250 mm,
Weight: 2.86 lb / 1.3 kg
Pole Mount Length: Minimum 22 in / 55 cm, Maximum 49 in / 125 cm (90 cm / 35 in recommended)
Connection Wi-Fi: 802.11 b,g,n (2.4GHz) Supported encryption: WPA/WPA-2
Compatible with Windows 10, macOS and Elgato Stream Deck.
Connects via WiFi and can be controlled via iOS Mobile App or PC/macOS Elgato Control Center
Box Contents:
Elgato Key Light
Pole Mount
Power Supply
4 AC Adapters (Type A/B, Type I, Type G and Type C)
The set up process of the Elgato Key Light was fairly easy. I did unfortunately have a bit of difficultly loosening the twist clamps and only managed to extend the height to 84cm (33 inches). I figured out that where the instructions diagram showed turn left to loosen, it was in fact needing to be turned right! For a while this had me stumped, although it turned out to actually be a pretty perfect height for my setup anyway. I have notified the company and this issue shall be rectified at the next printing process.
The pole mount feels very sturdy and upon installing it to my own set up, I did try and wiggle it as much as possible while it was clamped but it was very solid and secure. This meant that I had no fear of it moving by itself, or knocking over and breaking at any point.
I definitely think having the transition to the desk-mountable Elgato Key Light, has given me more freedom in where I am able to move the light to. I don't feel restricted as I did with a light on a tripod on the floor, shoved behind my desk against the wall taking up a lot of floor space. The Key Light is very easy to use, and I love the fact that you don't have to get up to turn it on/off.
Elgato has definitely thought deeply about the creation of this product and catered to their audience and our needs as broadcasters. They've made the product unique with the ability to change the colour of the premium LED lights, as well as changing the brightness levels so that it isn't too dark or blindingly bright. The integration for previous Elgato products is great for people who own already own them and definitely brings easy to use features whether you have the Stream Deck or not.
As a broadcaster myself, and having many of the Elgato products to help me with streaming and making my videos, it's also great that the Key Light works hand in hand with my green screen, allowing me to get the best lighting options to allow for a better looking chroma key image.
Overall, I would definitely recommend the Key Light. Yes, it's more expensive than a lot of the studio lights out there – however you simply have a lot more options, and physical space, by using Key Light. My setup is so much cleaner than it used to be and I don't notice this big eye sore every time I walk into my office.

You can buy the Elgato Key Light from Overclockers UK for £189.95 HERE.
Pros:
Easy to build and set up.
Very thin light box, making it look sleek, professional and very clean.
Adjustable colour ranges, brightness levels and you have ability to turn the light on/off using your PC/iOS/MacOS and the Elgato Control Center software.
Easy to manoeuvre to different positions depending on your needs via the desk mount.
Solid and sturdy build quality.
Can integrate with Stream Deck.
Cons:
One error on the instructions had me stumped.
No control over the Key Light via Android, due to lack of Android supported mobile app. Android phones can only be used as a WiFi piggyback.
KitGuru says: The Elgato Key Light is a great addition to my desk – it's easy to set up and use, while the end result looks great for streaming and video recording.
Be sure to check out our sponsors store EKWB here