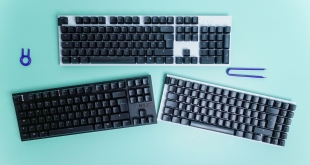 NZXT entered the peripheral market for the first time this year, releasing both the Lift mouse and the Function keyboards, the latter of which come in full size, TKL and mini TKL form factors. I already reviewed the Lift and although it's a reasonable mouse, it offers nothing exciting to the mouse market. Will the Function keyboards be the same, or will they give you a reason to part with your money?
Timestamps:
00:00 Start
00:51 The Range
02:03 The size & weight of the keyboards
02:49 The Design
03:17 Further customisation via Build website
03:50 Keyboards layout
04:14 Build quality / branding
04:50 Connectivity / functionality
06:10 Keycaps / switches
07:33 Typing sound test
08:09 Sound comparisons
08:40 RGB lighting
09:13 NZXT Cam Software
09:53 Closing Thoughts
Specifications:
ALL:
Aluminium top plate
Modular hot-swappable Gateron red switches
ABS keycaps
"Gamer centric" side buttons
Volume roller
Per-key RGB
Includes a keycap puller, switch puller and a braided 1.8m USB C to A cable
Full size:
Dimensions: 44.2cm x 12.7cm x 4.0cm
Weight: 926g
Includes silicone padded magnetic wrist rest
TKL:
Dimensions: 36.1cm x 12.7cm x 4cm
Weight: 774g
Includes silicone padded magnetic wrist rest
Mini TKL:
Dimensions: 33.8cm x 12.3cm x 4cm
Weight: 722g
No wrist rest included
The NZXT Function Keyboards retail between £99.99 and £129.99 and are available from Ebuyer HERE.
Discuss on our Facebook page HERE.
Pros:
Hot-swappable switches.

Streamlined look to match NZXT products.

Vivid RGB lighting (More vibrant on white models).

Removable braided USB-C cable.

Mini TKL retains all keys in a compact size.

Can fully customise with NZXT BLD website.
Cons:
Metallic ping from the aluminium top plate / lack of sound dampening.

ABS keycaps feel generic and cheap.

"Gamer-centric" buttons on the left are easy to accidentally press if you readjust your keyboard position when gaming.

Wrist rest feels like an afterthought.

No wrist rest is included with the Mini TKL even though it's not much smaller than the TKL.
KitGuru says: Although these look nice, none of the models have a "wow" factor, especially considering the price here. This is NZXT's first try at making gaming keyboards and my take-away is that they still have a way to go before they can compete with existing brands. If you want a modular keyboard and you already have an NZXT-themed set up, you may be tempted but otherwise, there are better options out there.
Be sure to check out our sponsors store EKWB here