As much as the HTC Vive's wand controllers are a good amalgamation of what it's like to hold a gun, thanks to their shape and trigger design, it's not quite the same as peripherals of gaming's past. Looking to change that is The Persuader, a realistic looking M1A1 Thompson that holsters your controller and lets you really gun down your enemies.
For a long time, one of my favourite genres was rail shooters. I played the hell out of House of the Dead 2 on the Dreamcast, Time Crisis on the PSX and House of the Dead: Overkill on the Wii. In each case I was kitted out with gun controllers, making me feel part of the action – so I'm pretty excited about what VR has to offer in that respect.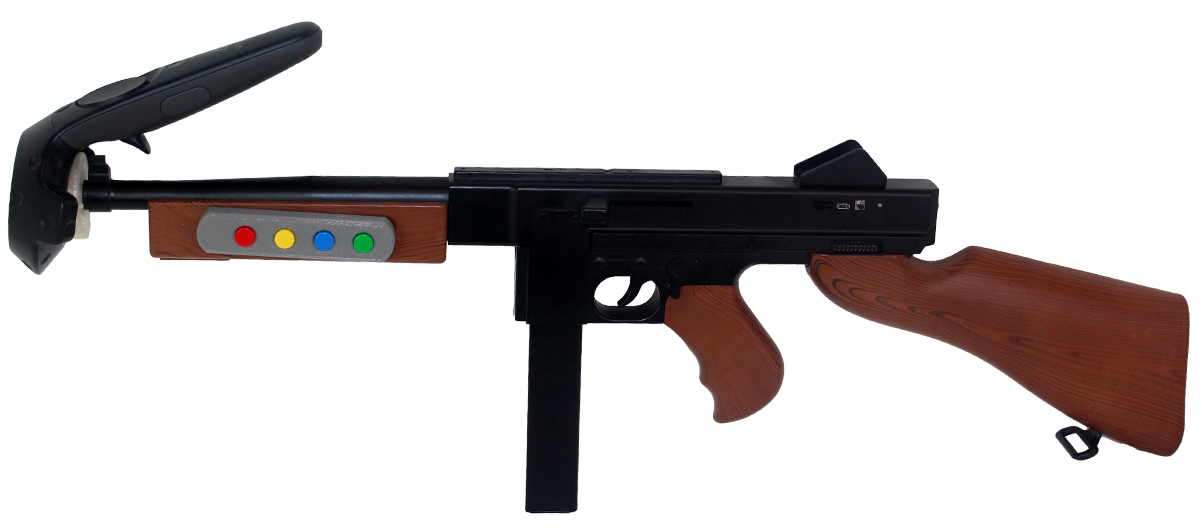 The Persuader is the first (of no doubt many) gun-like peripherals to augment your VR experience and you can order a development kit of the gun today. It's the classic Tommy Gun design, though without the iconic drum magazine. It sports a connector on the end that you hook your controller on to, and four coloured buttons for trackpad inputs.
[yframe url='http://www.youtube.com/watch?v=mpUsf6dxAK4′]
Currently it's only compatible with the HTC Vive, but we're told that Oculus VR and OSVR compatibility is coming down the pipeline.
In the above video, we see it working in a bespoke demo, alongside Leap Motion tracking, which allows for some of the finer physical interactions, without the need for more sensors in the controller itself.
If you'd like to give the gun peripheral a try yourself, it's available in devkit form for $200 (£150).
Discuss on our Facebook page, HERE.
KitGuru Says: It was inevitable that people would make these, so I'm interested to see what they can come up with. The price has got to come down though. Being a VR early adopter is already expensive. 
[Thanks UploadVR]