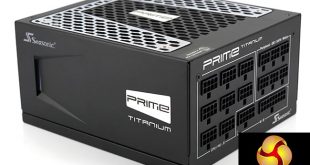 Seasonic launched their new PRIME series of power supply back in July and we were on hand to review the 750W model. Today we take a look at the more powerful 850W unit priced at £219.95 in the UK. This is a fully modular 80 Plus Titanium certified power supply featuring a large 135mm Fluid Dynamic Bearing fan.
Seasonic released Titanium rated 650W and 750W supplies in July, while the 850W model we review today was just released in August … this is followed by the flagship 1000W unit with availability set for November.

At the end of the year the plans are for Seasonic to release an additional 600W fanless unit – specifically targeting the enthusiast audience who love the 'sound of silence'. Based on the Seasonic track record in our labs we have high hopes for this upcoming fan less 600 watt power supply.
Seasonic also have plans to release Platinum and Gold PRIME supplies later this year at the end of Q3 and in Q4.
PRIME Overview:
Ultra-High Efficiency, 80 PLUS® Titanium Certified.
Micro Tolerance Load Regulation.
Top-Quality 135 mm Fluid Dynamic Bearing Fan.
Premium Hybrid Fan Control.
Super lower Ripple Noise (under 20 mV).
Extended Hold-up Time (Above 30 ms).
Fully Modular Cabling Design.
Multi-GPU Technologies Supported.
Gold-Plated High Current Terminals.