Gaming on the go is set to get a lot more impressive with this generation of mobile chips from Nvidia, and MSI, like many manufacturers, is looking to take advantage of that. It has a new line of gaming notebooks, each sporting new mobile Pascal GPUs, high-end displays and powerful processors, to deliver desktop-level gaming power in a laptop package.
We first heard about these new notebooks last week, where MSI teased the use of 4K displays, high refresh rate panels, innovative cooling solutions and much more, but we didn't know what GPUs they would have then. That was because Nvidia had yet to announce its new Pascal mobile line up. Once it did so this week, it's safe to say many of us were impressed.
So what can you expect in MSI's laptops now that we know these GPUs exist? The MSI GT72VR Titan SLI can come with either a single GTX 1080, or a pair of SLI linked GTX 1070s under the hood. That's paired up with a 120HZ, 5ms display and an Intel Core i7 6820HK processor .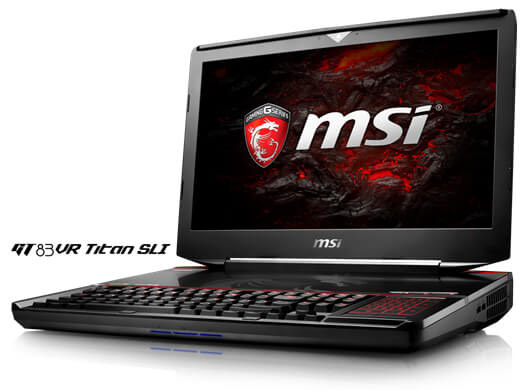 If that's not enough for you though, there's always the MSI GT83VR Titan SLI which can pair up dual GTX 1080s under the hood, for a ridiculous level of graphical power in a single screen set up, whether desktop or laptop.
Of course that sort of set up is mostly overkill, even if you're playing the most intensive of VR games. The GT72VR and GT62VR Dominator series laptops come with either a GTX 1070 or GTX 1060, both of which should be more than capable of handling all of the latest games.
MSI also expands this Pascal equipped line up with a couple of thinner variants, as well as those designed with streaming in mind, by bundling in a Killer LAN chip.
For more information on the range, check out the product launch page here.
Discuss on our Facebook page, HERE.
KitGuru Says: That is a lot of new laptops to chew over. I can't help but feel that just a couple with configurable hardware would be easier to digest.