Nvidia has launched GeForce GTX 10 series graphics chips for notebooks and the big news is that these are full Pascal chips, rather than M (for mobile) parts.
Watch via our VIMEO Channel (Below) or over on YouTube at 1080p60 HERE.
We are still waiting for the full specs from Nvidia but as things stand we have some basic details on the first three models GTX 1080, 1070 and 1060:-
GTX 1080, 2560 cores, 1733MHz boost, 8GB memory, 10Gbps GDDR5X (replaces GTX 980 TDP)
GTX 1070, 2048 cores, 1645MHz boost, 8GB memory, 8Gbps (replaces GTX 980M TDP)
GTX 1060, 1280 cores, 1670MHz boost, 6GB memory, 8Gbps (replaces GTX 970M TDP)
Desktop parts for reference:-
GTX 1080, 2560 cores, 1733MHz boost
GTX 1070, 1920 cores, 1683MHz boost
GTX 1060, 1280 cores, 1708MHz boost
Base clock speeds and typical clock speeds are a bit vague, and we consider those quoted boost speeds are best thought of as 'up to' figures. The reason we are being cautious is that the thermal design of a laptop has a critical impact on CPU and GPU speeds. To add further room for confusion Nvidia is positively encouraging its laptop partners (Sager, Gigabyte, Lenovo, Clevo, EVGA, Alienware, Asus, MSI, HP, Acer, Razer, Origin and XMG, globally, plus the likes of PC Specialist in the UK) to overclock the heck out of GTX 1080.
Maxwell could overclock by 80-100MHz however we are told Pascal can overclock 200, 250 or maybe 300MHz. Notebooks do not support over-volting so results will vary as Nvidia involuntarily proved. During a briefing where cameras were banned they showed Doom running with a +225MHz overclock and the demo crashed twice. They had clearly practised this demo, presumably successfully, and when they returned to the demo later it ran successfully without any further explanation.
At launch GTX 1080 can be overclocked and 1070 and 1060 overclocking will follow a couple of months later i.e. they launch at stock clocks. It seems clear that cheaper GPUs such as GTX 1050 will launch in time.
The layout of the various GPUs does not follow exactly the same configuration as the desktop Pascal chips. GTX 1070 stands out as the mobile chip has 2,048 cores operating up to 1,645MHz while the desktop GTX 1070 has 1,920 cores that run up to 1,683MHz. In other words the new mobile chip has a slightly higher count of CUDA cores that operate at a slightly lower clock speed. Nvidia told KitGuru 'it just worked out better that way.'
Nvidia refused to discuss TDPs for the new GPUs. They did, however, state that GPU performance should be within ten percent of the desktop Founders Edition which sounds pretty darn impressive.
Gaming on battery power is entirely possible (VR requires mains power) however the life of your battery will clearly be a limiting factor. Nvidia's BatteryBoost software has been redefined and they claim up to 30 percent more gaming on battery with Pascal. You can cap the frame rate at a chosen point between 30fps and 60fps, or simply disable BatteryBoost and go for maximum performance
Nvidia is pushing G-Sync displays at 120Hz and 2,560×1,400 resolution and we were told there will be at least one panel that is both 120Hz and 2,560×1,400. Nvidia seems to be making very little effort to push 4K displays on gaming laptops and we can entirely see their point.
Yes, they said, you can play games at 4K and 60fps with High Quality settings however 1080p, 120Hz and 120fps in some games is likely to give you a better gaming experience.
The sooner we have a Pascal gaming laptop on review the better and then we can see for ourselves.
In the meantime, here's a selection of the laptops and features that were on show at the launch. To show off the LED lighting on some models they were in 'low light' areas:-
MSI GT73
GTX 1080
120Hz Display
G-Sync available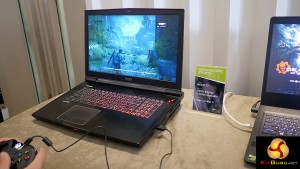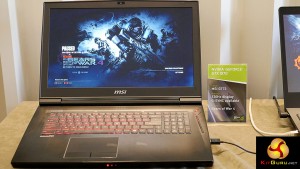 MSI GS43
GTX 1060
Thin form factor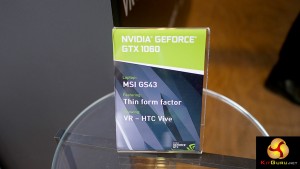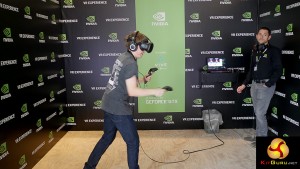 HP Omen
GTX 1070
With optional G-Sync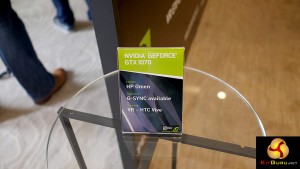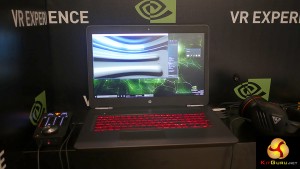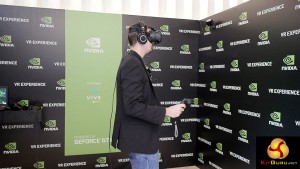 Acer Predator 15
GTX 1070
With G-Sync

Asus G752
GTX 1070
120Hz display
G-Sync available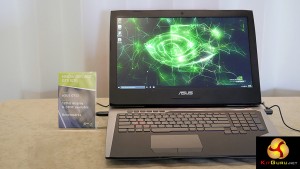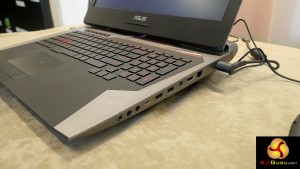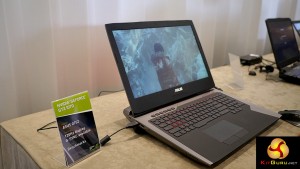 Clevo P775
GTX 1080
4K Display
G-Sync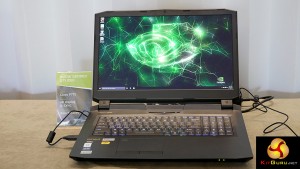 EVGA SC17
GTX 1070
4K Display
G-Sync available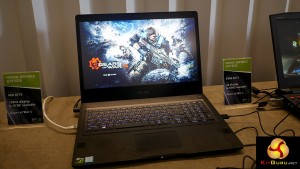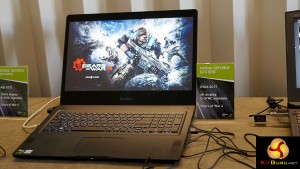 MSI GS63
GTX 1060
4K Display
Thin form factor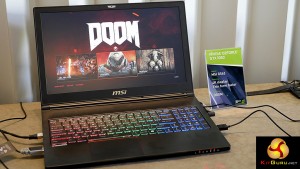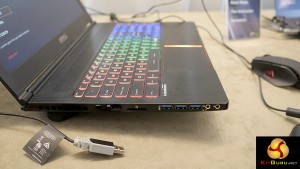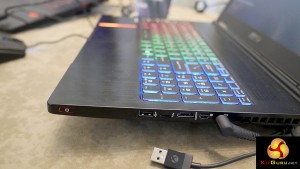 MSI GT72
GTX 1070
120Hz
G-Sync available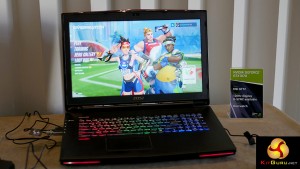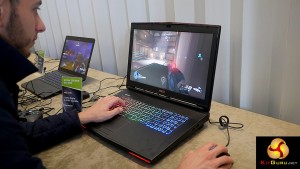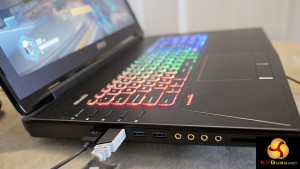 Razer Blade
GTX 1060
Thin form factor