I've been reviewing and writing about PC gaming peripherals since the mid 00's and I've probably tested close to a hundred different types, good, bad and plain odd, but for the most part they're very similar. However the King's Assembly is quite different, combining a mouse, keyboard and joystick into a single handed controller. And the creators want you to use two of them.
[yframe url='http://www.youtube.com/watch?v=TFZR7rxgIus']
Now I know I said that this thing is pretty different to anything I've ever looked at and it is, but there are no doubt some of you pointing an all-knowing finger at the Razer Nostromo. There certainly is a stylistic similarity, but even with all the boards I've tested, I've never seen someone mount a keyboard like this, let alone two of them.
Then there's the fact that the King's Assembly has a mouse sensor in its base, as well as offering 35 keys on each (30 for fingers, five for the thumb) along with a joystick. It's a lot of controls and would certainly take some time to get used to because of its unique layout.
It's also not cheap. Thanks to the use of Cherry ML switches (MX version potentially coming one day) and the amount of features bundled into these input devices, the final retail will probably be close to $250 for the full pair.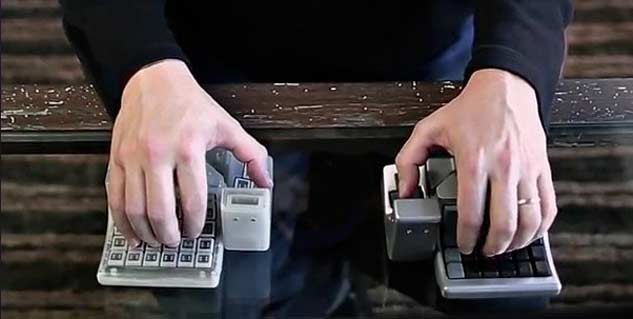 Early Kickstarter prices are a bit better, with $200 netting you the full thing now or $110 getting you a single handed version.
Keyboard keys will be fully remappable, the mouse sensor is a ridiculously high, 9800DPI optical, there's teflon pads for non-stick feet, no drivers needed and it can even be used with consoles that recognise USB peripherals.
If you want to kick in to the already popular campaign or to learn more about the King's Assembly, check out its Kickstarter page here.
KitGuru Says: While this is an impressive looking device, I think it'll be more of a niche product – like those mice with giant rollerballs on – as relearning to type on one of these would be pretty difficult, plus, I can't see how these hefty things, with their palm-grip-arm-control, will be as accurate as a claw grip, ambidextrous mouse. 
Though I reserve the right to be wrong. What do you guys think?