Since it was originally shown off a couple of years ago and in every incarnation since, the Oculus Rift has been are the forefront of virtual reality development. It looked the best, performed better than the others and its upcoming features are still the most impressive out there. However, a Chinese produced VR headset called ANTVR is promising some very exciting features that if all come to market, could make it a real Rift competitor.
A quick look at the basic specs of the device, 1080P, 100 degrees diagonal field of view and positional tracking, put it right there with the Rift Devkit 2, but it also uses a 4:3 aspect ration and aspherical lenses, which according to the developers, gives an even better display with no distortion. Similarly, it has the option to easily customise the distance of the screen from your eyes and the separation between the lenses, making it much easier to enjoy the experience without getting a headache.
[yframe url='http://www.youtube.com/watch?v=iXXcKQZUSWY']
The positional tracking is also built in, so there's no need for a camera, it's wireless AND it comes with its own controller which can form into a gun, a steering wheel, joystick or standard controller like some sort of Power Rangers Zord.
Did I mention it's wireless and compatible with PC, Xbox One, PS4 and Android platforms?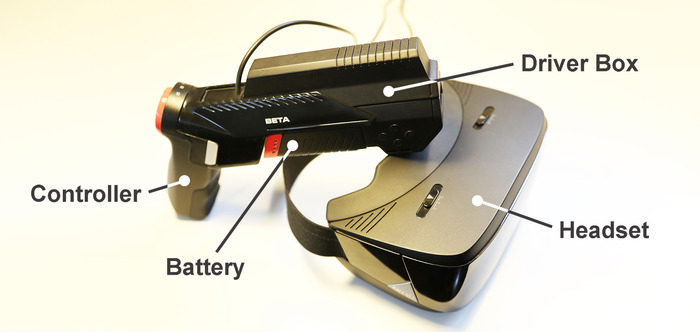 Keeping the cost low and bundling a multi-faceted controller is a nice touch
The only real downside to this at the moment is that it's  not out yet. Currently available on Kickstarter, the ANTVR headset can be got for as little as $300, putting it right in-line with the Oculus Rift on cost as well. However, that is just for the wired version. For an untethered experience, you'll need to spend a little more – over 50 per cent in fact. For the early bird version (only one remaining) you can get a wireless ANTVR for $470, though the final price will be more like $500.
A developer version of the kit ($1,500 on the Kickstarter) is expected to begin shipping in July, with beta versions of the home-kit arriving on your doorstep by September.
KitGuru Says: Now it's easier to see why Oculus took the Facebook money. With competition like this, it may not have long as king of the VR hill.