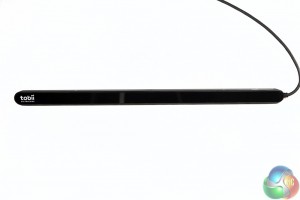 The eye tracker itself is as compact as the packaging is. It measures in at 13 inches long and around 2/3 of an inch wide, with a reflective front and matt black body.
There is not much in the way of styling on it, apart from a couple of Tobii logos on the front and top and some indicator lines.
The back features some product codes and information, as well as a pair of magnets which are used for a simple click-on mounting system. The USB cable extends from the right hand side and has some rubber protectors to prevent it shearing off over time.
The front of the 4C tracker is very reflective, showing off items on a desk and thumbprints just as easily.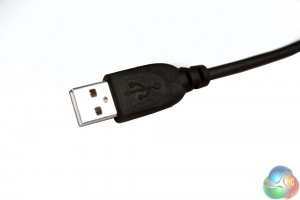 The USB cable is unremarkable and is nickel plated as standard. It is however very short, measuring in at just under three feet.
Be sure to check out our sponsors store EKWB here