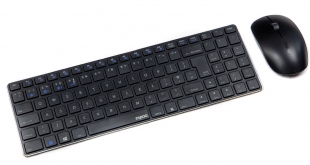 Are you in a work or study environment battling multiple mice and keyboards to meet your productivity needs? Wouldn't it be easier to have one keyboard and mouse for all your devices? Well, Rapoo knows your struggle and brings you the 9300M combo kit to lighten your load, or clear some much-needed desk space! The 9300M kit can connect up to 4 different devices simultaneously, whether that be your desktop, laptop, phone and tablet – you can connect to almost anything with Bluetooth 4.0 and 3.0 or below compatibility. At only £30, its not too expensive either.
Watch via our Vimeo channel (below) or over on YouTube at 2160p HERE
Specifications
Windows XP, Vista, 7, 8 & 10 support
Bluetooth 4.0, 3.0 and lower compatibility
2.4Ghz wireless support with included dongle
Connect up to 4 devices simultaneously
Keyboard – metal chassis, plastic top plate
Mouse – full plastic construction
Keyboard requires 2 x AAA batteries included
Mouse requires 1 x AA battery included
Keyboard dimensions: 34.3cm X 11.4cm X 1.9cm/0.49cm
Weight 385g
Mouse dimensions: 11.3cm X 6.4cm X 3cm
Weight 60cm
1300 DPI
You can find the Rapoo 9300M wireless keyboard & mouse combo in either white or black HERE
Pros:
Affordable
Biggest selling point is the mutli-device connectivity
All Bluetooth compatibility
Metal chassis
Small and compact
Comfortable to type on once you get used to it
Cons:
Software is very basic
Mouse feels cheap
No grips on the mouse
Auto sleep is frustrating
Wireless only, no backup USB port
KitGuru says: The Rapoo 9300M is specifically design to increase your workflow and productivity. It's a basic kit that does exactly what it set out to achieve, with multiple Bluetooth compatibility and 2.4Ghz wireless support the 9300M can almost connect to any device you throw at it. If you're looking for a portable and small combo kit then check out the Rapoo 9300M, especially as it is incredibly affordable.
Be sure to check out our sponsors store EKWB here