Metadot, the company behind the Das Keyboard, one of the world's most known mechanical keyboards for professionals, this week introduced the Das Keyboard 4, the most significant update since the original Das Keyboard. The novelty not only features an audio knob, multimedia keys and a mute button, but it sports a number of enhancements and is made of different materials.
Just like the previous-generation Das Keyboards, the fourth-gen model uses Cherry MX switches to provide ultimate tactile feedback (with or without a click) and comfort. To make a perfect keyboard even better, the engineers from Das Keyboard redesigned the enclosure to make it vibrate less and added a new top made of anodized aluminum, which should feel and look a little better than the piano-black plastic enclosure of the current models.

The Das Keyboard 4 now also features an oversized audio knob and a full-set of multimedia control buttons, which should provide additional convenience to those who are listening to music or radio while typing as well as those who are transcribing various audio materials, such as conference calls. Additionally, there is an instant sleep button for those, who care about power consumption and its impact on nature.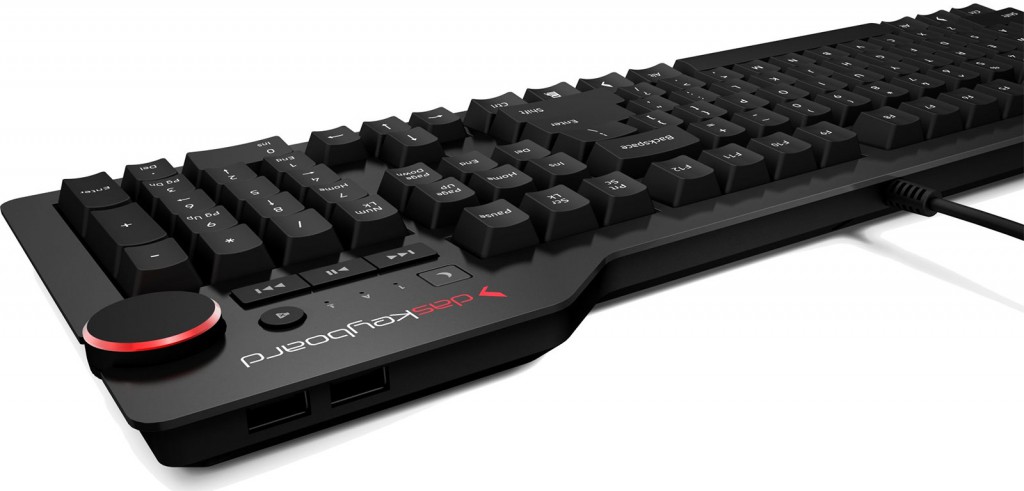 The Das Keyboard 4 also comes with a SuperSpeed USB 3.0 hub that provides two port with 5Gb/s data-rate, which ensures very quick transfers of files to and from a PC. In a bid to ensure that the Das Keyboard will be plugged to a USB 3.0 port on the computer itself, not a USB 2.0 hub on a display, the Das Keyboard 4 is equipped with a long 6.6 feet (2 meters) cable. In a bid to make the new keyboard more appealing to gamers, the novelty also features N-key rollover (NKRO) over USB for faster gaming, eliminating the need for a PS2 adapter, often required for older keyboards.

Finally, the Das Keyboard features a magnetic footbar to incline the keyboard at a perfect 4-degree angle, which can also double as a ruler, instead of the traditional flip-out feet.
"Programmers, Internet surfers, freelancers and others who work eight to 12 hours a day at their computers know their keyboard is the tool they touch the most, making it the most important tool in their lives," said Daniel Guermeur, creator of the Das Keyboard and CEO of Metadot. "One might as well use the keyboard that provides the best efficiency and enjoyment."
Das Keyboard 4 is available in the Professional version, which provides traditional QWERTY labeled keys, as well as the Ultimate version, a completely blank keyboard for hardcore typists and enthusiasts in search of a more euphoric typing experience. Both come in either the Cherry MX Blue switches with a clicky, tactile feel, or the Cherry MX Brown switches for a more subtle and lighter typing experience.
Das Keyboard 4 Professional and Ultimate with Cherry MX Blue and MX Brown switches are available in the United States, for a suggested retail price of $169 with the Cherry MX Blue switch, and $173 with the Cherry MX Brown switch. It is also available in the German, UK and Nordic layout, for a suggested retail price of €169 (£140) with the Cherry MX Blue switch, and €173 (£143) with the Cherry MX Brown switch.
KitGuru Says: Having used the Das Keyboard for nearly five years now, I found that multimedia control keys were the only thing I missed on the product sometimes back in 2011. When I need to transcribe a long phrase told during certain conference calls or presentations, I need to quickly pause the audio, which is inconvenient to do with a mouse. Now it looks like this drawback has been fixed.