Although Logitech is a staple brand in the gaming market, it's no stranger to professional grade devices. The latest peripheral from the company is specifically designed for workflow, with the CRAFT advanced keyboard featuring a creative input dial, making it easier to access app-specific controls on the fly.
The keyboard itself takes a minimalist design, with low-profile keys crafted with comfort in mind. The smart illumination with back-lighting detects your hands and utilises sensors that detect room conditions to adjust the lighting accordingly.
The real selling point, of course, is the creative input dial, called the Crown, which can be customised by using profiles in the Logitech Options software utility. These profiles will automatically detect the app it's assigned to work alongside and adjust accordingly, allowing for a wider array of functions with minimal hassle. Logitech has listed compatible programs, such as Adobe's Creative Cloud Suite and select Microsoft Office programs such as Excel and Word, which are only compatible with PC at this current time. These features are expected to eventually make their way over to Mac, but Apple users can rest assured that this is the only limitation they are expected to encounter with the CRAFT keyboard.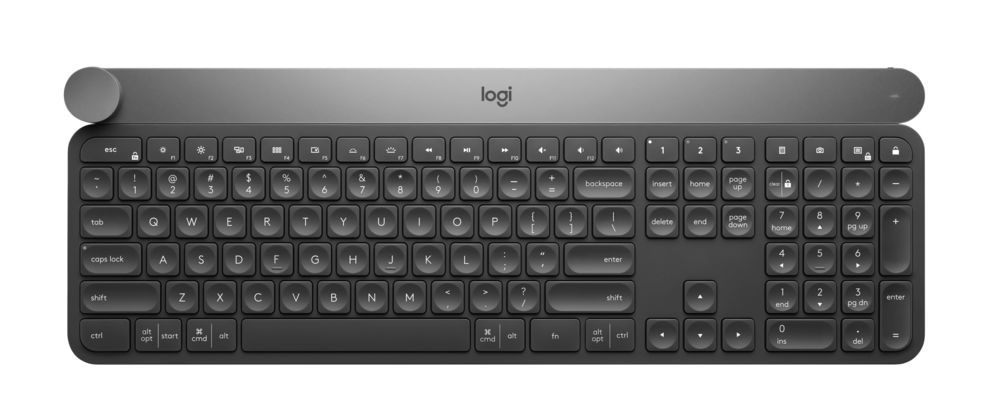 In fact, Mac users can even set up the dial to access global Mac controls, allowing for easy switching between desktops, navigating apps, adjusting volume and other various functionalities.
"Our new flagship Logitech CRAFT keyboard is for all creators who spend a lot of time designing and creating – who want to work with greater precision and feel connected to their work," said Art O'Gnimh, global head of keyboards at Logitech. "The creative input dial gives you instant access to the functions you need, the moment you need them, allowing you to increase your productivity by simply touching the dial. CRAFT puts you in your creative element – every time you sit at the desk."
Lastly, the CRAFT includes a proprietary Easy-Switch button that toggles between any three connected devices and allows you to type on them, from Windows or Mac, although the Crown might experience limited functionality depending on the compatible device connected.
The CRAFT advanced keyboard comes in at a price of $199.99 and is expected in October this year. Pre-orders are available from the Logitech website.
KitGuru Says: Logitech is a company I've used plenty in the past, currently sticking to its mice for the time being. I have yet to use a professional grade item, but this keyboard has me interested to see how much it can impact on workflow. Do you plan on picking up a new keyboard?