While today marks the end of CES 2018, that has not stopped Cherry from announcing a brand-new low-profile mechanical switch, aptly named MX Low Profile RGB.
A new, unique form-factor for Cherry, the company reckons the new switch is best for notebook or low-profile desktop applications. That would suggest we may see far more mechanical keyboards being adopted by laptop manufacturers – something which has not been too common as of now.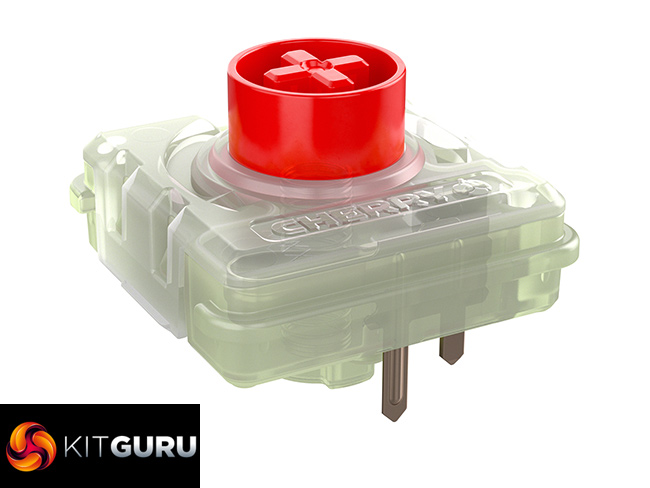 The switch itself is 35% shallower than a traditional Cherry switch (11.9mm vs 18.5mm tall), though as of now it will only be available in the form of a linear (Red) switch – though we have heard a low-profile Blue switch may be coming soon. Not surprisingly, the switches are RGB-friendly thanks to the clear plastic housing which allows LEDs to shine through very easily.
Getting to the specifications, the new MX Low Profile RGB is rated for 50 million key strokes, and it requires a 40 cN initial force, and a force of 45 cN to actuate. The pretravel distance is rated at 1.2mm ± 0.3mm, though Cherry told us it is effectively 1mm. Total key travel is approximately 3mm.
Being at CES myself, I was there in person to try out the new switch, and it definitely feels similar to the traditional MX Red switch, though key travel is obviously lessened. Personally I prefer tactile switches, so if a Low Profile MX Brown or Blue switch was to be made available, I think that would be perfect for me.
The fastest way to try out the new switches will be to buy a keyboard from the likes of Corsair, Cooler Master and Ducky – all of whom will be producing products that utilise the new Low Profile switches, so stay tuned for those. However, the switches will also be available to buy standalone if you are a keyboard enthusiast and are happy to build or modify your own board.
KitGuru says: A new mechanical switch is always interesting and this is especially the case given Cherry is trying a new form-factor for the very first time. Would any of you consider buying a keyboard or laptop with these new Low Profile RGB switches?