Cooler Master has announced a new miniature keyboard design, with a standard layout (minus the numpad extras) and mechanical switches. But the real selling point, is the fancy LED effects it can put out thanks to its onboard, 32bit ARM processor.
Unfortunately beyond a little mouse-over light show on this preview page, we don't have much more to go on, which is presumably intentional, since Cooler Master is advertising the fact that you'll be able to see the new Rapid-I in action at the upcoming Gadget Show Live event next weekend, running between the 9th and 13th April.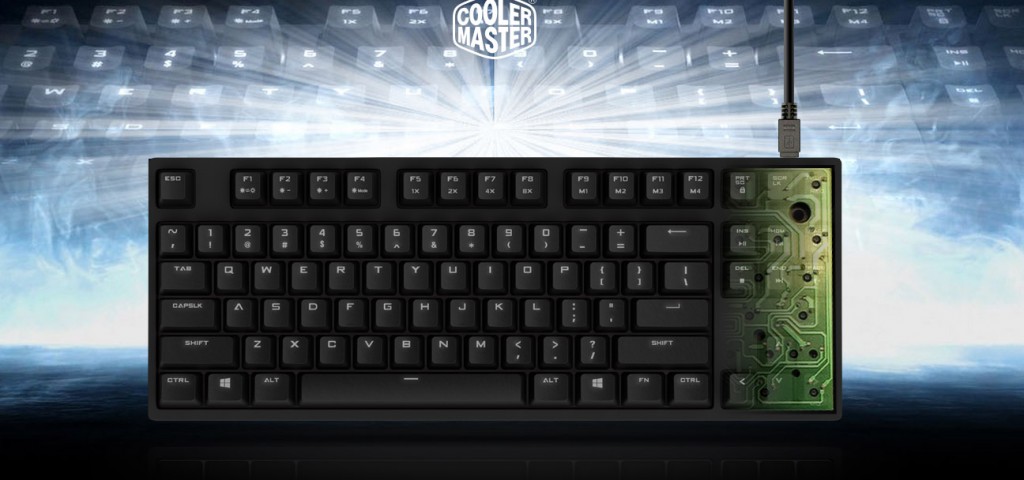 "The new, fully backlit QuickFire Rapid-I is equipped with an ARM processor that enables responsive illumination, trailing effects, and individual key lighting profiles. Light 'em Up," says the Cooler Master release, which sounds like keys might light up as you press them, which could look awesome for gaming, but even more impressive for fast typers.
We can take a guess at the type of mechanical switches being used too. Since we're told they're tactile but quiet, we know they have feedback but no "click." The guess there would be brown switches, which have some feedback but  don't clack away quite so much as their cousins the blues.
The only other feature we know of, is that the USB cable can be removed for easier transit.
KitGuru Says: I'm interested. Not going to lie. Would prefer a full size one, but if this one's successful I don't doubt they'll expand the range.