In the past half decade or so, the world and his gaming dog have decided for the most part, that mechanical keyboards are great and that membrane boards just aren't up to scratch. It's a difficult thing to explain to someone that's never used a mechanical board for an extended period of time, but it's certainly hard to go back. Still, that doesn't mean there aren't advantages to the membrane interface, like cost, which is why Cougar is looking to provide for those that can't or won't spend the extra for a mechanical, by making a gaming membrane board as good as it can be.
It's called the Cougar 500k and it has all of the usual gamer-centric features of a mechanical board, like NKRO so that you can press as many keys as you like at once, as well as dedicated macro recording functions and specifically placed macro keys for remapping. There's also profile switching and windows key lockout, as well as media keys.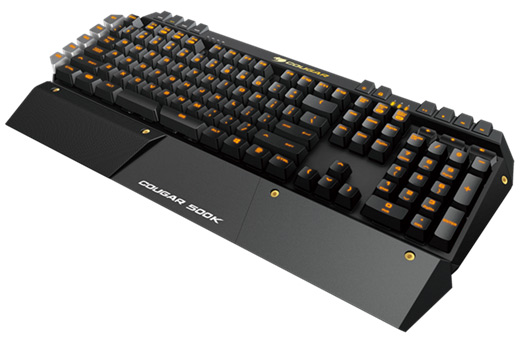 This is all pretty standard stuff on most gaming boards, but most gaming boards also come with mechanical switches. This board should, when its released, turn out to be a lot cheaper than the competition that have to pay Cherry MX a premium for its switches.
The question is, whether you buy a keyboard for its gaming features, or its switches.
Discuss on our Facebook page, HERE.
KitGuru Says: Personally, I run a Steelseries 7G, which has almost no "gaming" features but has some nice black switches. That's why I have a mechanical, but maybe you guys are different.