Logitech today announced the upcoming release of a brand new keyboard, called the G910 Orion Spark, featuring its own brand of mechanical switches which it claims actuate up to 25 per cent faster than those of all of its competitors, as well as RGB backlighting and the ability to hook it up with your smartphone via a companion app.
The big feature that's likely to excite gamers looking for that extra millisecond edge on their opponents, is the new Romer-G mechanical switches, the actuation point of each being just 1.5mm. They're also said to be incredibly durable, with the ability to withstand up to 70 million keystrokes each, which is a fair chunk more than your average Cherry MX offering.
Backlighting has become a bit of a must for a lot of gamers, especially those that like to play in the dark. But of course, system builders want to be able to map their keyboard lighting to their PC's too, so like many other manufactures, Logitech has made sure that the G910 has a full RGB colour palette to choose from for the backlighting. You can also set up colour profiles, so that certain games launch with specific keys illuminated in a custom colour to help them stand out.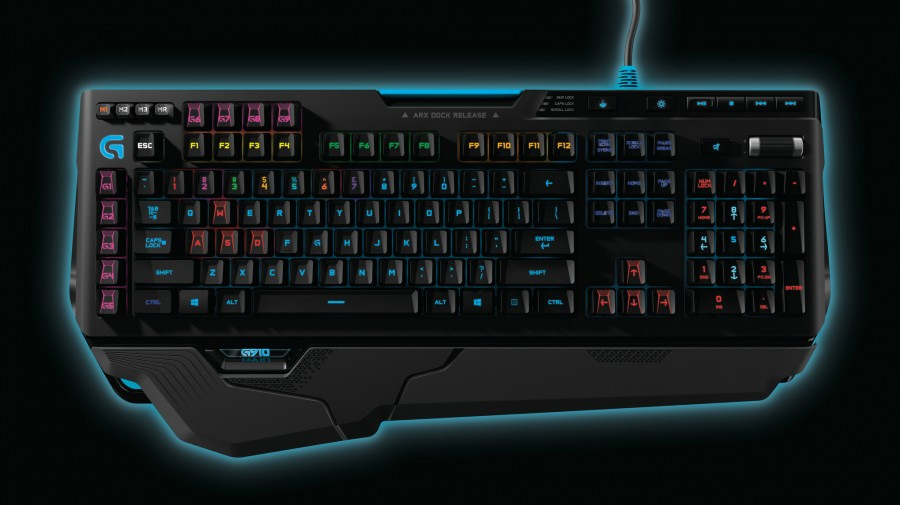 Smartphone integration seems like a bit of a no-brainer nowadays considering the glut of devices looking to get their digital hooks into your phone, but PC peripherals rarely do it. The new G910 keyboard does though, even giving you a little stand to fit it to so that you can view important information during your usage. Using the bundled app, players can track basic information about your system or keyboard usage as it stands, but an SDK has been created, so theoretically game makers could have everything from a minimap to hints and tips about game aspects, if they were willing to develop it.
Compatibility wise, it should work with all up to date iOS and Android devices. There's no mention in the release about Windows phone support.
Of course though, all of these fancy features come at a hefty price. Expect to pay around £160 if you buy one of these new around launch. Availability is expected to begin in November this year.
KitGuru Says: Quite an impressive looking piece of kit, but that price tag is daunting. What do you guys think? Does it put you off? We'll let you know if it's worth it soon. Keep your eyes peeled for our review.