Nowadays displays are used virtually everywhere: modern offices, homes, stores, cars, planes, ships are just flooded with various devices that feature displays. But while liquid crystal displays (LCDs) have been on the market for over twenty years now, their shape has always been either square or rectangular. But that is going to change in the future as Sharp's has developed a new technology that allows to create displays of virtually any shape to match a variety of applications.
Conventional displays are rectangular because they require a minimal width for the bezel in order to accommodate the drive circuit, called the gate driver, around the perimeter of the screen's display area. With the free-form display (FFD), the gate driver's function is dispersed throughout the pixels on the display area. This allows the bezel to be shrunk considerably, and it gives the freedom to design the LCD to match whatever shape the display area of the screen needs to be. Sharp's free-form display devices are based on the IGZO technology and proprietary circuit design methods.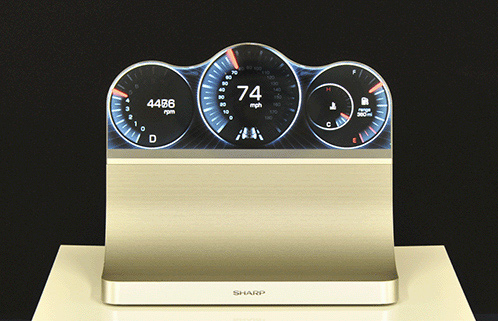 The natural applications that can take advantage of Sharp's FFD are in-vehicle gauges (i.e. speedometer, tachometer, etc.), wearable devices with elliptical displays, digital signage and various innovative devices that require displays of unusual shape.
Unfortunately, nothing is known about mass production of the FFD devices. Sharp claims that it plans to start manufacturing "at the earliest possible date," but does not reveal anything more detailed.
Discuss on our Facebook page, HERE.
KitGuru Says: While the FFD technology itself is clearly very promising, it should be noted that in many cases car makers and others manage to make fine gauges using rectangular LCD panels. For wearable devices Sharp's FFD is something indispensable, it will probably change the rules of the game there. However, it is unknown when exactly Sharp will be ready to produce its free-form displays in quantities. Hence, the revolution may be too far away…