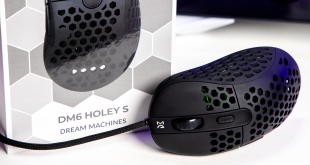 Have you ever wanted an extremely affordable lightweight mouse? Well today you might be in luck! The Dream Machines DM6 Holey S weighs just 69g and is priced at less than £40. With a shoelace style USB cable, PixArt PMW 3389 sensor and on-the-fly lift off distance adjustment, let's see if Dream Machines can make our dreams come true with this Holey S mouse.
Watch via our Vimeo channel (below) or over on YouTube at 2160p HERE
Specifications:
Max speed: 7.0 m/s
Polling Rate: 1000 Hz
Control: 7+ scroll
Sensor: DM6 Holey S: Optical PMW3389
USB: Gold plated
DPI: DM6 Holey S: 400, 800, 1200, 2400, 4800, 16000
LOD (lift off distance)1/2/3mm
Left switch: Huano 20.000.000 clicks
Right switch: Huano 20.000.000 clicks
Side switches: 3.000.000 clicks
Scroll: Huano
Size: 129 x 66 x 40 mm
Weight: 69 g (without cable)
Cable: Shoelace cable (1.8m)
Surface: Matte Black
Backlight: Scroll
Content: manual, mouse
You can purchase the DM6 Holey S  for £37.20 from Kustom PCs HERE!
Discuss on our Facebook page HERE.
Pros
Lightweight design.
Fantastic value for money.
Lots of textures for a great visual and sensory experience.
Light indicators make it easy to see where you are within the settings.
Nice size and ergonomically comfortable.
All grips styles are comfortable.
Great feedback and resistance in the buttons.
No flex or rough edges.
Cable is lightweight and kink resistant.
On-the-fly LOD.
Cons
Matte plastic shell is a bit of a grease magnet.
Scroll wheel could be better.
Bigger glide pads would've worked well.
DPI cycle button instead of up and down or back and forward.
Low sloping back end leaves a lot of hand on the mouse mat.
KitGuru says: The DM6 Holey S is most definitely worth the price tag but we wouldn't be paying much more for it. The specs and build quality are good, the design is comfortable and accommodating to most grip styles but there is that slight drag due to the backend slope. For the price point we can't complain and it's certainly worth considering if you're in the market for an ultralight gaming mouse.
Be sure to check out our sponsors store EKWB here