To test the Corsair Raptor M45, I had the enviable task of playing around with it for a week, which meant spending some afternoons in deep 'test' sessions of Age of Empires and Seven Kingdoms. I played a few other games too, mixing in first person shooters, puzzlers and strategy games in equal measure, as well as using it for my day to day work, photoshop, online browsing etc.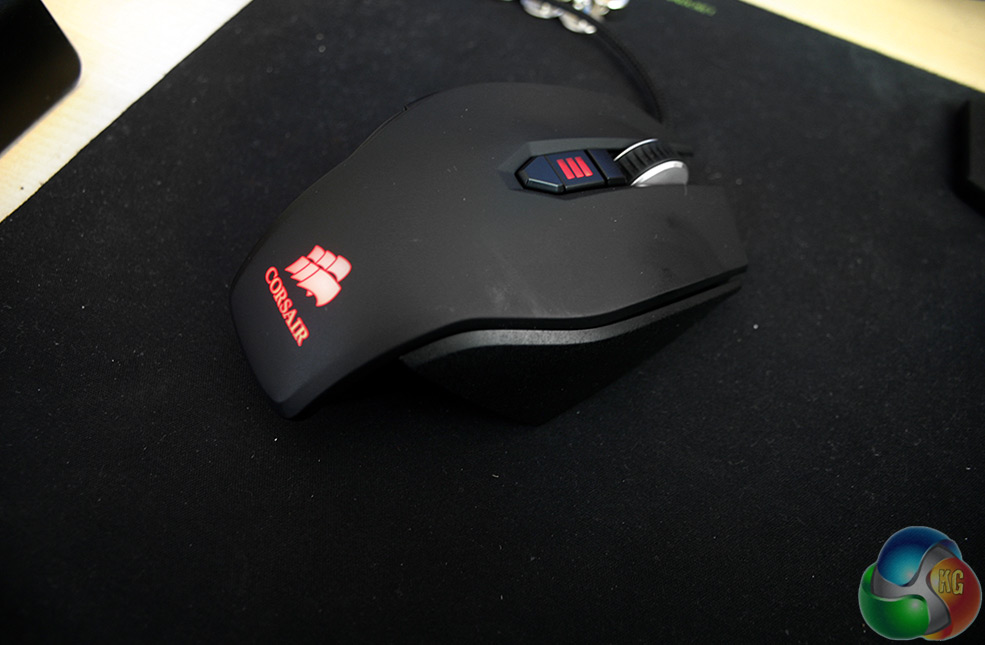 The lighting on the M45 is simple, but effective
Since I am traditionally a bit of a finger/claw grip gamer, transitioning to the M45 was a breeze and despite its somewhat ergonomic shape, I'd put its gaming ability up there with some of the better ambidextrous mice out there. It's fast and accurate and thanks to the simple weight options, you can alter its balance slightly, as well as the energy required to move it around.

With the weights in, it can be a little heavy after a few hours use, meaning you may you the need perform a nice, exaggerated wrist rotation every now and again. However, with a couple taken out, or with all of them removed altogether, it becomes lively and incredibly easy to slide about with your finger tips.
Because of this, I found the M45 a pretty solid gaming mouse, regardless of the game or genre. At 5,000 DPI at maximum, it's more than enough to cross a 1080p display in less than an inch, which unless you're fine tuning for pro gaming, should be more than sensitive enough for most players. Unlike some of the super-high sensitive sensors also, it remains accurate no matter how much you whip it around.
However, one problem that this mouse does suffer from is inaccuracy when used without a good mouse mat. This is a sad case of an optical sensor just not being capable without a specifically designed surface. Fortunately Corsair do offer an alternative in the M65, which costs about £15 more, but comes fitted with a laser sensor which shouldn't have the same issues.
The only problem there is that you'll probably need to spend almost as much on the mouse mat and M45, as you would on the M65 in the first place, so consider your options, especially if you don't currently play with a mouse mat.
In other situations though I found the M45 equally good. It's accurate, in intensive tasks like Photoshop and you can scale down the DPI on the fly when you need it. Adjusting all of its settings and remapping the keys was a breeze in the bundled software, which even lets you switch between the mouse and other installed Raptor products without closing the software down if you want.
If I was being nitpicky, which I suppose it is my job to do, I'd point out that the scroll wheel is a little loose and sometimes rattles back and forth on its spindle. This isn't the end of the world of course, but it's noticeable and unnecessarily detracts from the overall quality of the mouse.
All in all though, the M45 has impressed me. For a mouse that costs less than £40, it's performed just as well as much more expensive models. It does fall down in its support of different surfaces, requiring a mouse mat – in my case cloth – to work properly and it certainly isn't quite as sensitive as some mice out there. At least Corsair don't seem to be chasing ludicrously high DPI numbers, just for marketing purposes.
The Corsair M45 can be found on Overclockers.co.uk for £38. It's bigger brother the M65 can be found there for £53.
Discuss on our Facebook page, over HERE.
Pros
Fast and accurate.

Classy, understated looks, nice lighting.

Removable weight options.

Comfortable and allows for multiple grip types.
Cons
Doesn't work properly without a mouse mat.

Laser alternative is only a few pounds more. 

Scroll wheel is a little loose.
KitGuru Says: The 5,000 DPI Cosair Raptor M45 is a great mouse. It is comfortable, fast and accurate and wonderfully understated.