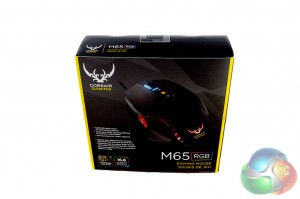 The Corsair Gaming RGB M65 Mouse comes in a regular square box with a yellow trim going down the sides. The front boasts several features, including the 8,200 DPI laser sensor and back lighting … which Corsair claims can produce 16.8 million colors.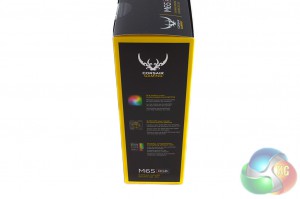 The side of the box reiterates the high DPI laser sensor and back lighting. However, it also makes a brief mention of the software suite as well.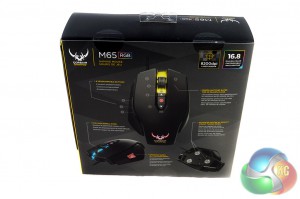 As we continue to look at the box it becomes apparent that Corsair really wants you to notice its fancy back lighting, with repeated mentions of the 16.8 million color rating. Other mentions on the back of the box include re-programmable buttons, adjustable weights along with a 'high-mass scroll wheel'.
Inside the box you'll find the Corsair Gaming M65 RGB Mouse itself, equipped with a lengthy, high quality braided USB cable alongside a quick start guide and warranty information.
The braided cable will initially have a few stubborn kinks in it due to the way it was wrapped up. However, these were easy to sort out by straightening out the cable and bending back against the kinks. It's important to note that this can happen with many braided USB cables and isn't an issue exclusive to this mouse.
The Corsair Gaming M65 mouse has a fairly unique shape to it, first impressions when holding suggest that you'll be more comfortable using this mouse with a claw grip rather than palm.
On the side of the mouse you will find the classic sniper button, just above that are a further two re-programmable buttons. On top you will come across the DPI toggle switches.
In total, there aren't many re-programmable buttons available on the M65, I personally like a simple mouse without many buttons but others may need extra for competitive gaming.
On the bottom of the mouse is an aluminum base to help keep it light weight along with three screws, which hold little weights inside. This will allow users to customize how heavy or light they want their mouse to be, which is always a huge plus as gamers tend to appreciate customization options.
The mouse felt a bit cumbersome to me even with all of the weights taken out. However, I did get used to it after extended use and I didn't feel like it was slowing me down at all.
Now let's get to the testing portion of the review, where we shall take a look at the software and talk a bit more about performance…