Looking to upgrade your business networked storage and back up solution? QNAP's new quad-core, 16-bay, twin 10 GbE SFP+ NAS is now available and it comes packing a whole host of features. With support for up to 16GB of internal RAM, hardware accelerated encryption and support for all of QNAP's latest software developments.
The TS-1635 has space for sixteen drives, so its storage capacity could be in the tens of terabytes if you're looking for maximum capacity. Any data on there should be transferable at high speed too, thanks to the high-bandwidth Ethernet connections and SSD file caching for the most oft-used data. The TS-1635 delivers up to 1228 MB/s and 874 MB/s sustained read and write speeds, respectively.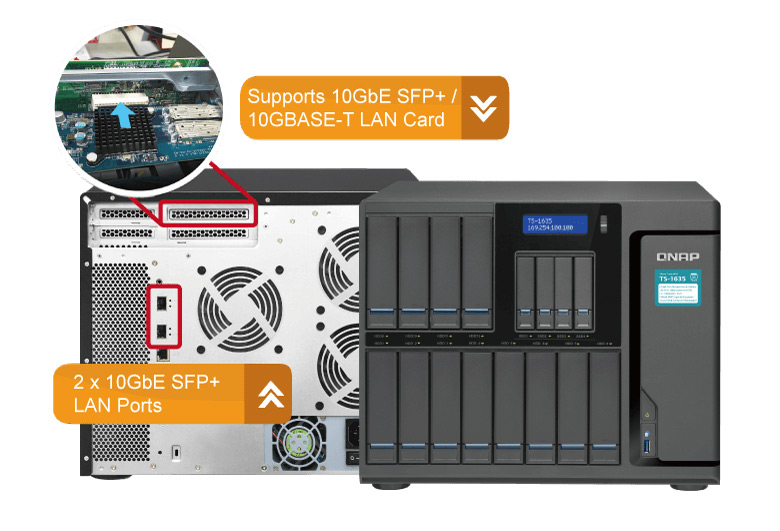 Using Virtual JBOD software, users can also network this NAS up with other QNAP external enclosures to maximise storage capacity – a functionality that QNAP believes will be perfect for those looking to store masses of recorded video, such as security footage. QNAP has a software package for that, known as Surveillance Station and with support for eight camera channels, you can use this NAS as a management and storage hub for that system.
If you'd rather though, you can turn the TS-1635 into an IoT cloud platform, or an email server with full search capabilities. The possibilities are all there with a NAS like this.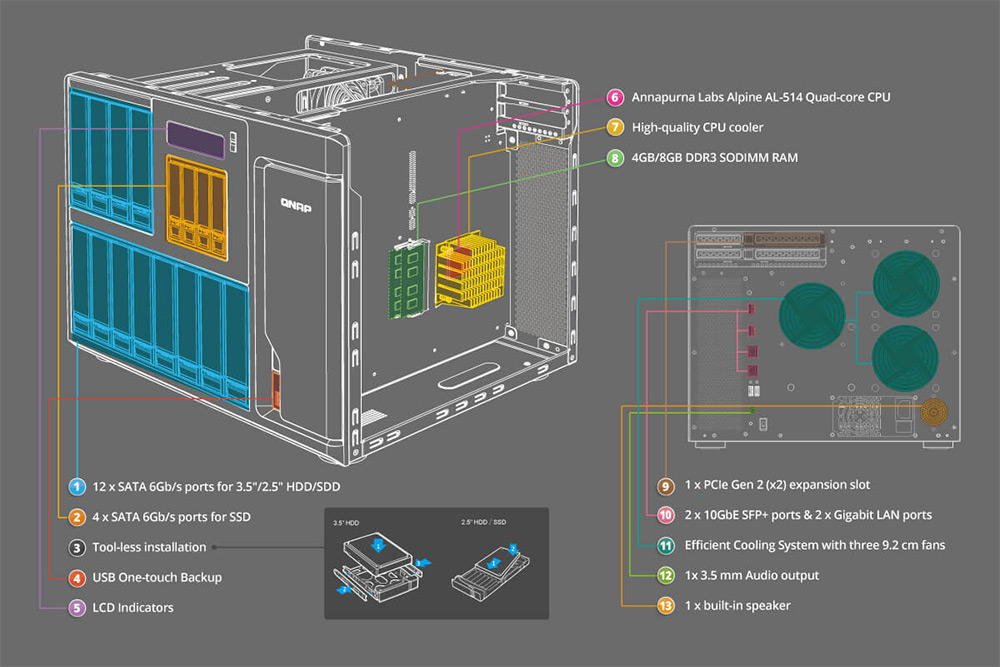 Hardware specifications peg it as having an Alpine AL-514 ARM Cortex A15 processor, up to 16GB of RAM, twin 10GbE port and a pair of Gigabit RJ45 ports, a single PCIe 2.0 expansion slot, three USB 3.0 ports, a 3.5mm audio out and a single speaker.
As much as QNAP cites this NAS as affordable though, don't expect it to be cheap. Span has it currently at £1,155 for the base, 4GB of RAM model. You can opt for the 8GB option, but you'll need to spend more than £100 more: £1,262. If you want 16GB you'll have to do the upgrading yourself after purchase.
Discuss on our Facebook page, HERE.
KitGuru Says: As much as the prices are coming down for these sort of high-level NAS devices, especially those with 10GbE potential, over a grand for a fancy networked system is a lot, especially when you'll need to factor in drive prices too. This still seems like a purely business consideration, or perhaps a wealthy individual building a secure camera, backup system or similar.