Finding a good NAS system for the home or business can be an important task. Fortunately, it looks like QNAP is pumping out quite a few at the moment. Over the course of the summer, QNAP Systems has been hard at work introducing new NAS families, in addition to getting Plex support running on ARM powered models.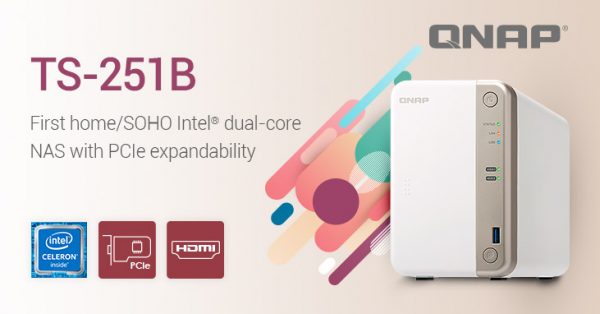 We'll start off with the two new NAS boxes. First up is the TS-251B, an Intel dual-core powered NAS with PCIe expandability. This is QNAP's first home NAS with a PCIe slot, allowing users to add M.2 SSD caching, 10GbE connectivity, USB 3.1 Gen 2 or other features as desired. Under the hood, the NAS is powered by an Intel Celeron J3355 dual-core CPU, which is capable of 4K media transcoding and streaming, making it great for an in-home streaming setup. It comes with a 4K HDMI output too, so you can get the full home-theatre experience out of it.
On the software side, the App Center provides access to productivity tools like 'Qsirch', allowing for quick full-text file searching. Other tools like QSync and Hybrid Backup Sync can simplify file sharing across devices and there are various media players available with different streaming protocols.
There are two versions of the TS-251B, the 2G version comes with the Intel Celeron J3355 CPU and 2GB of RAM in single channel. The 4G version comes with the same processor and memory configuration but bumps things up to one 4GB stick. There are dual-channel DDR3L SODIMM RAM slots on board, so users can upgrade the NAS up to 8GB and swap out 2.5″/3.5″ SSDs/HDDs.
Next on the list is the brand new TS-332X, a budget friendly 10GbE NAS with RAID 5. This one features a quad-core processor and three bays for drives, balancing capacity with the protection of a RAID 5 setup, with one drive being used for redundancy should one of the others fail. The NAS comes with a 10GbE SFP+ port, three M.2 SATA 6Gb/s SSD slots and support for SSD caching.
Under the hood, the TS-332X uses an AnnapurnaLabs Alpine AL-324 quad-core CPU. It also comes with 2GB or 4GB of RAM depending on whether you pick up the 2G or 4G model. Users will be able to upgrade to 16GB of RAM if they wish. The goal of this NAS is to provide an all-in-one solution for file storage, backup, sharing and synchronisation across devices, all with added data protection.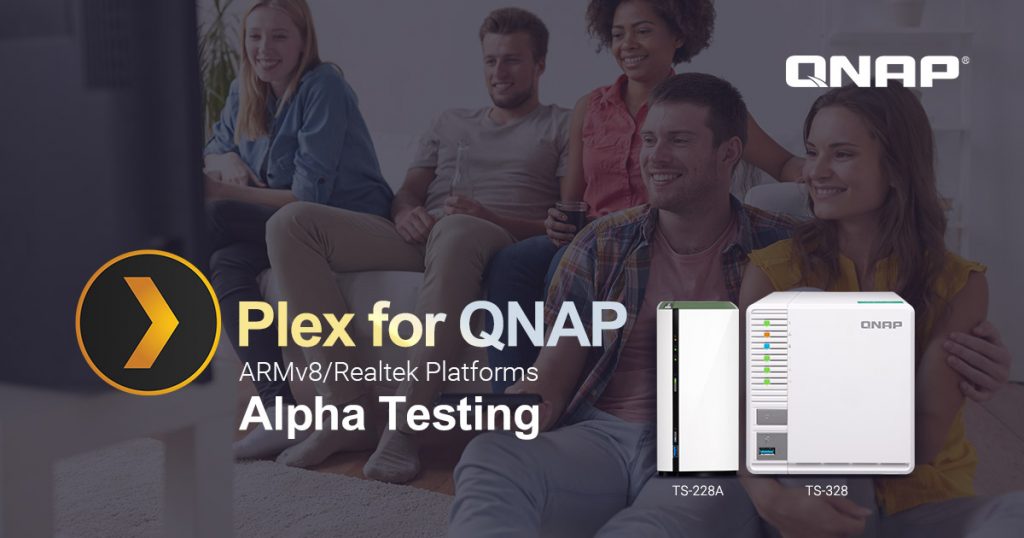 Finally, for the home-streaming enthusiasts out there, QNAP also made Plex available on ARMv8 and Realtek platforms earlier this year. The Plex app has been in the testing phase since July, specifically for the TS-128A, TS-228A and TS-328 systems. The Plex Media Server app is available through QNAP's QTS App Center, you can find the list of currently supported processors, HERE.
KitGuru Says: QNAP has been very busy over the last few months, the company even picked up a 'best of' award at Computex this year. Are any of you currently in the market for a new NAS system?