A little more than a year after Hewlett-Packard started to offer its business-critical systems (BCS) with Intel Xeon E7 microprocessors inside, the company reports that it sees some recovery in sales of such machines. While BCS revenues continue to decline, shipments of x86 servers for mission-critical workloads are beginning their healthy growth.
For decades, companies like IBM, HP and other server makers sold its business-critical systems featuring proprietary microprocessors like Intel Itanium, IBM Power, PA-RISC as well as very advanced software, such as IBM AIX, HP NonStop, HP-UX or other Unix operating systems to customers who needed maximum reliability. Such machines were very expensive to buy and to maintain. Eventually, numerous Linux operating systems became considerably more mature and reliable than they were back in the early 2000s, which significantly reduced adoption of Unix and proprietary machines.
As a result of the aforementioned industrial trends as well as slow progress of Intel Corp.'s Itanium processors, sales of HP's BCS servers started to decline in 2007 – 2009. After it became apparent in 2011 – 2013 that both Intel and HP do not plan to invest a lot in development of Itanium, sales of HP's business critical systems began to waterfall.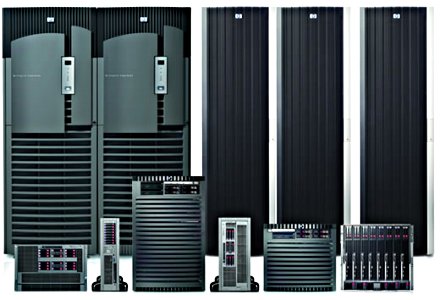 This led HP to introduce its first Intel Xeon E7-powered NonStop X machines for BCS applications in November, 2013, and then to follow with Integrity Superdome X business-critical servers featuring Intel Xeon E7 in December, 2014. The NonStop X machines run NonStopOS, whereas Superdome X supports SUSE Linux Enterprise 11 Service Pack 3, Red Hat Enterprise Linux 6.5, 6.6, and 7.0. While HP still offers servers featuring Itanium and HP-UX, their popularity continues to decline, dragging the company's revenues down. Fortunately, it looks like HP's customers are finally beginning to pick the company's x86 BCS machines.
"We saw improved performance in business-critical systems and our new products are gaining traction with customers," said Meg Whitman, chief executive officer of HP, during quarterly conference call with investors and financial analysts. "During the quarter, we expanded our server portfolio with HP Integrity Superdome X and HP Integrity Nonstop X. These platforms run our customers' most demanding mission-critical workloads on x86 architectures, with higher levels of performance, scalability, availability and efficiency."
According to HP, sales of BCS are still declining (revenue in Q1 FY2015 were down 9% year-over-year to $208 million), but the company claims that it saw some recovery in business-critical systems during the quarter, a good news for Hewlett-Packard.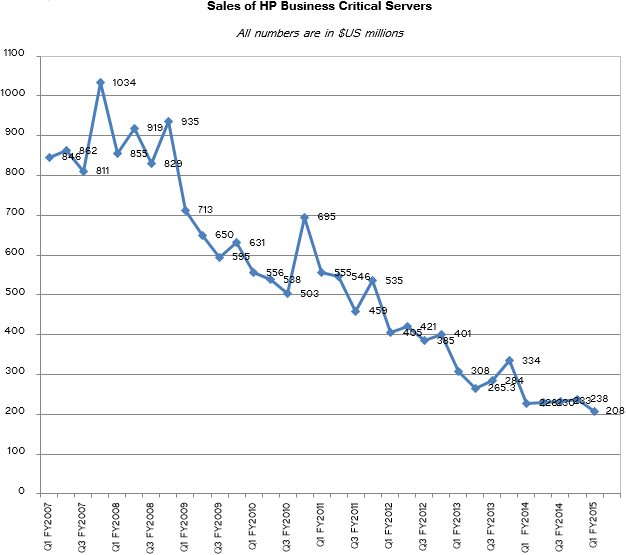 HP understands that eventually sales of Unix- and Intel Itanium-based servers will drop to zero, but currently does not predict when this is expected to happen. Nonetheless, given the fact that the company now offers both Superdome and NonStop servers featuring x86 processors, sales of Itanium-based systems will unlikely rebound. Still, since Unix systems are used for many years (or even decades sometimes), HP will continue to list IA64 servers for quite a while from now.
Discuss on our Facebook page, HERE.
KitGuru Says: Despite of the fact that formally Intel Itanium still exists, its era has ended and it will never come back.