We try to give our readers great competitions every month and this one is no exception! We have teamed up with DINOPC and GIGABYTE to give one lucky reader a brand new gaming system featuring a Core i5 4690k processor, Gigabyte Z97X-SLi motherboard and a Gigabyte GTX770 Windforce graphics card! It is open WORLDWIDE! (see entry rules very bottom of the page).

Kitguru reviewed this PC back at the start of the month and it walked away with our "WORTH BUYING' award!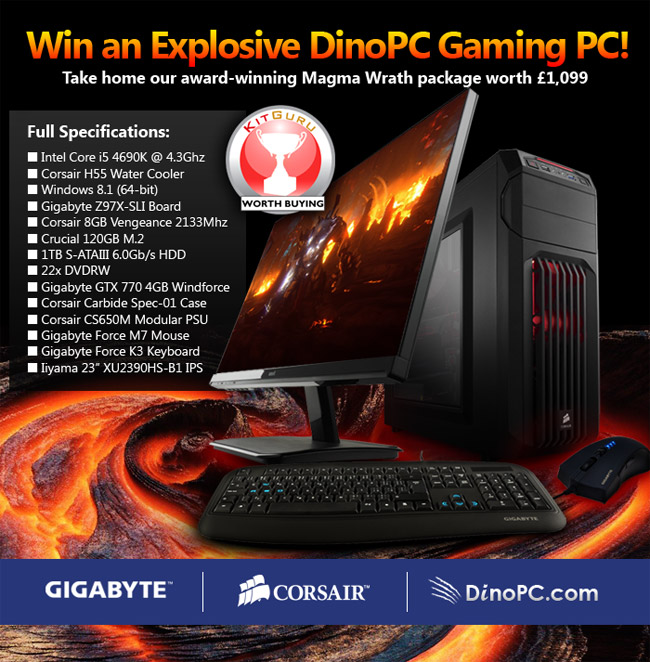 We said the DINOPC Magma Wrath GTX770 system was 'a well balanced, high performance desktop system that ships with a 23 inch Iiyama XU2390HS 23″ Slim Bezel LED, Gigabyte Force K3 Keyboard and Gigabyte Force M7 Mouse. It is worth pointing out that many of the gaming desktop systems KitGuru review don't ship with a monitor, mouse or keyboard, so this goes some way in factoring the £1,099 inc vat asking price.'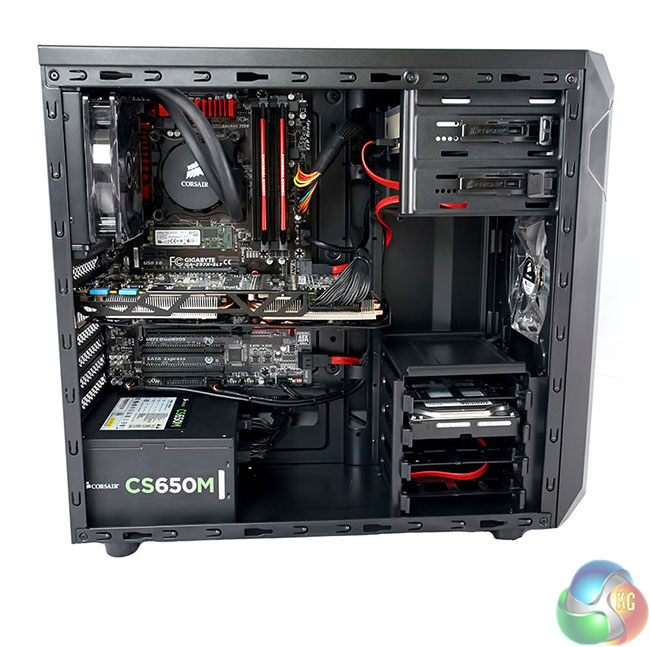 DINOPC are giving away the same system that KitGuru reviewed – and you can see it in all its glory, above.
How do I enter?
Now answer this question
What kind of SSD are DINOPC using in this system?


a: M.2 SSD
b: M.5 SSD
c: G-cache SSD
Finally send an email to DINOPC at [email protected] with subject line ('KitGuru Magma Wrath Gaming PC giveaway'.)
Include the answer to the question (a,b or c), along with your full address and telephone number in the main email text. Please also include a URL link to your Facebook page in the email so we can verify you are a real person. We ask for your real address to help stop spammers who send entries from multiple accounts.
This competition is open to residents worldwide. DinoPC warranty is for UK territory only, if the winner resides outside the UK then warranty would still be honoured for 1 year parts, but transport arrangements would have to be made by the winner. Shipping to the winner will be arranged by DinoPC to any worldwide location at no cost.
The competition starts on 18th August 2014 and closes on 8th September 2014, the winner will be picked and announced by 12th September 2014. Please note that DinoPC may add your email address to their respective mailing list. You can unsubscribe from these emails at any time and you will not receive subsequent emails.
Comments are closed.