Today we have a monster competition starting courtesy of our good friends over at MSI. One lucky KitGuru reader will win one of their new flagship Gaming 9 AC motherboards, as well as an R9 290X Gaming graphics cards and a limited edition Steelseries Siberia V2 headset! MSI will be shipping the prizes direct to one lucky reader!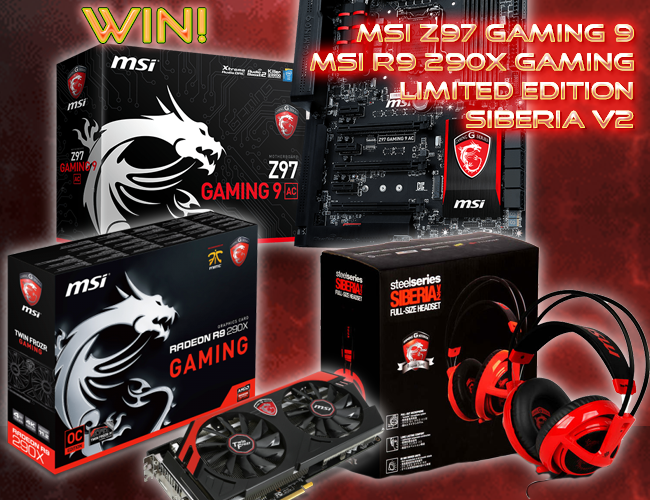 So what prizes are up for grabs?
An
MSI Z97 Gaming 9 AC Motherboard

(product page here)
An
MSI R9 290X Gaming GPU

(product page here)
A
Steelseries Limited Edition Siberia V2

in MSI colours!

Ok, enough already, how do I enter?

To stand a chance of winning all the hardware, just answer this question.
What are the maximum memory speeds (OC) that MSI officially list for the Z97 Gaming 9 AC motherboard?? (click HERE for help)
1: DDR3-2400mhz
2: DDR3-3000mhz
3: DDR3-3300mhz
Rules on entering (please read!)

Email Kitguru your answer (1, 2 or 3)  along with your full address and telephone number in the main email text. A link to your Facebook page is also required. If the auto fill link doesn't work – email [email protected] with subject line 'MSI MEGA JUNE 2014 GIVEAWAY'.
Why this information?
We ask for your physical shipping address to help reduce the entries from the same person using multiple email addresses. Your Facebook page link is required to verify you as a real person.
This competition is open Worldwide.
The competition will close 00.00 GMT 30th June 2014 and the winner will be announced by the 8th of July 2014. Please note that KitGuru may use your email address for future mailing lists. You can unsubscribe from these emails at any time. We do not give your email address to any third parties, we value your privacy. Please note that multiple entries with the same shipping address will be blacklisted.
Do not email other Kitguru addresses, or send private messages via Facebook – they will be ignored and your entry will be invalid. Kitguru staff may not enter. Our decision is final. By emailing an entry you are agreeing to the terms of the competition.
Comments are closed. This is an email entry only competition.