be quiet! has been in the power supply game for some time, but as many of our competition winners around Christmas will know, it's also been making some fantastic coolers for a good while too. Fortunately they like to give back to the community, but this time its only to cool people that make cool pictures of coolers.
Available to Kitguru readers the world over this competition puts up for grabs several prize packs mixing up a custom mini-fridge with cooling fans, tshirts and large CPU heatsinks. It is open Worldwide!
The prizes are as follows!
Prize 1. be quiet! fridge + Dark Rock Pro 3 + Silent Wings2 120mm + DC1
Prize 2. Dark Rock Pro 3 + Silent Wings2 120mm + DC1
Prize 3. Dark Rock 3 + Silent Wings2 120mm + DC1
Prize 4. & 5. be quiet! be cool T-shirt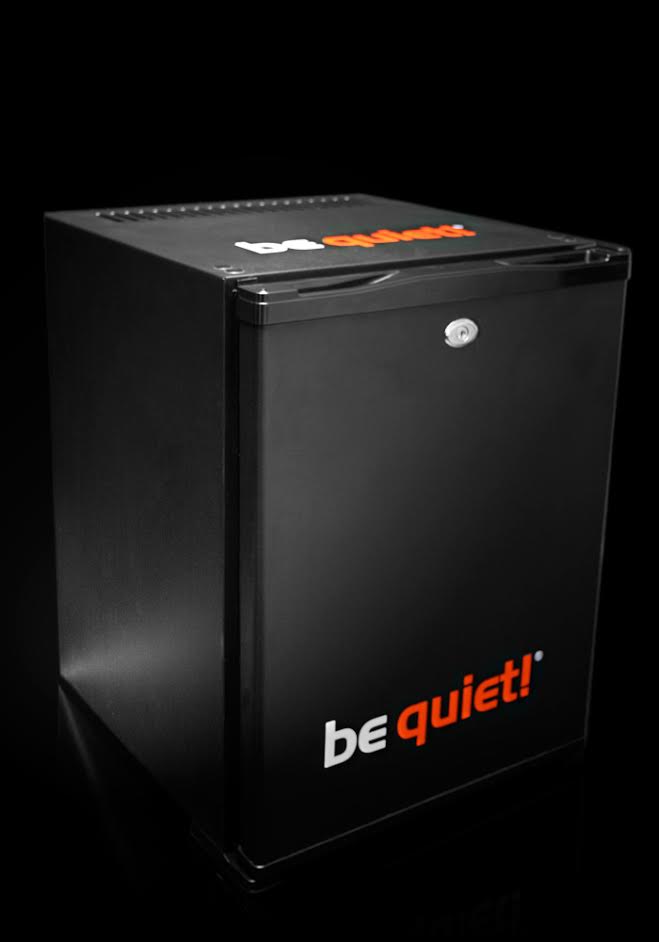 Here's hoping the fridge is as quiet as be quiet!'s coolers!
What do you have to do to win these?
Make an awesome looking be quiet! wallpaper

. It needs to be a 16:9, 1080p (1920 x 1080 pixels) image, featuring several specific images:
be quiet! logo
Dark Rock Pro 3
Dark Rock 3
Dark Rock logo
As long as you include these logos and images (see the very bottom of this page for the 4 logos you need), you can do whatever else you like – let your Photo editing skills go wild! Make it a good one though, as if you win one of the prize packs, your artwork will also feature on the be quiet! site for other fans (of its fans) to download.
Need to see some examples of what we mean? we have included two sample images directly below (no you can't submit these!).

There is no charge to join our forums. You can either attach the image into your post via our forum software, or use a free hosting service such as imageshack. You can use any of these free services.
The winners will be chosen by be quiet! based on creativity and quality. Their decisions are final.
You can grab the images from the be quiet! website, or use the ones below. If you want you can download all the files in a ZIP file directly from our own server – CLICK HERE. (11.5MB).
Competition is open worldwide and closes 2nd March 2014.
Kitguru Says: Good luck everyone! We look forward to seeing your entries.