As expected, the Disney+ streaming service is set to launch later this year, with the United States being the company's initial focus on November 12. A worldwide rollout will touch "major" regions in North America, Europe, Latin America and Asia-Pacific over the next few years, hoping to truly compete against Netflix's coverage by 2021.
Its "initial" pricing will be $6.99 per month or $69.99 per year, compared to Netflix's $13 entry-level pricing. Disney Chief Financial Officer Christine M. McCarthy stated that the pricing will, of course, fluctuate as the streaming service evolves. Further linking Hulu and ESPN Plus, Disney has stated that it will likely bundle the lot in one comprehensive package and figure out a way to offer discounts for those that subscribe to two or all three of its services.
At launch, Disney+ subscribers will be able to download and view all of the content offline, so long as their subscription remains active. This beats its rivals, which only added the feature in recent years for selected content. The base tier will also support 4K HDR viewing without splitting its pricing into different tiers, although there is a chance that this could change in the future.
We already knew that Disney+ was set to house almost all current content under the company's banner, but the studio has revealed what's already in the works and what to expect during the platform's launch later this year. Almost all movies from Pixar, Marvel and Star Wars can be found under the banner, with an assortment of new productions on their way for November 12.
It all starts on November 12. For more info: https://t.co/RD04P7jdAT #DisneyPlus pic.twitter.com/M1QI7qkH5p

— Disney (@Disney) April 12, 2019
Marvel Cinematic Universe boss Kevin Feige showcased its Falcon & Winter Soldier spinoff and announced a collaboration between Scarlet Witch and Vision called WandaVision. As previously announced, Tom Hiddleston will also return as Loki in a television show. All of these series, including a handful of animations, will match the quality of their movie counterparts and interlink into the larger universe crafted over the past decade.
On the Star Wars front, Lucasfilm announced that The Mandalorian had finished principle photography and would be available to view at the launch of Disney+. There are also a number of other exclusives heading to the platform, including another live action series starring Diego Luna and the new season of The Clone Wars animated series.
And hoping to continue the success of the live action Jungle Book, Dumbo and soon-to-be Lion King, Disney+ will be the home of a live action Lady & the Tramp. This, combined with an Anna Kendrick-fronted holiday movie, exclusive animation from the Disney Channel such as a new Phineas and Ferb movie and a range of new films and series, year one of Disney+ is set to be extremely packed.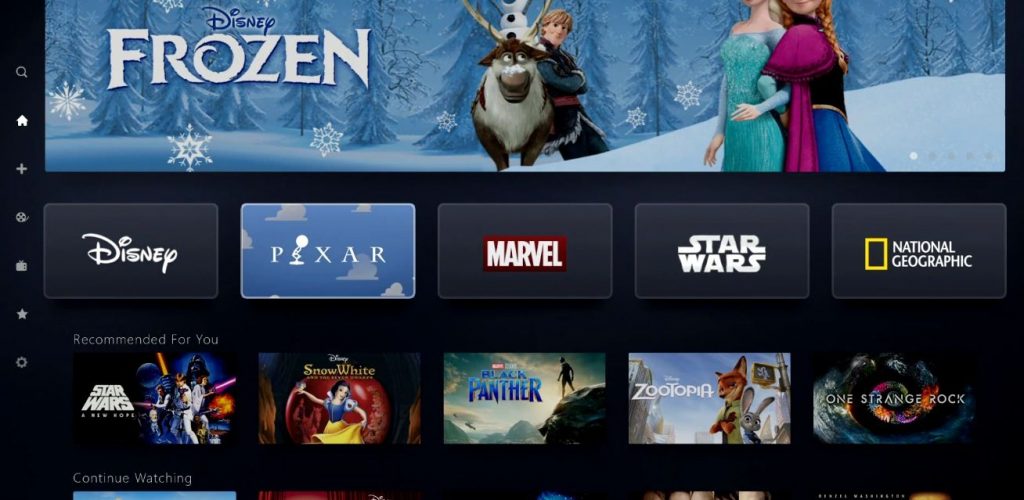 The back catalogue will also be extensive, with National Geographic brining many new shows and those from its past and Disney keeping its future theatrical releases as exclusives on the platform. This begins with Captain Marvel, which will solely stream on Disney+ and Frozen 2 once it reached home video.
The Disney+ application will be available to download on the PlayStation 4 and Roku devices at launch, with the company looking into other smart televisions, set-top boxes and video game consoles in the run-up to release.
KitGuru Says: This is the most extreme lengths any company has gone to in order to dethrone Netflix, and it might just work. A competitive price point and absurd amount of content is sure to inflate its subscriber base rapidly, so long as people can access the platform in their region. What do you think of Disney+ so far?