Up until today, internet service providers have advertised their top speeds, so long as at least 10 percent of its user base could achieve the displayed "up to" peak download speed. Enforcing strict new rules that were announced last year, ISPs will now have to shake up their advertisement practices, catering to a much larger portion of its customers.
The Advertising Standards Authority (ASA) and the Committees of Advertising Practice (CAP) revealed the changes in November 2017, which ditches "up to" entirely in favour of a collected average achieved by at least 50 percent of customers during peak times, from 8pm to 10pm.
"From today, consumers will see a difference in broadband ads that make claims about speed as this new, tougher, standard is enforced," assures ASA chief executive Guy Parker. "We'll be making sure consumers aren't misled by speed claims in ads, not least because choosing the right broadband deal has become such an important part of running a household or business."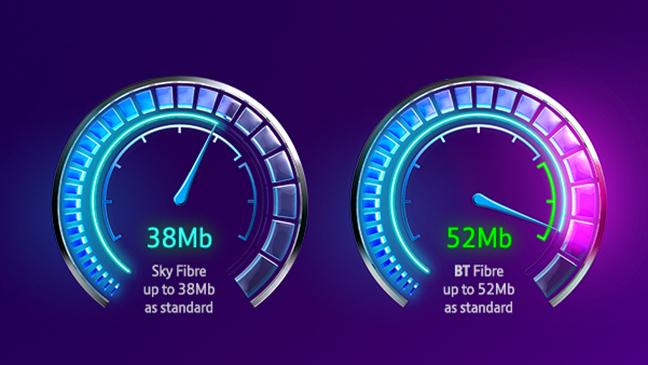 While it isn't a requirement of the newly enforced rules, CAP is also pushing ISPs to be as transparent as possible by recommending they urge their customers to use speed-checking facilities such as their own tools or Ookla's SpeedTest.
"These changes will mean that broadband providers will no longer be able to entice customers with unrealistic adverts promising speeds that most of their customers may never get," adds Which? managing director of home services Alex Neill, stating that it will "be watching closely to make sure providers are finally living up to their promises."
Ofcom shares a similar sentiment with consumer group director Lindsey Fussell stating that "these new rules will make a real difference in closing the gap between what broadband shoppers expect and what they actually receive. We're also making sure broadband providers give people better information upfront, as well as giving customers the right to leave their contract penalty free if their provider fails to deliver the speeds they promised."
Unfortunately, not everyone shares the same sentiment, with some claiming that the new system will cause confusion among customers and offer new windows for ISPs to abuse the system to appear faster than competitors. This, however, ignores that much of rural UK still suffers from significantly lower speeds than their city counterparts, meaning that the new system will still be beneficial for the majority.
KitGuru Says: I've long thought that "up to" speeds were entirely misleading, particularly when the majority of the population isn't in tune with technology and its accompanying terminology. The new rules should hopefully be better for the everyday person when shopping around to the best internet in their area.