Tyler "Ninja" Blevins' significant growth alongside Fortnite: Battle Royale saw the streamer become the face of Twitch in 2018, something of which the platform is embracing within its New Year's Eve stream. Twitch has since come under fire from other content creators for pushing adverts pertaining to its turn-of-the-year event, with many calling it a conflict of interest.
Twitch's New Year's livestream will be hosted by Blevins directly from Times Square in New York City, broadcast to millions of viewers across the world at 9pm GMT (1pm PT/4pm ET) December 31 through until 9am GMT (1am PT/4am ET) the following morning. As of December 27, Twitch began running advertisements for the event on other broadcasts, which many content creators are now criticising for being distasteful.
oddly enough by making this post about your disapproval of twitch promoting @Ninja's stream

you've inadvertently promoted it to me cuz i had no idea lmao😂 But i don't think it's that abhorrent. he's twitches poster child. he's garnered tons of success for them. it makes sense

— ♡♪!? (@SkyWilliams) December 28, 2018
After an overwhelming backlash against the effort on social media, streamer BikeMan threw his hat in the ring by stating it is a "direct conflict of interest" and should be "common sense" not to subject communities to advertisements of direct competition. Dr Disrespect shares the same sentiment, urging Twitch to take the ad rolls off his page and not continue the seemingly abhorrent behaviour.
Sky Williams stated that the complaints about the ad rolls are actually giving Blevins more exposure, while Ninja took the poor reception as a personal attack. There are flaws in the now-deleted response from Blevins. The mega-streamer states that the advertisements grant Twitch more exposure which then trickles viewers down to other channels, however the ad rolls are only shown to those already browsing the platform, meaning it primarily serves as a means of bringing the already-existing viewer base towards his New Year's event.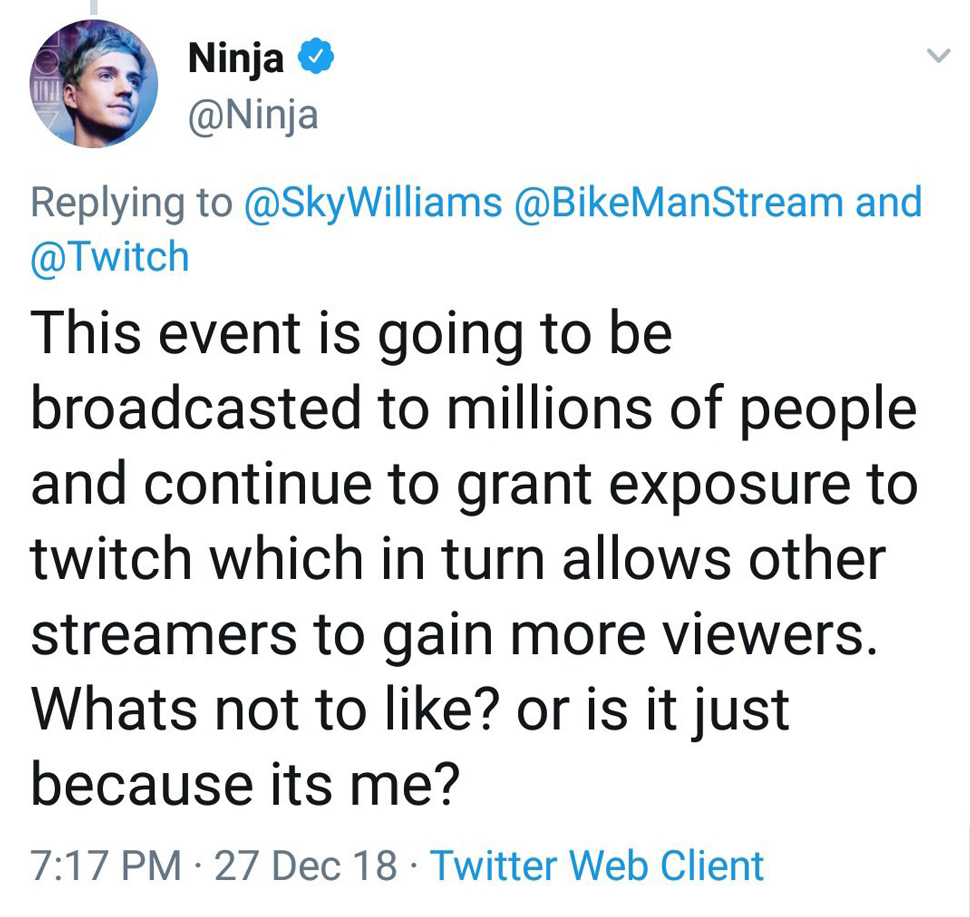 Blevins has yet to speak out on the incident beyond the deleted reply, while Twitch has remained silent on the issue. Discussion among content creators and viewers is fully under way, with a distinct divide between the two opinions.
KitGuru Says: Personally, I like how Ninja handles most of the controversy that comes his way, but I can't honestly see how directing people from one stream to another is going to benefit anyone else. Do you think that this will hinder other streamers' plans for New Year's or