It turns out PornHub isn't the only porn website helping to encourage sex education to U.S. citizens. Fellow nude-tube video site, xHamster has responded to the Utah state's rejection of opt-in, evidence-based, sexual education, by rerouting Utah visitors to its site, to its "The Box" series of sexual education videos on Youtube.
The debate about sex education in schools is one that is surprisingly relevant, even in 2017, but especially so in the U.S.. In the state of Utah, lawmakers recently rejected a bill that would have simply made it so that parents could opt-in for their children to attend the classes (thanks Vocativ). Instead, now those children will have to rely on what they can learn outside of the classroom, but now xHamster is fighting back.
Visiting the porn site as a resident of Utah (or using a proxy or VPN) will see your access to the videos on there temporarily blocked by a message which reads:
"Utahns consume the most porn per capita of any state, but have some of the lowest levels of sexual education. We're here to change that."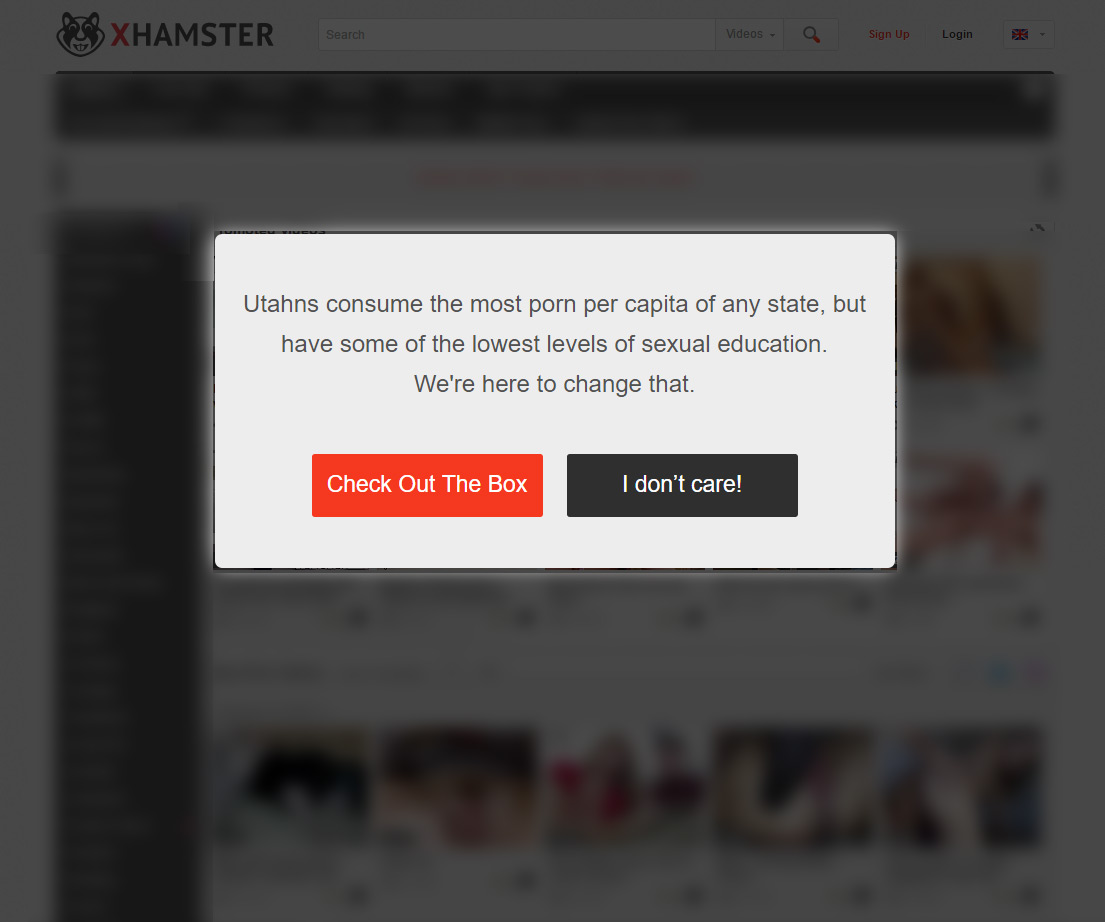 Clicking "I don't care," will send visitors right through to the content they were after, but if instead they "check out the box," they'll be sent to xHamsters Youtube channel of the same name. The Box answers common questions from people about sex, including dispelling myths and having longer form discussions about particular topics.
"It's time to get a real education on sex. xHamster, the greatest porn site in the world, is taking a stance on sex positivity and educating the truth about sex to the world!" one of the video's description reads.
xHamster said that as well as looking to counter the recent legislation rejection, it wants to raise awareness of the double standards of law makers, who make it hard for children and adults to access sexual education, and yet also campaign heavily against pornography. It rejected claims that porn itself should be used for educational purposes, which is why xHamster has been running its Youtube channel for over a year.
"While we love porn, we don't think that it should be relied on for sex ed any more than Star Wars is a substitute for science class," a statement from the company reads.
Discuss on our Facebook page, HERE.
KitGuru Says: Can we all agree that sexual education is the most important way to ward of teen pregnancy and disease and foster loving and healthy relationships? It doesn't encourage sex, it encourages healthy sex. Ignoring that teens are interested in sex while their hormones rage away, or simply teaching abstinence, is irresponsible and very unhelpful.