Last week during the Game Developer Conference, the Oculus Rift S was announced. This is a new, PC-tethered headset that will replace the original Oculus Rift CV1. It has plenty of improvements but there are also some drawbacks to the new headset that are worth keeping in mind for those looking to upgrade.
When the Rift S was announced, some of the core details were a bit vague, with Oculus promising improved visual fidelity, optics, comfort etc. Now we have a better idea of the different trade-offs made for the new design. For instance, the Rift S has an improved display resolution of 1280×1440 per eye (up from 1080×1200) but the display itself is now LCD rather than OLED, which means the black level won't be quite as good as it was before. Aside from that, the refresh rate has been reduced from 90Hz to 80Hz and Oculus has moved to a fixed IPD of 64mm, whereas the CV1 was adjustable between 58mm and 71mm.
The flip down headphones have been replaced by speakers embedded in the headband. That means the Rift S is still an all-in-one solution but if you want truly enclosed audio, you will need to plug in your own pair of headphones.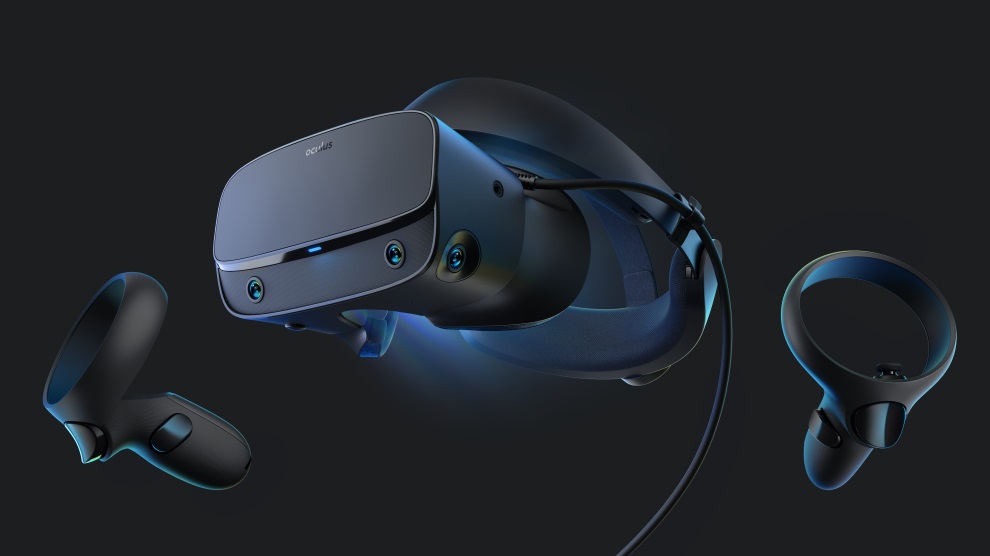 Here is a full specification breakdown:
Spec
Oculus Rift S
Oculus Rift CV1
Display & Resolution
2560×1440 (1280×1440 per eye), LCD, 80Hz.
2160×1200 (1080×1200 per eye), Pentile AMOLED, 90Hz.
Field of View
115° (To be confirmed)
110°
Optics/lenses
Second-gen hybrid Fresnel Lenses. Fixed 64mm IPD.
First-gen Hybrid Fresnel Lenses. Adjustable IPD (58mm to 71mm)
Sensors
Accelerometer
Gyroscope
Magnetometer
Accelerometer
Gyroscope
Magnetometer
Tracking
6DoF inside-out tracking. 5 internal camera sensors.
6DoF external camera tracking. 360-degree IR LED head tracking.
Headphones
'Near ear' speakers in headband. Headphone jack for external headphones.
3D Audio headphones.
Head mounting
Lenovo Halo Strap.
Velcro head straps.
Weight
TBC
470g
Connectivity
DisplayPort 1.2, USB 3.0 (5 meter connection)
HDMI 1.3 , USB 3.0, USB 2.0 (4 meter connection)
Ultimately, the Oculus Rift S brings along a more comfortable design, a much simpler setup process thanks to the internal tracking sensors and better optics. The biggest trade-offs appear to be the switch to LCD instead of OLED and the fixed IPD. According to a study, the average IPD of adults lies somewhere in the 63mm range, so the Rift S is designed to suit most people but the lack of adjustability means that some people will be left with a less than ideal experience.
Those attending GDC this year had the chance to try out the Rift S ahead of launch and so far, impressions seem mostly positive. It will be interesting to see how things pan out when review units start going out and more people have a chance to try it.
KitGuru Says: The Rift S is very different to the Rift CV1 and seems to combine a lot of the changes seen in the Oculus Go and Oculus Quest. Are any of you looking to pick up a VR headset this year? What do you think of the Rift S and the various changes compared to the CV1?