On the back of news that Dell and Microsoft have teamed up to push the Surface Pro 3 for enterprise use, leaked internal slides show that Dell has a Windows tablet of its own up its sleeve. The XPS 12 is going to be a Surface-like Windows tablet, with an attachable keyboard and a trackpad that the company claims will "work flawlessly".
The XPS 12 will also be ahead of the Surface 3 in terms of specs, featuring a 4K display of its own, though that may be a bit of a drain on battery life. Speaking of which, according to the internal slide, the tablet is rated for 10 hours of battery life under use.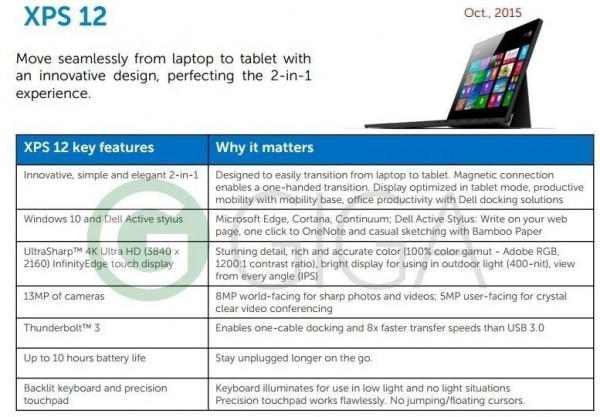 Image Source: Giga
There will be two cameras, one 8 megapixel on the back and another 5 megapixel on the front. Thunderbolt 3 is supported and Dell has come up with its own stylus known as the 'active stylus'.
Unfortunately, we don't know anything about the CPU or RAM inside so that part is still up in the air. However, the date 'October 2015' is found on the slide so presumably, that is when Dell plans to launch its Surface competitor.
Discuss on our Facebook page, HERE.
KitGuru Says: The Surface has become quite popular recently, though it remains to be seen if other companies will be able to give Microsoft any serious competition. The 4K display may be quite the selling point for Dell's tablet but if it drives the price too high, then it may be overlooked.