Intel Corp. has done a lot to make its new code-named "Skylake" family of central processing units very competitive across all market segments they will eventually serve. The company also rolled-out an extremely broad lineup of such CPUs for various mobile computers and plans to expand it in the future. According to Intel, there are over 800 different mobile PC models with "Skylake" microprocessors incoming.
"We have unprecedented [amount of] design [wins with 'Skylake'], more than 800 system designs are coming to market," said Kirk Skaugen, senior vice president and general manager of Intel's client computing group, at Citigroup's global technology conference. "It is probably hard to put it into perspective without putting a denominator, but that is absolutely unprecedented. 48 different [mobile] processors are launching across every form-factor you can imagine."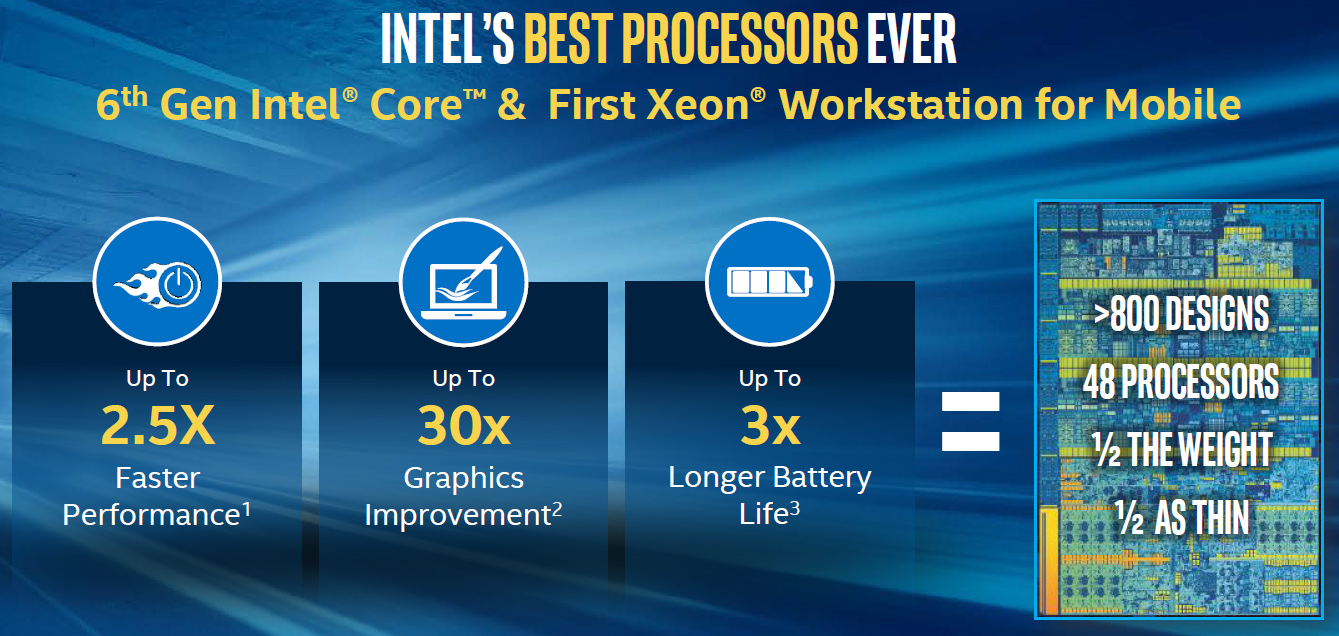 The "Skylake" family of processors for mobile PCs includes Core i-series, Core M-series and other chips for mobile workstations, high-performance gaming notebooks, mainstream laptops, ultra-thin notebooks, hybrid 2-in-1 systems as well as high-end tablets. Right now, the family of Intel "Skylake" CPUs for mobile devices includes over 40 models and that number will grow in the coming months to 48 or even more SKUs.
According to Intel, the new microprocessors based on the "Skylake" micro-architecture offer 10 – 20 per cent higher performance in general-purpose applications compared to the previous-gen "Broadwell" CPUs. The new microprocessors also integrate Intel's ninth-generation integrated graphics core (Intel Gen 9 LP) with a number of architectural enhancements as well as increased amount of execution units, which could bring up to 40 per cent higher performance in graphics-intensive applications. Improved energy-efficiency will also provide longer battery life to mobile devices. Finally, the latest Core M-series "Skylake" system-on-chips with built-in core-logic offer tablet-focused input/output technologies, such as eMMC 5.0, SD XC 3.0, CSI2 [camera interface specifications], USB OTG and so on, which allows to build better ultra-portable devices.
The combination of higher performance, improved functionality and energy efficiency will enable PC makers to be very creative and develop unprecedented number of designs, which will appeal to customers with different requirements. In fact, over 800 designs wins means that the vast majority of PC makers in the world will significantly expand their product families over the next 12 months. The expansions will likely include addition of 2-in-1 hybrid PCs, a new form-factor that Intel pins a lot of hopes on.
Discuss on our Facebook page, HERE.
KitGuru Says: It is clear that the amount of desktop design wins by "Skylake" processors is lower than the amount of mobile design wins. However, it is safe to say that the number of "Skylake"-based designs set to be available in the market over the next 12 months will be around 1000, an unparalleled amount. The only question is how the market will react. Ultra-broad product families confuse consumers and do not necessarily translate into higher sales.