Sales of personal computers have been on the decline for several quarters now and the first half of 2015 was particularly bad for the PC supply chain. However, according to Intel Corp. and analysts from Citigroup, the demand for PCs has bottomed and is now stabilizing. Moreover, Intel's new "Skylake" processors can actually help shipments of PCs to rebound.
Speaking at Citigroup's global technology conference earlier this week, Kirk Skaugen, senior vice president and general manager of Intel's client computing group, indicated that demand for PCs had bottomed and computer makers had started to started to replenish inventory with the company's new products, including central processing units based on the latest "Skylake" micro-architecture.
Virtually all Taiwanese companies supplying personal computers or PC hardware reported revenue upticks in August, which is in line with expectations. More importantly, shipments of notebooks increased more significantly than analysts had expected.
"We continue to observe signs of PC demand stabilization from across the PC supply chain," wrote Christopher Danely, an analyst with Citigroup, in a note for clients, reports Tech Trader Daily. "Taiwan notebook ODM shipments increased 16 per cent month-on-month in August, above our Citi Asia hardware analyst William Yang's estimate of up 10 per cent month-on-month and above the three year average of up 6 per cent month-over-month."
The analyst also noted that spot prices of dynamic random access memory stabilized in the recent weeks, which is a sign of a bottom in the PC market.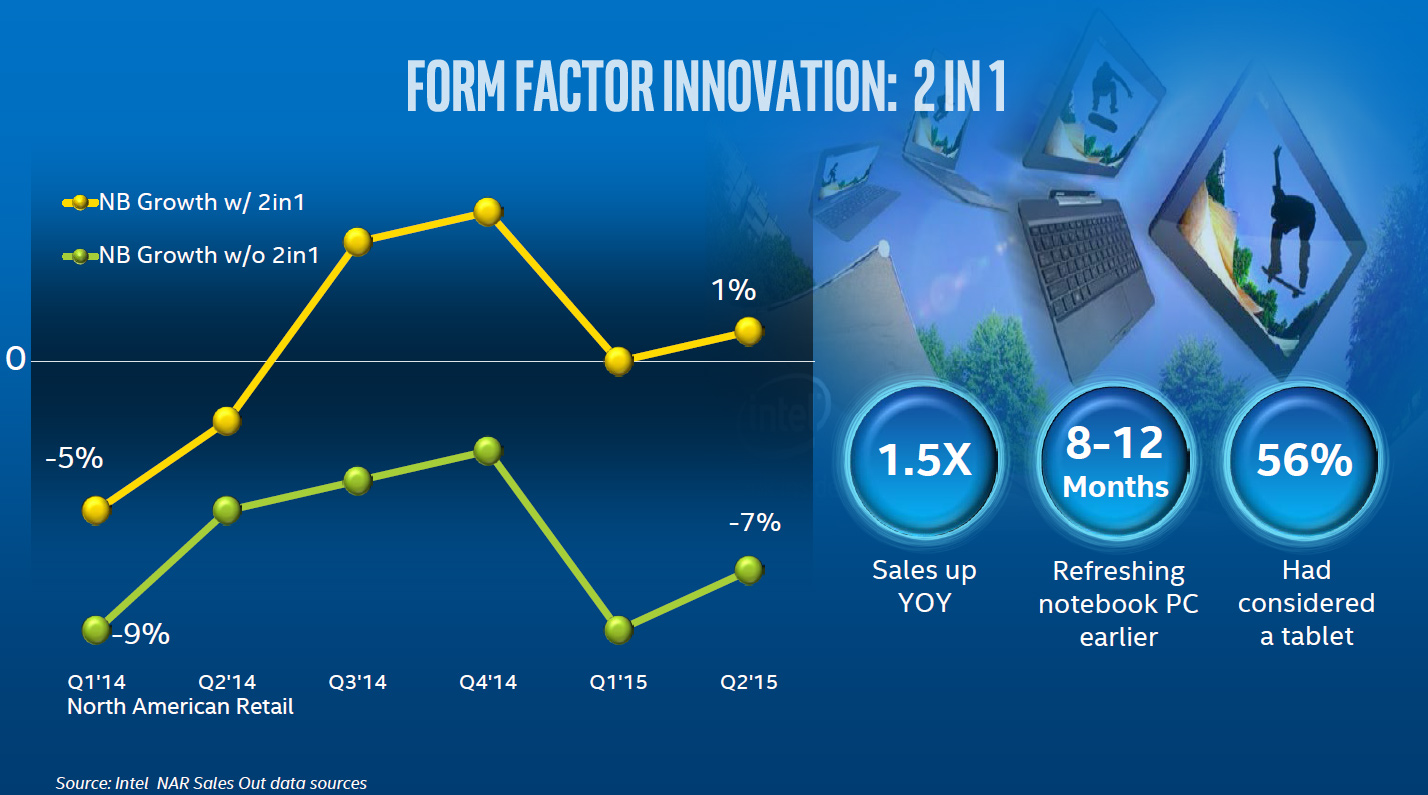 It is noteworthy that Intel now pins a lot of hopes on sales of 2-in-1 hybrid devices, which are gaining popularity in North America and which shipments in the region were up 50 per cent year-over-year in the recent months. According to the chip giant, 2-in-1s have already helped the notebook market to grow slightly in late 2014 and early 2015. Intel claims that such hybrid PCs are driving sales of mobile computers in general because of very short refresh cycles: between eight and twelve months.
"What we are seeing is – [2-in-1s] is our second fastest growing category in mobile after phablets – eight to twelve months refresh [cycle] with this class of devices," said Mr. Skaugen. "If it took X number of years to buy a PC, people are buying these out of want versus need. They are actually coming into the store earlier not because their screen got broken or their hard drive is bad, but because they want to buy a device like this."
Intel expects over 80 hybrid PC designs based on the code-named "Skylake" chips to arrive. Intel also projects that 2-in-1 hybrids will get popular in the business PC segment.
Discuss on our Facebook page, HERE.
KitGuru Says: If Intel and Citigroup are correct and the is no excessive previous-generation inventory in the in the supply chain, then purchases of "Skylake" chips as well as release of PCs on their base could help the market to rebound. However, if PC makers are getting new products because they think they can sell them, then it is completely unclear what is going to happen next if actual sales are below their expectations. In fact, two fundamental factors that affect demand for PCs by end-users and the channel – decline of major currencies relative to the U.S. dollar and free Windows 10 upgrades – are still there.