Due to the Wii U's continued poor sales, despite having a year to bed in to the collective gaming conscience, Nintendo president, Satoru Iwata, along with a number of other company directors and executives, will all be taking pay cuts – some by as much as 50 per cent.
Iwata himself will have his paypacket cut in half, whereas most executives will see slashes to their monthly earnings by somewhere between 20 and 30 per cent, according to Nikkei (via Kotaku). However, if you were worried for a second that Nintendo's higher ups might be living in the poor house before long, never fear, as this pay cut will only go on until June this year. From there, another decision will be made on what happens to their ongoing salaries – presumably, dependent on how well the Wii U is doing at the time.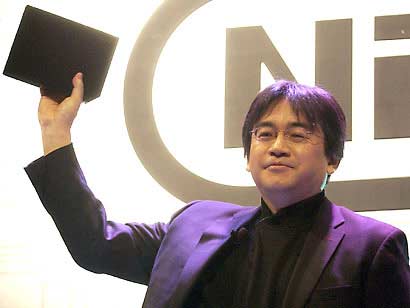 Little did he know, this was the last time he'd hold a successful Nintendo home console for nearly ten years…
Some have been cynical about the pay cut, suggesting that it won't make much difference to Nintendo's books, or that they're just doing it out of some sense of honour. While both of those statements are at least partially true, it's a gesture that could potentially keep jobs at the company, which has once again posted an operating profit loss in the multiple millions.

KitGuru Says: Of course it's going to take a lot more than pay cuts to save the Wii U though. It's going to be an interesting six months for Nintendo, but perhaps the drop in pay will help incentivise the upper management to get things done and turn the ship around?
What do you guys think?