Cooler Master held a Press briefing at their European HQ in Eindhoven. In part they wanted to show off their new building but mainly they wanted to talk some more about their 'Master' concept.

In the past Eindhoven was a Philips town but these days their manufacturing is subcontracted which has left a number of vacant sites. The Cooler Master building replaced an old Philips plant that used to manufacture audio and DAT tapes. It is currently two stories (warehouse downstairs, office upstairs) however the foundations are substantial enough to allow for another floor to added to the existing building at some point in the future.
Watch via our VIMEO Channel Below, or over on YouTube HERE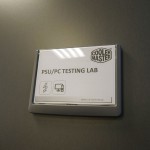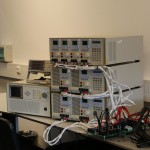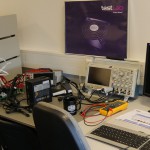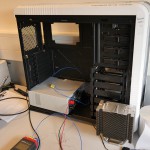 Our tour included a brief look at the power supply and PC testing room where they stress power supplies and use heating equipment to testing cooling hardware …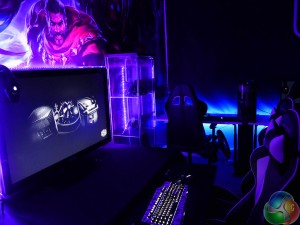 … and we also looked in on the PC gaming room which is used for visiting LAN gamers and, ahem, the staff during break time.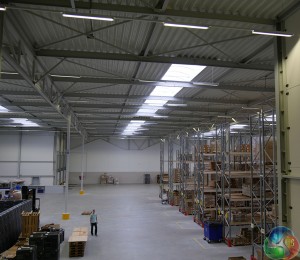 The warehouse is substantial and was partly given over to a Maker area for our Press event. If you look closely you will see the separating wall is built of MasterCase 5 boxes (I counted 300). The warehouse holds buffer stock that amounts to about 15 percent of Cooler Master's European sales as they dispatch the other 85 percent directly from Hong Kong. That amounts to 70 shipping containers, each 40-foot in length, every month.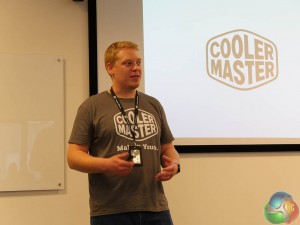 After our tour of the building Christopher Gough, Cooler Master's UK PR Supremo got down to brass tacks. The presentation he delivered was an expansion of what Cooler Master told us at Computex. In June it sounded as though the Master concept was a family of three ATX cases (5, Pro 5 and Maker 5) with the first two models launching in August and the Maker 5 some time later this year.
MasterCase 5 looks nice enough but hardly justifies the tag 'concept' so it was very good news to hear that MasterCase is only part of the deal.
From now on every new Cooler Master product will be part of the Master range. Obviously 'Master' comes from the Cooler Master name and in this instance Case is because it's, um, a case. 5 refers to the mid-ATX size, suggesting we will see smaller and larger numbers for smaller and larger cases and the Pro and Maker suffix pins down a particular model.
So MasterCase 5 Pro. While this does not mean that names such as Cosmos will be killed it strongly suggests we won't see any new model names apart from Master.
This business of model names is significant when you consider Cooler Master's long history in the business. They have a line of legacy cases in the warehouse that serve to illustrate their history and also to act as an aide mémoire to the support staff when a customer calls up to ask a question about a long forgotten model as they can simply pop downstairs and take a look.
There are other Master products to round out the family, and this is where we move the story on from Computex. Air coolers, power supplies, notebook stands, mice and headsets all fall under the Master brand, although it is clear they are at different stages of development.
MasterPower Maker 1500 looks ready for sale and it clearly came as a surprise to the marketing people when Ying Huang, the EU PM Manager started talking about the revised modular connectors and printed lettering on the body of the cooler. The novel feature is the Bluetooth module that allows this digital power supply to communicate with your PC to display power consumption and efficiency figures.

MasterPal is a notebook stand that looks to be pretty much finished. It uses interchangeable parts in order that a single model of stand can replace 73 existing models. You have to think the differences between some of those models must have been tiny.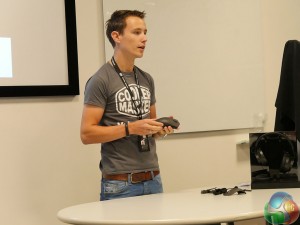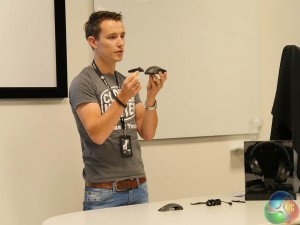 The two most intriguing and potentially best selling products are MasterMouse and MasterSounds, however their Peripheral PM Bram Rongen was clear that both these products are a work in progress.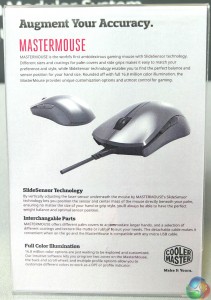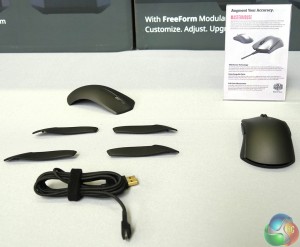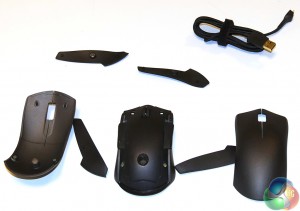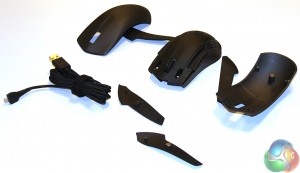 MasterMouse promises to have interchangeable everything. Different shells, weights, top, sides, different textures, ambidextrous or handed and also a removable USB cable. You will even, we were told, be able to move the sensor inside the body of the mouse to adjust the weight balance. One oddity is that Cooler Master will not offer socketed switches but does intend to offer options for the encoder wheel to change scroll sensitivity.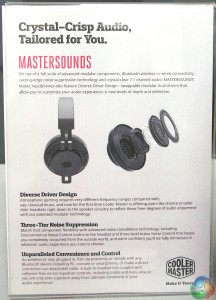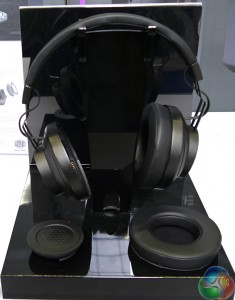 MasterSounds is an ultra high end headset with titanium headband and ear cups that fold in for protection when you are carrying them around, as well as offering noise cancellation and surround sound technology. Again there is a long list of options including ear cups with different materials to change the feel, cabled or wireless connection and interchangeable drivers.
The idea here is that you switch drivers for music or bass heavy gaming. The problem is that we have seen similar promises from other manufacturers in the past and if Cooler Master can pull this off then all well and good. If not, well, it's just vapour ware.

When it comes to cooling, Cooler Master has a reasonable array of products but is still expanding – Ron Classen the Thermal/Cooling Product Manager explained. One notable area is custom loop liquid cooling and as you can see in these photos Cooler Master is working on flexible tubing and rigid pipes along with matching fittings. Their preferred radiators are copper with a black painted finish.
MasterAir Maker is a CPU cooler that looks, dare I say it, rather dull.
Cooler Master tells us there will be interchangeable parts (presumably fans and shrouds) but other than that it is a box cooler in a world of box coolers, except the TDP rating is enormous. This cooler tops out at 250W and that is thanks to the 3D vapour chamber as explained by Chris Gough in the video. This technology is actually capable of handling 500W of cooling, however that isn't intended for the world of PCs but is used for industrial applications such as cooling LED lighting.

The Master range is fascinating however it is the MasterCase we shall be seeing in the next week or two as it launches on 18th August. Naturally we want to see how the case performs but it will also be interesting to see how many accessories are offered at launch and how much they cost.
Discuss on our Facebook page, over HERE.
KitGuru says: MasterCase will be the first outing for the Master concept and we cannot wait to see the reality in action. Thanks to Cooler Master for asking us over to Eindhoven.