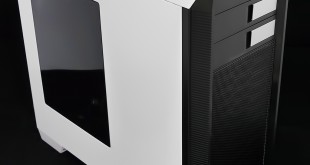 Aerocool has trodden a careful path with its new Aero-1000 ATX case. This steel chassis looks understated with its black and white mono colour scheme and it is clear that Aerocool has worked hard to appeal to enthusiasts while keeping the price low.
At the front of the chassis we have two 120mm fans with a 120mm exhaust fan at the rear, air filtration at the front, top and beneath for the PSU, and in the side panel we have a large tinted window, On the face of it there is very little to dislike about the Aero-1000, however this is balanced by the fact that there are no obvious killer features jumping out to grab our attention.
Watch via our VIMEO Channel (Below) or over on YOUTUBE
Specification:
Motherboard support: ATX, Micro-ATX, Mini-ITX.
Expansion slots: 7.
Included fans: 2x 120mm front intake, 1x 120mm rear exhaust.
Fan mounts: 2x 120/140mm front, 2x 120/140mm roof, 1x 120mm rear.
120mm radiator mounts: 120mm/240mm front, 120mm/240mm roof, 120mm rear.
140mm radiator mounts: 140mm/280mm front, 140mm/280mm roof.
5.25″ drive bays: 2
Internal drive bays: 5x 3.5"/2.5″, 2x 2.5".
Dimensions: 500mm H x 497mm D x 210mm W.
Building a system into the Aero-1000 is a quick job although it takes a while to tidy things up. The easy part is the installation of the hardware as the upper drive tower slips out to free up space for your graphics card and also giving a clear path for cooling air to flow from the fans at the front to the fan at the rear.
The power supply sits hard beneath the motherboard with very little clearance so you will struggle to tidy up the cables for the front panel headers, audio and USB ports. It's a similar story above the motherboard where you can easily install a 240mm or 240mm radiator on the slotted mounts however there isn't much space to secure the wiring for the fans and none of us wants to risk getting a wire trapped in a fan blade.
When it comes to build quality the Aero-1000 is generally successful and it certainly feels solidly built however the fixed top and front panels suggest this isn't a true enthusiast case. That said, it offers a decent array of options when it comes to your choice of hardware and cooling.
There is nothing you could deem to be a problem however the lack of space for cable management can get a bit frustrating at times. The other jarring note is the plastic surround in the area of the optical drives and, in particular, the two drive bay blanks as the painted silver finish looks rather tacky.
Testing
To put this case through its cooling paces we will be using a test system consisting of an Intel Core i7-4770K, Radeon R9 270 and multiple storage drives. This system allows us to produce a substantial amount of heat and effectively test the Aerocool Aero-1000's cooling capabilities.
For stress testing we use a mixture of Prime95 and FurMark to create the maximum heat output. Prime95′s 'Small FFTs' setting allows us to stress our CPU. FurMark's 'GPU Burn-in' mode creates the maximum amount of load our GPU is ever likely to see.
Test System:
Processor: 3.9GHz Intel Core i7-4770K
Motherboard: ASRock Z97 Killer
CPU cooler: Corsair H100i
Memory: Corsair Vengeance LP DDR3-1600MHz RAM
Graphics card: Sapphire Tri-X R9 290
Power supply: Seasonic Platinum Fanless 520W
Storage drives: SanDisk Extreme Pro SSD
OS: Windows 8.1 64-bit.
Cooling Performance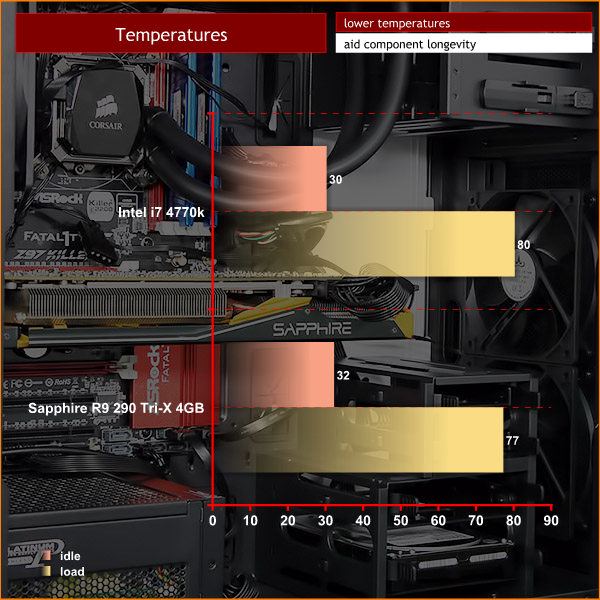 Our initial expectations of the Aero-1000 were fairly high as the case is perforated and has an open design that is well suited to decent cooling, and this proved to be accurate. The combination of three 120mm fans and the 240mm Corsair liquid cooler kept the Core i7-4770K and Sapphire R9 290 under control without difficulty. There were absolutely no surprises and that's exactly how we like things.
Acoustics Performance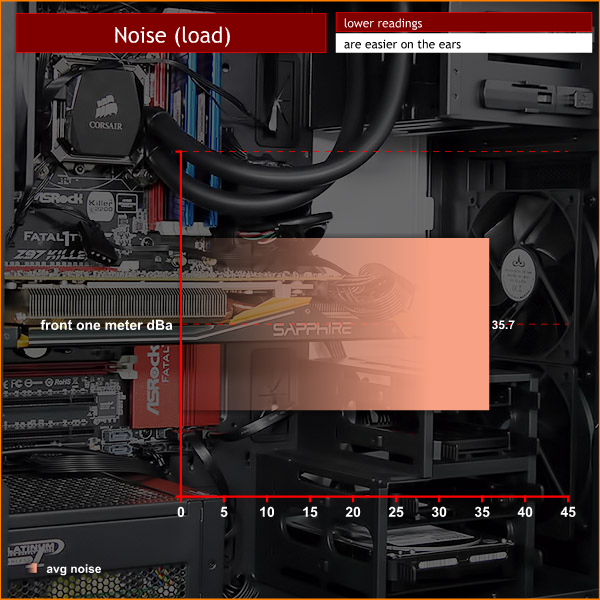 We set the fans to a Normal profile in the BIOS and the effect was to make the PC effectively silent under regular load. When the thermal levels started to crank up the noise levels rose but never got intrusive. The absence of any noise deadening material and the free flowing nature of the design mean this isn't a silent case but neither is it intrusive or unpleasant.
Closing Thoughts
We like the Aerocool Aero-1000 and give it a qualified thumbs up. There is nothing to dislike but neither is there anything that might provide excitement. The closest thing we felt to a frisson was spotting two threaded lugs (mentioned in the video) which Aerocool has confirmed are the basis for a future upgrade to this model, presumably to mount a PWM hub. You can install a graphics card up to 410mm in length (with the drive tower removed) and can install a decent sized radiator at the top and front of the chassis.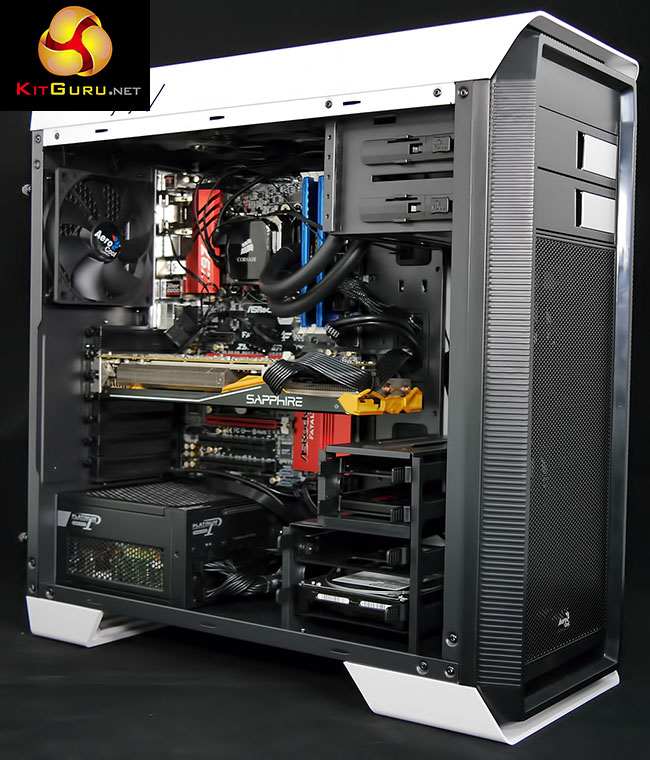 When it comes to matters of styling we quite like the I/O panel on the top of the case but are unimpressed by the optical drive bay blanks. Small touches such as the directional markings on the drive caddies are simple, effective and welcome.
You can buy from CCLOnline for £64.99 inc vat over HERE.
Discuss on our Facebook page, over HERE.
Pros:
Slotted mounts for fans and radiators in the top and front of the case.
Graphics card up to 290mm in length or 410mm with drive tower removed.
Magnetic dust filter on top and front of the case, slide out filter in the bottom.
Price is very fair.
Supplied with three fans.
Solid construction.
Windowed panel
Cons:
Styling of optical drive blanks is a bit naff.
Cable management is poor
Tight for space inside the case
Manual is rather basic.
No noise deadening material.
KitGuru says: The Aerocool Aero-1000 is a fine choice for your next PC build if you don't want to spend much cash and are prepared to work on cable management.