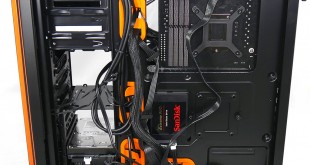 KitGuru had a sneak preview of the be quiet! Silent Base 800 Window at Computex and now we have got our hands on the finished case (we're still waiting to see the Silent Base 600, however). The quick take is that the Silent Base 800 is unchanged, the windowed panel is substantial and well engineered and the price has been increased to account for the new feature. We wondered whether be quiet! might have made the odd tweak to the hardware but in fact we have no surprises to unveil. You get an ATX tower with seven expansion slots, four optical drive bays, seven storage drive bays, two front 140mm fans and a rear 120mm fan.
Specification:
Motherboard support: ATX, Micro-ATX, Mini-ITX.
Expansion slots: 7.
Included fans: 2x 140mm front intake, 1x 120mm rear exhaust.
Fan mounts: 2x 120/140mm roof, 1x 120/140mm bottom, 1x 120mm side panel.
120mm radiator mounts:  120mm front, 120mm/240mm roof, 120mm rear.
140mm radiator mounts:  140mm front, 140mm/280mm roof.
5.25″ drive bays: 3
Internal drive bays: 7x 3.5, 4×2.5″.
Dimensions: 559mm H x 495mm D x 266mm W.
Take a look at the photos and video above and you will see the fans in question are be quiet! Pure Wings 2 models which live up to their name as they are nice and quiet. Their cause is helped by the emphasis on noise deadening material and air filtration used throughout the case. When you look at the stripped case it also becomes clear the air flow path takes a convoluted path that helps to keep noise levels to a minimum.
The headline news is that the windowed side panel is a success. The panel is amazingly rigid, no doubt thanks to the thickness of the window and the way it is secured with 12 screws. There is always a concern that a window will buzz, rattle or vibrate and be quiet! has addressed this concern by using a colour co-ordinated gasket to isolate the window.
The only downside is that you lose the option of mounting a fan in the main panel but realistically that isn't a concern. The other consideration is that the window is quite substantial and you have to make an effort to keep the build tidy as the innards of your PC will be on show to the world.
What changes would we have liked to see? It would be lovely to have a power supply cover – as that would certainly help the cosmetic side of things however that would be a relatively big change. On a minor note it would be good to have a cable management hole (or two) at the top of the motherboard to give an easy route for the 8-pin EPS connector. It would help if the front panel header cables were longer as the routing requires some care and attention and while we're at it life is much easier if the front I/O ports are mounted on the chassis, rather than a removable panel. be quiet! has made a reasonable effort on that score as there are two small block connectors under the top cover that you can disconnect if you want full access to the top of the case.
The final item on our wish list is a fan hub on the back of the motherboard tray. The three be quiet! Pure Wings 2 fans are a feature of this case and we doubt many customers will want to change them for other models so let's make life easy and run them off a single fan header.
Testing
To put this case through its cooling paces we will be using a test system consisting of an Intel Core i7-4770K, GTX 780 and multiple storage drives. This system allows us to produce a substantial amount of heat and effectively test the be quiet! Silent Base 800 Window's cooling capabilities.
For stress testing we use a mixture of Prime95 and FurMark to create the maximum heat output. Prime95′s 'Small FFTs' setting allows us to stress our CPU. FurMark's 'GPU Burn-in' mode creates the maximum amount of load our GPU is ever likely to see.
Test System:
Processor: 3.9GHz Intel Core i7-4770K
Motherboard: ASRock Z97 Killer
CPU cooler: Corsair H100i 240mm
Memory: AMD Radeon 1600MHz RAM
Graphics card: Palit JetStream GTX 780 6GB
Power supply: Seasonic Platinum Fanless 520W
Storage drives: SanDisk Extreme Pro SSD
OS: Windows 8.1 64-bit.
be quiet! has a solid background in the world of cooling and we were impressed by the cooling of the original Silent Base 800. This windowed version is effectively identical and delivers the goods. Installing a Corsair H100i liquid cooler in the roof of the case involved a degree of fiddling around to feed the coolant hoses through a narrowed section of case behind the optical drive bay.
It was much easier using a 240mm cooler rather than the maximum 280mm as this allowed the cooler to be offset away from the motherboard. You are unlikely to have a problem installing your chosen CPU cooler but might find you are restricted in the final position of the components.
Thankfully the be quiet! Silent Base 800 Window lives up to its name and is very quiet. If you choose to crank up the fan speeds you'll hear a certain amount of noise however it easy to find a compromise between cooling and noise. The new windowed panel has no effect on noise levels, which is another way of saying 'well done be quiet!'.
Closing Thoughts
It is surprising that be quiet! has taken eight months to deliver a windowed panel as a revision to the Silent Base 800, however the end results are very good. The case could do with a couple of tweaks to move it to the front of the field, and the price is slightly higher than we like to see, but there is nothing about this case to dislike and a fair amount to applaud.

The one thing that is certain is that the new windowed panel means you have to work that bit harder to keep the build nice and tidy as the interior is fully on show and you have few places to hide your mistakes.
Discuss on our Facebook page, over HERE.
Pros:
Supplied with two Pure Wings 2 140mm front fans and a 120mm rear fan.
Very quiet operation.
Innovative drive bay arrangement gives you plenty of options.
The Silent Base 800 is well provisioned with dust filters.
Large, clear, rigid windowed panel.
The two tone orange and black styling looks superb.
Clever mounting mechanism for 3.5-inch drives.
Accessories are colour co-ordinated with the case.
Cons:
Front panel header wires are a touch too short and require careful routing.
The manual could be clearer.
More cable tie points are necessary.
More cable management cut-outs would be a help.
Accessories are bagged separately however the bags are not labelled.
I/O ports are fixed to the top cover so you have to release a couple of block connectors to remove the cover.
KitGuru says: We've had to wait a while but be quiet! Silent Base 800 Window does the business.