The In-Win 703 is as far removed from the In-Win D Frame Mini as one PC case can be from another, which just goes to show that it is a mug's game to have preconceptions about any new product before you open the box.
In essence the InWin 703 is a small ATX design that has been dressed up with a smart front panel and funky windowed side panel to make it look more exotic than the underlying steel chassis might suggest.
Watch via our VIMEO Channel (Below) or over on YOUTUBE.
Specification
Motherboard support: ATX, Micro-ATX
Expansion slots: 7
Included fans: 1x 120mm front intake, 1x 120mm rear exhaust
Fan mounts: 1x 120mm front, 1x 120mm floor
120mm radiator mounts: 1x 120mm rear
5.25″ drive bays: 1
Internal drive bays: 4x 2.5″/3.5", 1x 2.5"
Dimensions: 432mm H x 477mm D x 210mm W
The headline features of the 703 suggest it is intended for use by small system builders who want to assemble PCs as rapidly as possible without any customisation or modding. At the front you'll find a 120mm fan along with an empty housing that is ready to accommodate a second fan.
At the rear you'll find another 120mm fan, this time with red LEDs for added extra bling. Both fans are powered by a four-pin Molex connector, rather than a motherboard PWM connector, which suggests that In-Win anticipates the system builder will use a basic motherboard with the bare minimum of header connectors.
Assembling a PC inside the 703 is quick and easy as there is plenty of space for your graphics card (up to 408mm in length) and the CPU cooler can stand up to 170mm in height. As we show in the video it is straightforward to install a 120mm liquid cooler in the rear of the case.
The motherboard mounts directly on bumps on the motherboard tray, although In-Win includes three stand-offs in the accessory pack and one of these was necessary for our chosen ATX motherboard.
During the build it became apparent that In-Win has provided very little luxury with the 703 as there are no grommets in the cable management holes, the drive tower is fixed in place and when you unclip the front panel it is held captive by the snake of cables from the front panel connectors.
On the other hand In-Win has provided dust filters over the front fan housings and also in the floor of the case so it certainly isn't all bad news, but perhaps fair to say that the 703 isn't aimed at the enthusiast market.
Testing
To put this case through its cooling paces we will be using a test system consisting of an Intel Core i7-4770K and a Sapphire Radeon R9 290. This system allows us to produce a substantial amount of heat and effectively test the In-Win 703's cooling capabilities.
For stress testing we use a mixture of Prime95 and FurMark to create the maximum heat output. Prime95′s 'Small FFTs' setting allows us to stress our CPU. FurMark's 'GPU Burn-in' mode creates the maximum amount of load our GPU is ever likely to see.
Test System:
Processor: 3.9GHz Intel Core i7-4770K
Motherboard: ASRock Z87 Extreme4
CPU cooler: Alpenfohn Wasser 120mm
Memory: Corsair LP 1600MHz RAM
Graphics card: Sapphire Radeon R9 290 Tri-X 4GB
Power supply: Seasonic Platinum Fanless 520W
Storage drives: Sandisk Extreme Pro SSD
OS: Windows 7 Professional 64-bit
With the ASRock Bios set to Silent mode the In-Win is indeed silent however the cooling is unimpressive. Setting the fan speed to Normal increases the noise levels noticeably but also improves cooling, although our use of a 120mm liquid cooler clearly had an impact compared to our usual 240mm or 280mm cooler.
Acoustics Performance
Noise levels were slightly higher than we like to see however the absence of any sound deadening materials or clever baffling means this comes as no surprise.
Closing Thoughts
There is no denying the 703 has a certain amount of visual appeal but its main allure is the relatively low price of £54.98 and the way it is quick and easy to build your new PC with the minimum of fuss. On the other hand the fact the 703 is riveted together and has fixed drive bays, which means it is pretty much useless for modders.
In-Win has worked hard to keep the 703 small and compact and it achieves this end but there are consequences such as the tiny amount of space for cable management behind the motherboard tray. In fact the space for cabling is found in the bulging side panel rather than the body of the case.
This is a proper case from a proper company however it is very much an entry level proper case. It would just about serve as a first time upgrade before you learn about enthusiast cases that are available from NZXT, Phanteks or, indeed, from In-Win. If you raise your sights and look at spending £80 you can get far better value for your money.
Box.co.uk have stock of the In Win 703 which ships with a free iEar Headphone holder BUY HERE.
Discuss on our Facebook page, over HERE.
Pros:
Very pleasant styling.
Supplied with two 120mm fans.
Can accommodate pretty much any graphics car.
Dust filters at the front and bottom of the case.
Motherboard mounts are integrated in the motherboard tray.
SSD mount on top of the drive tower.
Cons:
Fixed drive tower.
Fans are powered by four-pin Molex.
Bare minimum of cable management.
Riveted construction.
Front panel is held in place by cables.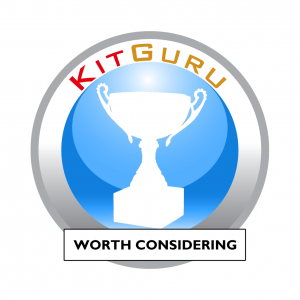 KitGuru says: The In-Win 703 case is relatively cheap however the absence of enthusiast features means it is best suited to PCs at the budget end of the scale.