Advanced Micro Devices yet has to unveil its Radeon R9 285X graphics card known as the code-named "Tonga XT", but certain unofficial sources indicate that the new graphics solution could offer much higher performance than originally thought.
The code-named Tonga graphics processing unit from Advanced Micro Devices seemed to be a strange chip when the first details about it emerged earlier this year. When AMD officially launched its Radeon R9 285 graphics card, the situation got even more complicated. The new GPU was even slightly larger (359mm² vs. 352mm²) than the one it replaced (code-named Tahiti), however, its performance was on par with the Radeon R9 280, not a breakthrough for the year 2014. According to a newly-released information, the fully-fledged Tonga XT graphics processing unit should be able to leave the Radeon R9 280X behind in terms of performance.
PC Watch reports that the Tonga XT (Radeon R9 285X) in its full configuration features 2048 stream processors, 128 texture units and 384-bit memory bus, just like the Tahiti XT (Radeon R9 280X). It is unclear whether the Tonga XT has 32 raster operating pipelines (ROPs), like its predecessor, or features 48 ROPs in order to offer better performance in high resolutions. Previously it was believed that the Tonga XT features 256-bit memory bus, which could limit performance in certain cases.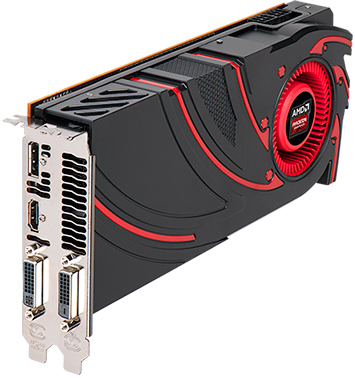 Since the Tonga XT is based on the GCN 1.2 architecture, whereas the Tahiti XT is powered by the GCN 1.0 architecture, the newer GPU should naturally outperform its predecessor in a number of cases, especially if they have similar amount of execution units and similar memory bus. The Japanese web-site claims that apart from already mentioned innovations of the GCN 1.2, the new architecture is better suited for heterogeneous computing applications.
If the Radeon R9 285X manages to significantly outperform the Radeon R9 280X, then AMD's competitive positions on the market of graphics cards should improve a bit. The Radeon R9 280X "Tahiti XT" is about three years old and it does not seem to be a truly innovative solution anymore.
AMD did not comment on the news-story.
Discuss on our Facebook page, HERE.
KitGuru Says: What is completely unclear is the reason why AMD decided to configure the Radeon R9 285 in a way that it does not really outperform its predecessor, the Radeon R9 280. The novelty does have a number of advantages over its ancestor , but AMD has never really advertised advantages of the GCN 1.2 and buyers are hardly aware of them.