The budget PC case market is absolutely flooded with options, though many of them can be very sketchy in terms of build quality and are quite frankly not worth wasting your money on. However, there are some bargains to be had in this sector – just recently KitGuru reviewed the brilliant Phanteks Eclipse P360A priced at under £65, while the MSI MAG Forge 100 series costs around £50-£60 and is another solid choice. Today we look at the Cougar MX410 Mesh-G RGB, coming at just £43.99. How does it stack up against the competition? Let's find out.
Cougar MX410 Mesh-G RGB Features:
Compact ATX form factor design, both shorter and slimmer from compared to a traditional ATX mid-tower case, taking up less desktop space, but slightly wider at 210mm for improved cooling performance and cable management.
High airflow design with full-length mesh panel allowing almost unrestricted airflow entry at the front of the case.
Easy to use Integrated digital ARGB lighting, software free with a built-in controller and the option to connect directly to compatible motherboard 5v headers for system-wide synchronisation.
Integrated power supply shroud to hide away unsightly cables with a full-size tempered glass left-hand window panel to show off your clean build.
Support for high specification gaming systems including up to ATX size motherboards (Mini ITX/Micro ATX /ATX) and high-end graphics cards with a maximum length of 300mm.
Space for storage devices comprises of up to three 2.5-inch SSDs as well as two 3.5-inch HDDs – enough to fulfil most user's needs.
Supported cooling hardware includes the installation of up to a six 120mm fans (3 x front, 2 x top, 1 x rear) water-cooling radiator support up to 240mm in length (front 120/240, top 120/240, rear 120)
Four 120mm ARGB fans and 2 x front panel RGB LED strips included with front panel RGB control button.
Full Specifications:
Case Form Factor: Mid Tower
Motherboard Type: Mini ITX / Micro ATX / ATX
Dimensions (WxHxD): 210 x 455 x 380 (mm)
I/O Panel: USB 3.0 x 2, USB 2.0 x 2, Mic x 1 / Audio x 1, RGB Control Button
3.5″ Drive Bay: 2
2.5″ Drive Bay: 3
Expansion Slots: 7
Cooling Fan Support: Front 120mm x 3 (ARGB fans x 3 pre-installed) Top 120mm x 2, Rear 120mm x 1 (ARGB fan x 1 pre-installed)
Maximum Number of Fans: 6 Max.
Water Cooling Support: Front 240mm / 120mm, Top 240mm / 120mm (Max. component height on motherboard is 40mm) Rear 120mm
Graphics Card Length: 300 (mm) / (Only fans at the front panel) 270 (mm) (Radiator with fans at the front panel) (Horizontal graphics card slots are compatible with RTX 3080/3070.)
CPU Cooler Height: 165 (mm)
PSU length: 160 (mm)
Onboard Lighting System: Integrated Lighting with Addressable RGB LEDs and Dynamic Lighting Effects in the Front Panel
RGB Sync with M/B: Yes
The Cougar MX410 Mesh-G RGB claims to offer all the features and benefits of more expensive premium cases, but in a more compact and affordable chassis. Once removed from the packaging, the size of the MX410 is instantly noticeable – this is much smaller than regular mid-tower ATX cases, measuring just 210mm x 450mm x 380mm (W x H x D) which isn't much more than some Mini-ITX and Micro-ATX cases.
Before the system build began, we had concerns about whether the installation of an AIO at the front is possible at all while using a high-end graphics card. With the stock fans installed at the front of the case there is only 310mm of space to play with, and our Aorus RX 5700XT measures 290mm. Therefore, our only option is to install the AIO at the top of the chassis which also looks very tight for AIO installation.
There are also some concerns about build quality and the design of the case. A small amount of the filter fabric has not been trimmed correctly and is found poking out of the mesh front panel. At the back of the case, the plastic PCIe slot cover is poorly designed a single screw in the centre of the cover means that the ends can easily come away from the case, while the shape of the cover makes it awkward to remove the thumbscrew by hand.
Space inside the power supply shroud also looks very restricted too, it will almost certainly be impossible to connect and disconnect modular cables with the HDD cage fitted, and there doesn't look to be much space at all for cables to be hidden with the HDD cage installed in the PSU shroud. The HDD cage also completely blocks off the lower front fan so airflow to any HDDs will be virtually non-existent.
Installing the system inside the Cougar MX410 Mesh-G RGB turned out to be less problematic than we initially thought. Space for AIO installation is very tight at the top of the case with a high-end motherboard installed. A motherboard with smaller VRM heatsinks and without a rear I/O shroud may offer more space for AIO installation in the roof of the case.
As expected, installing a modular power supply would be difficult with the 3.5-inch HDD cage fitted to the case, so we removed the HDD cage to allow for more space. This could be a problem if your budget only stretches to allow for mechanical HDDs in the system, however, SATA and M.2 SSDs are more affordable these days so it may not be such a big issue leaving the 3.5-inch HDD cage out.
Other than the minor issues mentioned, installing a full-size ATX system with a big high-end graphics card didn't turn out to be such hard work. Novice system builders may find it challenging building an ATX system inside such a compact chassis, but for anyone with experience the job isn't so difficult and it looks neat in the end, with enough space for high-end hardware and tidy cable management.
Thermal Performance Testing
As with every KitGuru case review, thermal performance is important, therefore we shall measure this by running a series of tests to record CPU and GPU temperatures under load.
To simulate thermal performance in gaming we will run 3Dmark Time Spy benchmark in a loop for 20 minutes with the case in various configurations. With this data, we can compare how each scenario affects thermal performance.
We will compare the system's thermal capabilities with a liquid-cooled solution for the CPU, using a Cougar Aqua 240, 240mm AIO and the graphics card stock cooling solution. We will then measure thermal performance using a CPU Tower (Noctua NH-D15) with the case in the same configurations.
During thermal performance testing, only stock case fans will be used unless otherwise specified. All fans and pumps (where applicable) will be set to their standard fan curve profile as controlled by the motherboard.
All temperature measurements are presented as Deltas – the ambient temperature has been deducted from the CPU/GPU temperature giving us a Delta.
The following configurations will be used to test the effect they have on thermal and acoustic performance:
Default configuration;
Front panel removed;
Glass side panel removed.
Test System
Chassis: Cougar MX410 Mesh-G RGB
Processor: AMD Ryzen 5 3600XT
Motherboard: Gigabyte B550 Aorus Master
CPU Cooler: Cougar Aqua 240 240mm AIO/ Noctua NH-D15
Memory: 16 GB (2 x 8 GB + 2 dummy modules) Aorus RGB Memory DDR4-3600
Graphics: Aorus AMD Radeon RX 5700 XT
Storage Drive: 500 GB Corsair MP600 PCIe Gen4 M.2 NVMe SSD
Power Supply: Adata XPG Core Reactor 750 GOLD 750W
OS: Windows 10 version 1909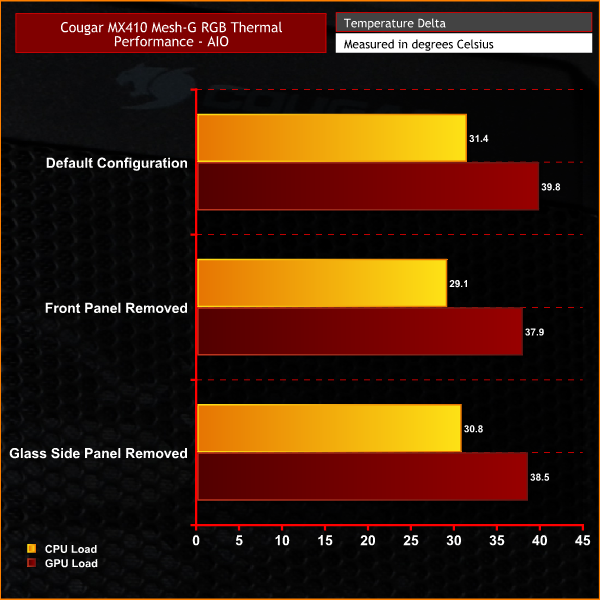 Note: 240mm AIO cooler was installed in the roof of the case with fans fitted in a push configuration exhausting air out of the case.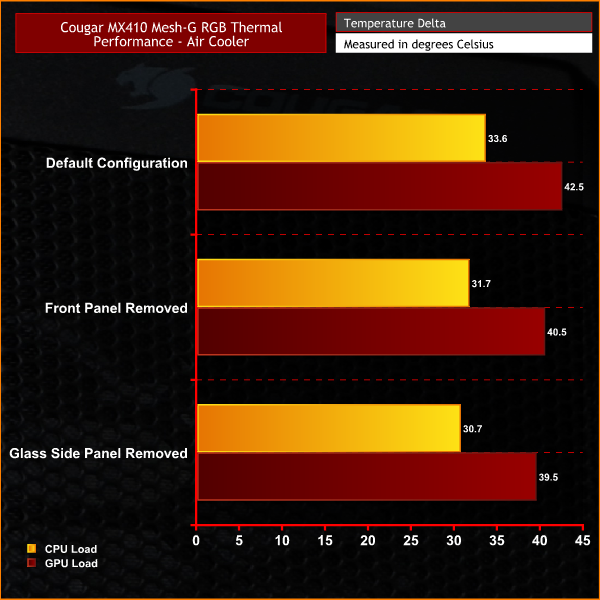 Note: The Noctua NH-D15 used in this test was configured in single/central fan specification due to CPU cooler/case Height restriction.
Thermal Performance Overview:
The Cougar MX410 Mesh-G RGB is an airflow focused case with a mesh panel that spans almost the entire front of the case. The mesh aims to provide almost unrestricted airflow into the system to improve thermal performance and component temperature under load.
Our thermal performance test using both an AIO closed-loop CPU liquid cooler and a CPU tower cooler shows that the high airflow front panel of the MX410 Mesh-G RGB is doing the job of keeping internal system temperature well under control.
A fluctuation of just 2-3 degrees Celsius average delta temperature was recorded during our testing with the case in various configurations.
Closing Thoughts
While we did come across some minor issues with the build quality and some small difficulties during the system installation, the Cougar MX410 Mesh-G RGB has no fundamental problems that make us believe that it is a poor case, it is quite the opposite. Cougar has to be commended for squeezing ATX motherboard support into such a compact ATX form factor – the dimensions of the case are comparable to other Micro-ATX and Mini-ITX chassis on the market, taking up a similar footprint of desk space.
This does mean that installation of certain components such as an AIO cooler or a long, high-end graphics card is slightly compromised. However, we still managed to squeeze in a 240mm AIO in the roof of the case, as well as our Aorus RX 5700XT which is a 2.7 slot graphics card measuring 290mm long. With our high-end B550 Aorus Master motherboard and its large VRM heatsink and I/O shroud, it made the AIO a very tight fit and the long GPU meant the AIO could only fit up top and not in the front of the case.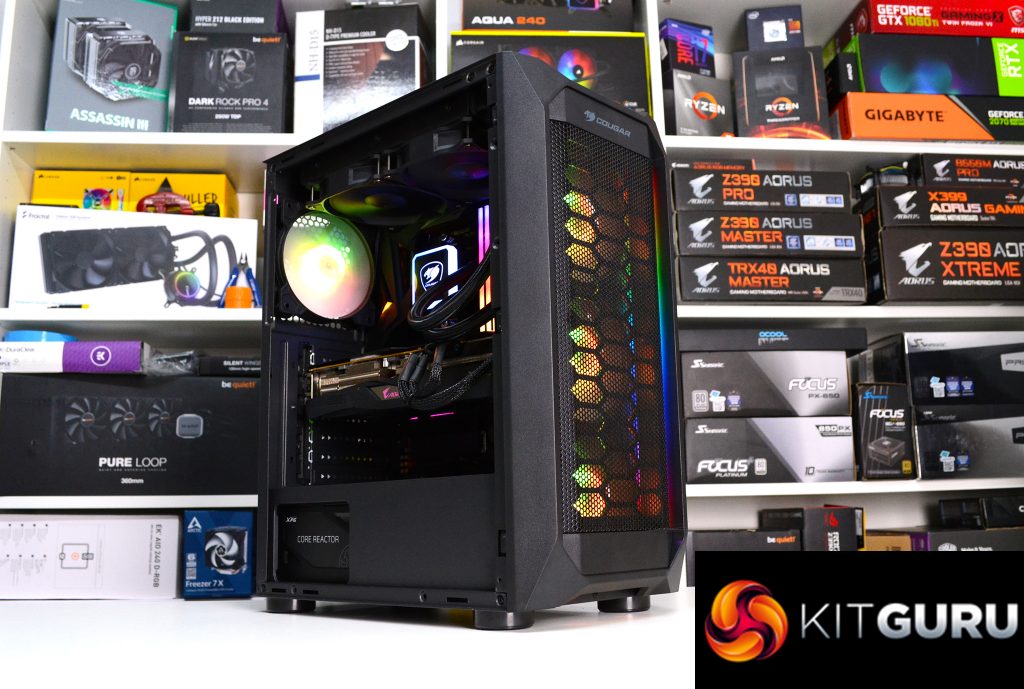 That said, it did all fit inside this very compact chassis which is impressive. 3.5-inch HDD installation was also compromised since we had to remove the HDD cage to fit our ADATA XGP Core Reactor 750w modular power supply. This isn't such a problem as there is still space for three 2.5-inch drives and M.2 device don't take up any case space.
As well as being compact, the MX410 Mesh-G RGB is very affordable at around £45 currently. The build quality may not quite live up to the more mid-range cases from the likes of Phanteks, be quiet!, Fractal etc, but it has several more premium features we'd expect to see, such as a tempered glass side panel, handy cable management options and lashings of RGB.
You may not be getting the best build quality possible but the chassis feels solid when all panels are installed, so we can't knock it too hard, it is just the little finishing touches that slightly let it down. However, if your budget for a case is tight and you want the features such as tempered glass and addressable RGB, this may be a worthy candidate for your next budget gaming build.
The Cougar MX410 Mesh-G RGB is available to purchase from Amazon UK now, priced at £43.99 HERE.
Discuss on our Facebook page HERE.
Pros:
Super compact ATX form factor.
Plenty of RGB included.
Great airflow.
Budget price tag
Cons:
Questionable build quality in certain areas.
AIO and PSU installation can be a tight squeeze.
KitGuru says: The Cougar MX410 Mesh-G RGB is the new benchmark for ultra-budget cases with its super-compact ATX form factor, tempered glass and array of RGB lighting.
Be sure to check out our sponsors store EKWB here