Biostar, a second-tier maker of mainboards that specializes on various niche and unique solutions, this week introduced BTC-24GH, a special mainboard designed for Bitcoin mining and featuring 64 special-purpose ASICs [application-specific integrated circuits] which were specifically designed for mining of the virtual currency.
In the world of crypto currencies, a "mining rig" is a computer system used for mining Bitcoins or other virtual currencies. Such systems can be built specifically for mining or could be used for everyday computing, e.g. for gaming and surfing, and utilised to mine only on a part-time basis. The latter systems usually mine Bitcoins and other crypto currencies using graphics processing units.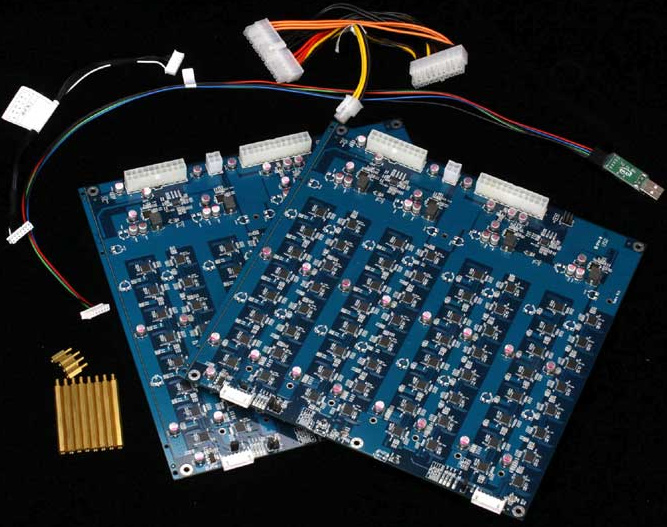 With the rising price of Bitcoins, GPU mining can theoretically be profitable, however, GPUs consume a lot of power, which, given fluctuating price of Bitcoins, can make mining loss-making. Nonetheless, it is possible to mine using special-purpose ASICs which have strong performance in operations that are made while mining Bitcoins. The chips consume relatively low amount of power and are generally efficient, but they are only designed for mining Bitcoins, not other digital currencies.

Biostar BTC-24GH mainboards feature 64 ASIC developed specially for mining Bitcoins, which have aggregate performance of 24 gigahashes per second (24GH/s). Every one of such mainboards consumes 130W, but is faster than 30 AMD Radeon HD 7970/Radeon R9 280X graphics cards, according to the maker. The mainboards can be daisy-chained using COM and power cables to build extremely powerful mining systems with multiple boards. The latter should be connected to PCs using a USB connection.
Biostar has not announced the price of a single BTC-24GH mainboards as well as regions where the products are set to be available.
KitGuru Says: Special-purpose Bitcoin mining hardware is not something completely new. ButterflyLabs sells 10GH/s Bitcoin mining device for $349, so do not expect BTC-24GH from Biostar to be truly affordable. As a result, whether it makes sense or not to build a Bitcoin mining rig at home/garage completely depends on exact price of the board as well as electricity in your region. Plus, of course, the actual price of Bitcoins.