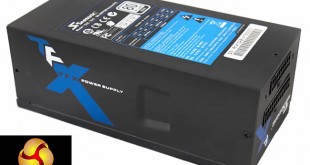 We spend most of our review time analysing ATX power supplies, however we wanted to break with tradition today and take a look at the new Seasonic TFX 350 watt unit. This tiny supply is fully modular and ships with 80 Plus Gold Certification – but can it deliver the high level of quality we expect from a Seasonic design?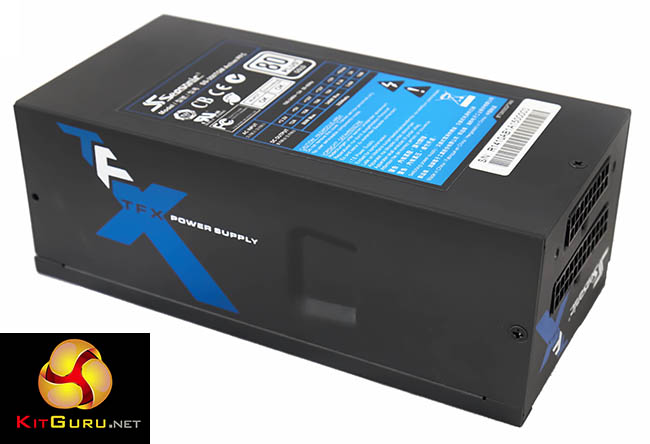 It may surprise you to hear that TFX power supplies are big sellers. They are ideal for small form factor PC's, HTPC's and embedded solutions. The Seasonic TFX 350 watt unit on test today should be quite efficient considering the 80 Plus Gold Certification.
High efficiency is very important in this sector as you want the quietest running power supply possible – and one that isn't producing a ton of heat either.

Common power supply form factors
Width (mm)

Depth (mm)

Height (mm)

ATX

150

140

86

SFX

125

100

51.5

Flex ATX

81.5

150

40.5

TFX

85

175

65
Main Features:
New high grade paintwork appearance.
Fully Modular.
TFX form factor.
high grade Japanese Capacitors.
5 Year Warranty
80mm Ball Bearing Fan.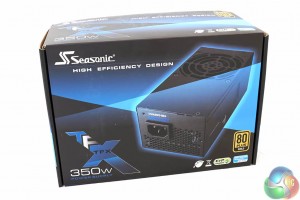 We like the box artwork and Seasonic even highlight a picture of the unit itself on the front of the box. Its nice to see a non generic style box for a change.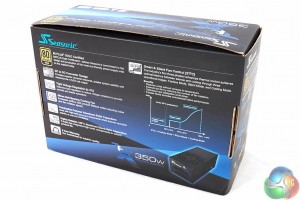 Some technical details are shared on the rear of the box, shown above. Of note? The TFX 350W uses a 'Smart & Silent Fan Control (S3FC)'. At 40% load or when the temperature is below 25c the fan will disable completely.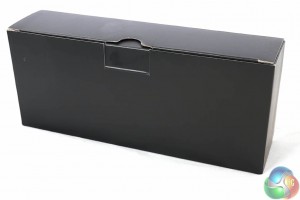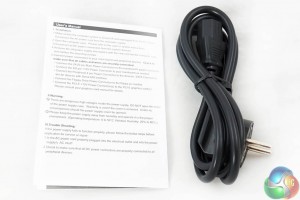 Inside, the cable box, and a regional specific power cable and user manual.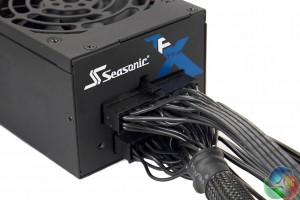 In a rather unusual manner all the cables are connected via a thick dual header cable which plugs directly into one side of the power supply (see image above).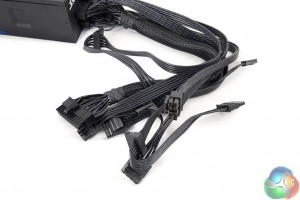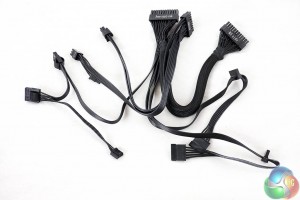 This cable (partially sleeved) consists of a single MB connector, single 6+2 PCIe connector, 4+4 pin EPS/ATX 12V connector, 4 SATA connectors, 2 MOLEX connectors and a floppy header.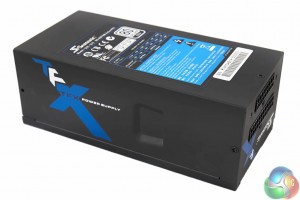 The Seasonic TFX 350W power supply is diminutive and measures 85mm (W) x 65mm (H) x 175mm (L).
This watt unit passed our 'screwdriver' test without a problem. This involves running the head of a Philips head driver down the side of the chassis with light to medium force. After all, how many times have you accidentally connected with a power supply during a system build?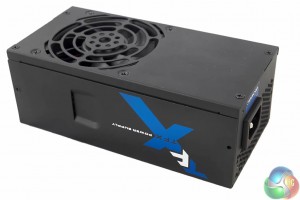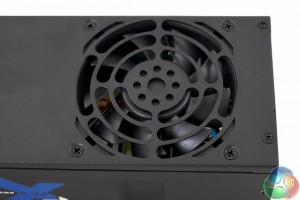 The small fan is visible on the flip side – we will take a closer look at this when we crack the unit open shortly.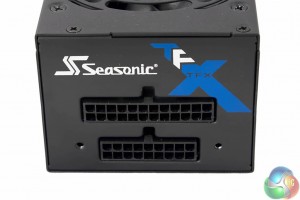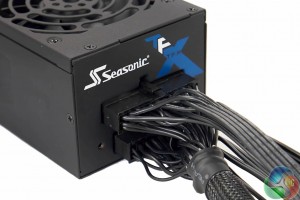 One end of the unit is home for two modular cable headers – a single cable connects to both of these headers – it is impossible to go wrong here.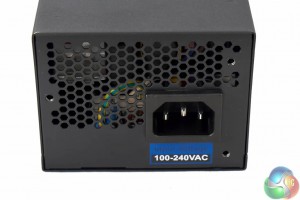 The other end of the chassis is vented to help with airflow. There is a power connector here, but no switch.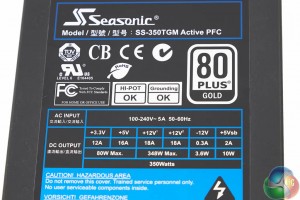 Seasonic TFX 350W

DC Output

+3.3V

+5V

+12V1
+12V2

-12V

+5Vsb

Max Output

12A

16A

18A
18A

0.3A

2A

Total Power
80W Max.
348W Max.
3.6W
10W
350W
The +3,3V rail can deliver 12A, and the +5V 16A. The two +12V rails can deliver 18A for a maximum of 348 Watts. Ideally you will be only using a single, lower cost graphics card in a system using a TFX unit – we really don't recommend using Molex power converter cables.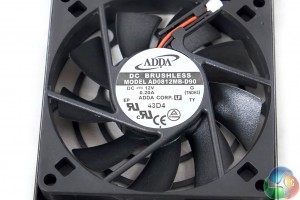 The Seasonic TFX 350W uses an 80mm ADDA fan (Model number AD0812MB-D90). This is rated for 3,500 rpm and 40dBA. We would hope it won't ever be running at full speed. Its not the highest grade fan for a unit like this and I would expect a little more from Seasonic to be perfectly honest.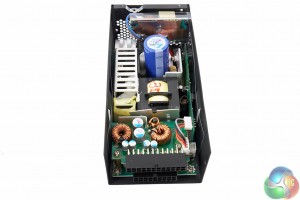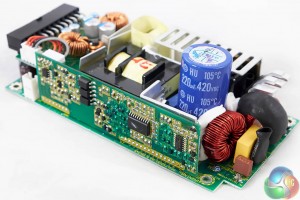 As this is a TFX supply, the arrangement inside is a little unusual. There are small aluminum heatsinks scattered across the PCB. The unit features a second horizontal PCB which sits above the main PCB. The design of the unit is a LLC resonant primary and a synchronous rectification with DC-DC VRM's secondary.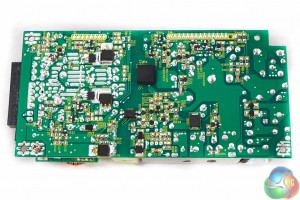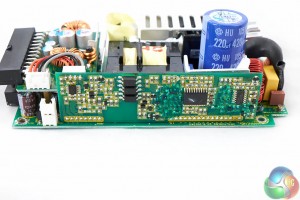 The soldering quality is high and we didn't notice any issues worth mentioning. Seasonic are using a 105c Hitachi Japanese primary capacitor rated 220uF, 420V. Secondary capacitors are Nippon Chemi Con.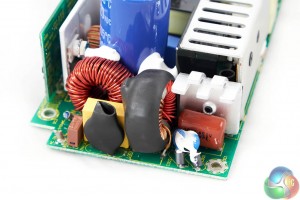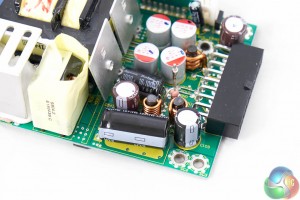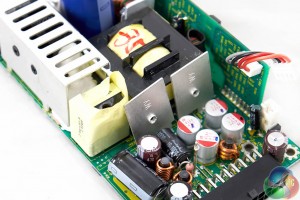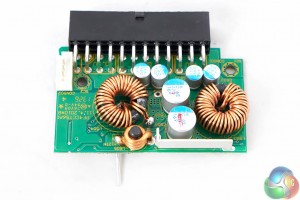 Input filtering begins on the PCB attached to the input receptacle with X and Y capacitors and a coil. This continues to the main PCB. Behind the filtering components we can see a small heatsink which has the bridge rectifier attached to it. Another heatsink on the edge of the PCB is home to the PFC power components.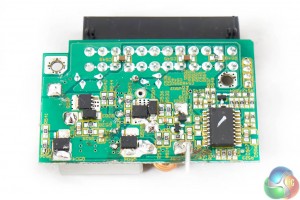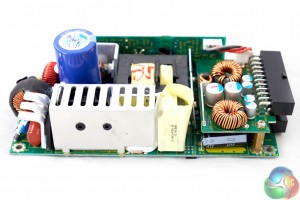 The PCB on top is home to the DC-DC VRM's. These VRM's incorporate Nippon Chemi Con Capacitors. Under this PCB there are more Japanese capacitors.

On this page we present some high resolution images of the product taken with the Fuji XT1 camera. These will take much longer to open due to the dimensions, especially on slower connections. If you use these pictures on another site or publication, please credit Kitguru.net as the owner/source.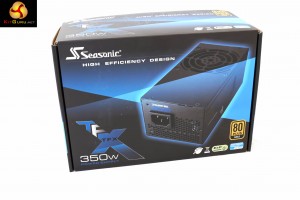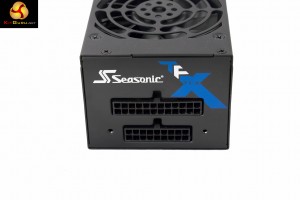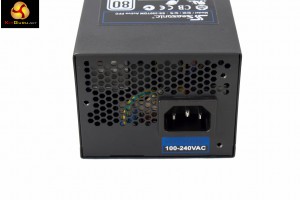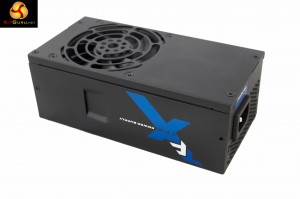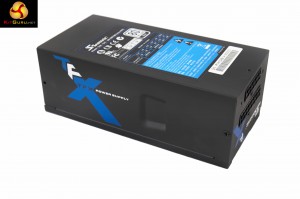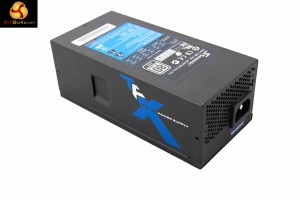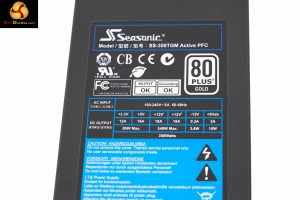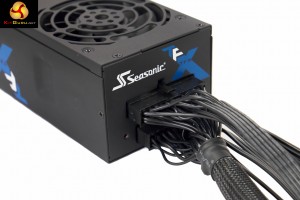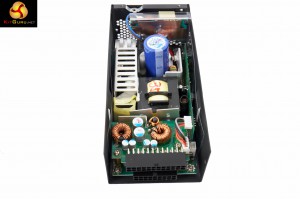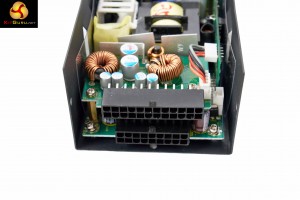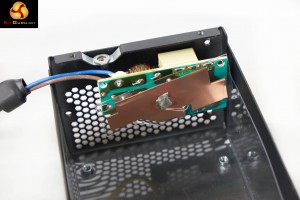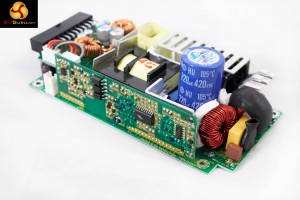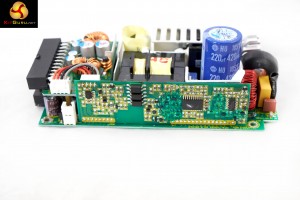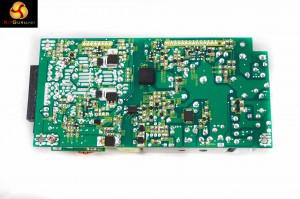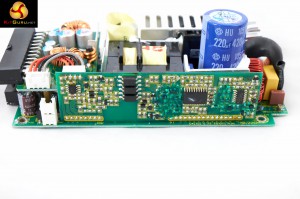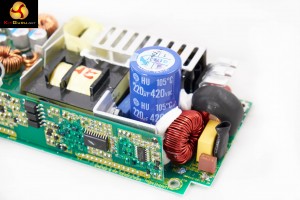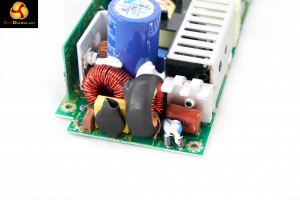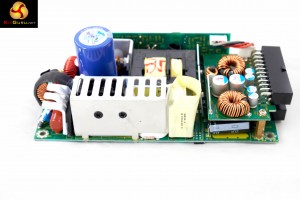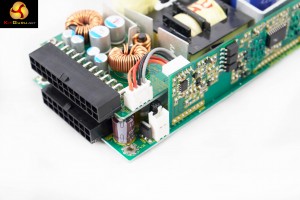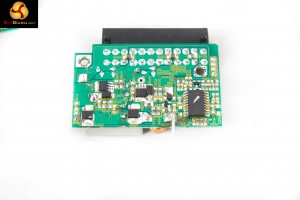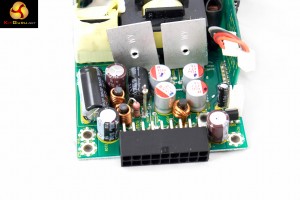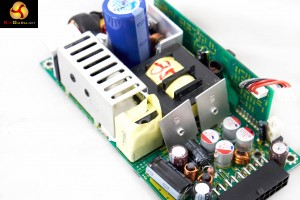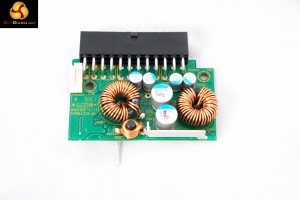 Additional technical assistance: Peter McFarland and Jeremy Price.
Correctly testing power supplies is a complex procedure and KitGuru have configured a test bench which can deliver up to a 2,000 watt DC load. Due to public requests we have changed our temperature settings recently – previously we rated with ambient temperatures at 25C, we have increased ambient temperatures by 10c (to 35c) in our environment to greater reflect warmer internal chassis conditions.
We use combinations of the following hardware:
• SunMoon SM-268
• CSI3710A Programmable DC load (+3.3V and +5V outputs)
• CSI3711A Programmable DC load (+12V1, +12V2, +12V3, and +12V4)
• Extech Power Analyzer
• Extech MultiMaster MM570 digital multimeter
• Extech digital sound level meter
• Digital oscilloscope (20M S/s with 12 Bit ADC)
• Variable Autotransformer, 1.4 KVA
DC Output Load Regulation

+3.3V

+5V

+12V

+5VSB

-12V

A

V

A

V

A

V

A

V

A
V

88W

3.75

3.35

4.02

5.02

4.21

12.09

0.60

5.03

0.12
-12.07

176W

7.52

3.34

8.03

5.01

8.51

12.08

1.22

5.03

0.25
-12.06

263W

11.26

3.34

12.02

5.01

12.76

12.08

1.86

5.03

0.37
-12.06

350W

15.02

3.34

16.01

5.00

16.98

12.03

2.51

5.03

0.50
-12.06
Seasonic TFX 350W

Maximum Load
396W
Load regulation is great across the output range. We managed to get an extra 46 Watts from the power supply before it would switch off.
We then used an oscilloscope to measure AC ripple and noise present on the DC outputs. We set the oscilloscope time base to check for AC ripple at both high and low ends of the spectrum.
ATX12V V2.2 specification for DC output ripple and noise is defined in the ATX 12V power supply design guide.
ATX12V Ver 2.2 Noise/Ripple Tolerance

Output

Ripple (mV p-p)

+3.3V

50

+5V

50

+12V1

120

+12V2

120

-12V

120

+5VSB

50
Obviously when measuring AC noise and ripple on the DC outputs the cleaner (less recorded) means we have a better end result. We measured this AC signal amplitude to see how closely the supply complied with the ATX standard.
AC Ripple (mV p-p)
DC Load
+3.3V
+5V
+12V
5VSB
88W
5
10
20
5
176W
5
10
35
10
263W
10
10
45
10
350W
10
10
55
10
Ripple suppression on the minor rails is stellar, although the +12V output peaks at 55mV at full load. This is a little higher than we would expect from a Seasonic design, even in this form factor. Still it is worth pointing out that this is well within rated tolerance specifications (less than 50%).
Efficiency (%)

88W

88.67

176W

91.88

263W

91.58

350W

89.93
Efficiency is very strong, peaking at close to 92 percent at 50 percent load. Efficiency drops to close to 90% at full load.
We take the issue of noise very seriously at KitGuru and this is why we have built a special home brew system as a reference point when we test noise levels of various components. Why do this? Well this means we can eliminate secondary noise pollution in the test room and concentrate on components we are testing. It also brings us slightly closer to industry standards, such as DIN 45635.
Today to test the Corsair Power Supply we have taken it into our acoustics room environment and have set our Digital Sound Level Noise Decibel Meter Style 2 one meter away from the unit. We have no other fans running so we can effectively measure just the noise from the unit itself.
As this can be a little confusing for people, here are various dBa ratings in with real world situations to help describe the various levels.
KitGuru noise guide
10dBA – Normal Breathing/Rustling Leaves
20-25dBA – Whisper
30dBA – High Quality Computer fan
40dBA – A Bubbling Brook, or a Refrigerator
50dBA – Normal Conversation
60dBA – Laughter
70dBA – Vacuum Cleaner or Hairdryer
80dBA – City Traffic or a Garbage Disposal
90dBA – Motorcycle or Lawnmower
100dBA – MP3 player at maximum output
110dBA – Orchestra
120dBA – Front row rock concert/Jet Engine
130dBA – Threshold of Pain
140dBA – Military Jet takeoff/Gunshot (close range)
160dBA – Instant Perforation of eardrum
Noise (dBA)

88W

28.0

176W

31.8

263W

34.2

350W

36.9
This unit incorporates the Seasonic 'Smart & Silent Fan Control' system. At less than 40% load, or under 25c the fan is said to disable completely.
With such a small fan there is always a concern that noise could potentially be an issue, so we put it to the test.
At loads under 100 watts and depending on ambient temperature, we found the fan would disable completely or at worst spin very slowly. It was completely inaudible at this point.
Once the unit hit a 200 watt load, the fan would spin up and would become audible, although not particularly intrusive.
At over 250 Watts the fan would become more active and at over 300 watts noise could become a slight issue. That said, there is really is no realistic situation in which you should be running this power supply at a continuous 350 watts under load.
Obviously with smaller 80mm fans there are compromises we need to accept but we do feel Seasonic could have equipped this unit with a higher grade fan that could have been (almost) completely inaudible, even at full load.
Temperature (c)

Intake

Exhaust

88W

35

38

176W

38

41

263W

43

47

350W

47

56
Internal temperatures rise to an 9c above ambient variable under full load, which considering the compressed physical layout, is certainly acceptable.
We do not often get the chance to look at TFX form factor power supplies – so the review of the new Seasonic TFX 350W has been particularly interesting today.
Seasonic has been one of the most consistent scoring power supply OEM companies in KitGuru labs over the last 3 years and it is clear to see why. Even though a TFX power supply (by nature of the form factor) forces compromises in many ways Seasonic have managed to deliver a very capable, attractive unit which will target the discerning enthusiast audience building a new small form factor PC. Those situations when space is at a premium.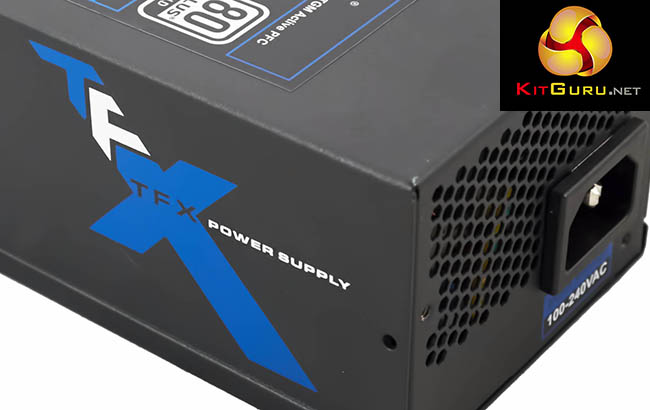 Most TFX power supplies available on the market today are unattractive looking ugly white or grey slabs of metal – so it is good to note that Seasonic are placing effort into the finish and modular cable implementation.
Technically there is little to fault. Load regulation is stellar, and the supply runs stable while emitting only a moderate amount of heat. The high levels of efficiency will certainly be welcomed in this form factor. Ripple suppression proved excellent, with only the +12V rail rising a little higher than we would have hoped under full load (55mV). Still the results overall are well within the rated tolerance levels (less than half of the 120mV max).
It is only when delivering 300-350 watts that the unit can be heard above normal system fans. While this is not a practical situation to be running 24/7 it does raise a slight concern for me.
I do feel Seasonic could have selected a higher quality fan than the ADDA AD0812MB-D90 they are using. We admire the 'Smart & Silent Fan Control' concept. The whole idea of stopping the fan at less than 40% load, or when temperatures drop below 25c is great, but at higher loads, the fan is clearly audible. Obviously we need to accept some compromises when dealing with a small 80mm fan, but still, I think Seasonic could have produced a quieter unit than this with improved fan selection.
At time of press we have no confirmed pricing, although we have had an indication from Seasonic that retail price in the UK should be £69.99 inc vat. TFX power supplies are inherently more expensive than standard ATX units so they are not directly comparable. We will update this page with links and confirmed pricing when available.
EDIT: Scan have just listed at £65.22 inc vat.
Discuss on our Facebook page, over HERE.
Pros:
great looking unit, quality paintwork.
modular cabling is excellent.
high levels of efficiency.
passed ripple suppression tests.
delivered almost 400 watts before shutting down.
Cons:
Can get noticeably loud at close to full load.
Kitguru says: If you need a TFX power supply for a specialist build, then the Seasonic TFX 350W deserves to make the final shortlist.