There is certainly no shortage of options when it comes to choosing a GTX 1060 graphics card, Nvidia's mid-range GPU is the most fiercely contested by all its graphics partners. MSI's Gaming Series interpretation of Nvidia's GPUs has been a winning formula in this competitive market in the past, let's see if MSI's latest iteration has what it takes to continue that success.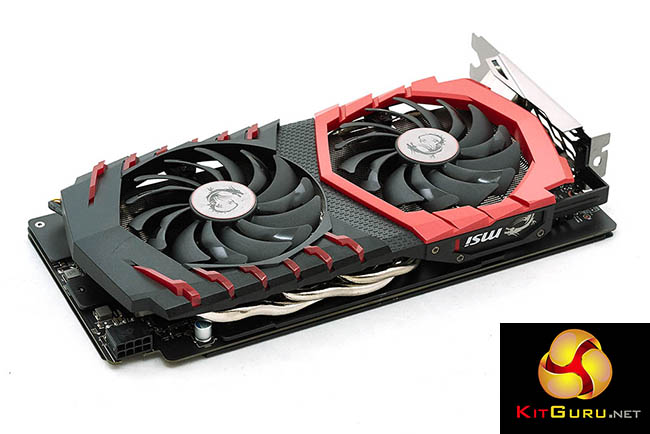 With five MSI graphics cards to choose from for Nvidia's new GTX 1060 MSI is naturally trying to draw the buyer's attention towards the more prestigious and expensive Gaming Series variants. The design philosophy is consistent with recent MSI graphics cards, even the keen observer will find there's fairly little to differentiate the MSI GTX 1060 Gaming X from Gaming variants of the GTX 1070 and GTX 1080.
The sixth iteration of the Twin Frozr cooling solution is the primary selling point for MSI's GTX 1060 Gaming – a tried and trusted blend of copper heat pipes, two large fans and semi-passive fan operation. The overall design and appearance is familiar with an established red and black colour scheme, though a styling facelift and RGB lighting does bring it into 2016.
MSI is effectively offering the same graphics twice with Gaming and Gaming X models, the only obvious difference between the two being pricing and clock speeds (see below table). ASUS has implemented a similar strategy with its GTX 1060 STRIX but MSI seems to have the edge with more aggressive pricing, even if ASUS has opted for a larger overclock on the flagship model.
The out of the box frequencies are a somewhat contentious point after a controversy embroiled a number of graphics card vendors, ASUS and MSI included, for shipping review samples at higher clock speeds than retail samples.
In this review we're testing the MSI card with its default Gaming Mode profile that is shipped to customers, a better performing "OC Mode" profile can be toggled using MSI's Gaming App software which raises the maximum boost from 1784 to 1809MHz and the memory from 8 to 8.1 GHz.
| | | | |
| --- | --- | --- | --- |
| GPU | Nvidia GTX 1060 Founders Edition |  MSI GTX 1060 Gaming X |  MSI GTX 1060 Gaming |
| GPU Cores | 1280 | 1280 |  1280 |
| Base Clock | 1506 MHz |  1569 MHz |  1518 MHz |
| GPU Boost Clock | 1708 MHz | 1784 MHz |  1733 MHz |
| Total Video memory | 6144 MB | 6144 MB |  6144 MB |
| Memory Clock Effective |  8008 MHz |  8008 MHz |   8008 MHz |
| Memory Bandwidth | 192 GB/s |  192 GB/s |  192 GB/s |
| Bus Width | 192-bit | 192-bit | 192-bit |
| Price (£/$) | £275/$300 |  £300/ $290 | £290/ $280 |
Be sure to check out our sponsors store EKWB here