Many modern storage sub-systems – both client and server – use solid-state drives to store frequently accessed data and programs and hard disk drives to keep large amounts of data that require a lot of storage space, but is not used often. Basically, storage sub-systems enjoy the best of both worlds: performance of SSDs and cost-efficient capacities of HDDs. But SanDisk Corp. believes that in the coming years SSDs will leave HDDs behind both in terms of performance and capacity, at least in one market segment.
Late last month SanDisk unveiled the world's first solid-state drives with 4TB capacity aimed at mission-critical storage applications. The Optimus Max SSD not only outperforms the latest-generation mission-critical hard drives with 10K and 15K rpm spindle speed, but also provides larger storage capacity and consumes less power. The 4TB enterprise-class solid-state drive costs a lot today, but SanDisk has clear intentions to offer even higher-capacity SSDs in the coming years as prices of NAND flash drop: 6TB and 8TB drives are projected to emerge already in 2015.
"We see reaching the 4TB mark as really just the beginning and expect to continue doubling the capacity every year or two, far outpacing the growth for traditional HDDs," said Manuel Martull, product and solutions marketing director at SanDisk, in a conversation with Computerworld.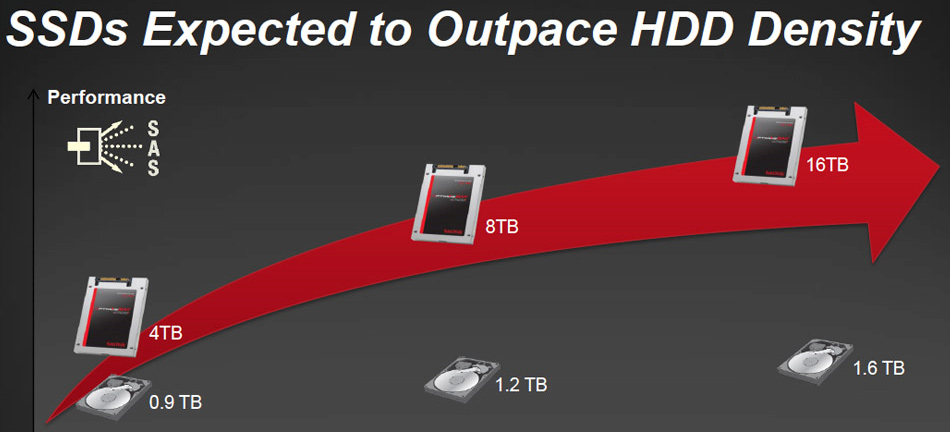 The representative for SanDisk reportedly confirmed plans to release 6TB and 8TB Optimus Max SSDs in 2.5" form-factor next year. If the company and its NAND flash manufacturing partner Toshiba Corp. keep the same pace of optimising manufacturing costs of memory, then it is reasonable to expect 16TB mission-critical/enterprise SSDs from SanDisk in 2016.
Although solid-state drives for mission-critical applications will remain more expensive than comparable hard disk drives when it comes to per-gigabyte cost in 2015 – 2016 timeframe, if they provide larger capacities, higher performance and lower power consumption, many owners of datacentres should get very interested in them.
"High capacity and small footprint of the drives will offer users a path for transitioning from hard disk drives to SSDs because they will no longer be forced to decide between cost and performance, or give up important functionality," said John Scaramuzzo, general manager of SanDisk's enterprise storage solutions group.
Even today one Optimus Max 4TB (up to 400MB/s sequential read/write, up to 75K/15K random read/write IOPS, 1-3 drive writes per day for five years) provides three to four times larger capacity compared to mission-critical 10K HDDs, two to four times higher sequential read and write performance and order-of-magnitude higher amount of random read/write input/output operations per second (IOPS). With 8TB and 16TB capacities, SSDs for mission critical applications will offer even stronger advantage.
SanDisk expects that sometimes in 2017 and onward the per-GB price of mission-critical solid-state drives and hard disk drives will be comparable. At the same time, SSDs will offer higher performance, lower power consumption and other benefits.
A market rumour suggests that the current-gen 10K and 15K HDDs represent the last generation of mission-critical hard drives as we know them. Going forward there will be other storage devices for this market segment.
Discuss on our Facebook page, HERE.
KitGuru Says: It should be clearly noted that per-GB price-parity between mission-critical SSDs and HDDs does not mean that there will be a similar per-GB price-parity between high-capacity client or server hard drives and client or server solid-state drives. For many years down the road high-capacity HDDs will continue to be used to store large amounts of data both on client and server sides.