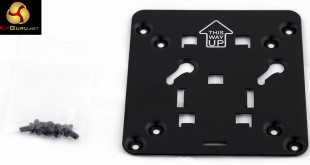 ECS has updated its Liva Mini PC and the new version is named Liva X. Its a small box that is powered by a Celeron N2808 dual core System on Chip that is capable of running either Windows or Linux.
This Liva X update is powered by a power adapter on mains plug where the original version was powered over USB. This makes it tricky to use the Liva X in exotic locations such as a car or out in the wilds away from the power grid.
The tiny chassis is passively cooled so the system is completely silent and ECS includes a VESA mount (75mm or 100mm) so you can mount your Liva X on the back of a TFT display, using either an HDMI or VGA connection. Let's face it, that means you'll be using HDMI.
ECS Liva X Mini PC Specifications:
Platform Intel Bay Trail-M Celeron N2808 SoC
Memory DDR3L 2GB/4GB
Expansion Slot 1 x mSATA for SSD
Storage eMMC 64GB/32GB
Audio HD Audio Subsystem by Realtek ALC283
LAN Realtek RTL8111G Gigabit Fast Ethernet Controller
USB 1 x USB3.0 Port
2 x USB2.0 Ports
Video Output 1 x HDMI Port
1 x VGA Port
Wireless Wi-Fi 802.11 b/g/n & Bluetooth 4.0
PCB Size 115 x 75 mm
Dimension 135 x 83 x 40 mm
VESA Supports 75mm / 100mm
Adapter Input: AC 100-240V,Output: DC 12V / 3A
OS Support Linux based OS
Windows 7 (via mSATA SSD)
Windows 8
Windows 8.1
KitGuru was sent the £150 version with 4GB of RAM and 64GB of eMMC storage however it didn't come with an OS (not even a Linux installation) so we installed Windows 8.1 as a download from Microsoft.
It was somewhat annoying that ECS supplies drivers on a CD when there is no optical drive in the Liva X. It would make sense for ECS to supply drivers on a USB drive or load them in the internal storage.
Incidentally, if you wish to install Windows 7 you'll need to open the Liva X and insert an mSATA storage drive as you can only install Windows 8.1 or Linux on the eMMC. Windows 7 doesn't have the necessary driver.
Once we had installed Windows 8.1 along with the usual Windows updates and the necessary drivers we found the system ran perfectly well although performance is as forgettable as you would expect. The CPU isn't too bad but the graphics are very limp indeed. Funnily enough it isn't the lack of graphics grunt that causes problems – obviously you cannot play games with the Liva X – however there is a problem with the Intel graphics drivers.
Specifically you need to scale the display over HDMI so the image is the correct size with the system tray and icons all line up nicely. The problem is that the Intel drivers don't give this option on this particular hardware. The driver disc came with driver version 10.18.10.3958 and the Intel update utility suggested and installed version 15.33.30.64.3958, however that made no difference and the option to change aspect ratios was still greyed out.
This is a shame as this makes the Liva X difficult and unpleasant to use on a regular TFT display, although you have to hope that a future driver update will fix this problem.
Testing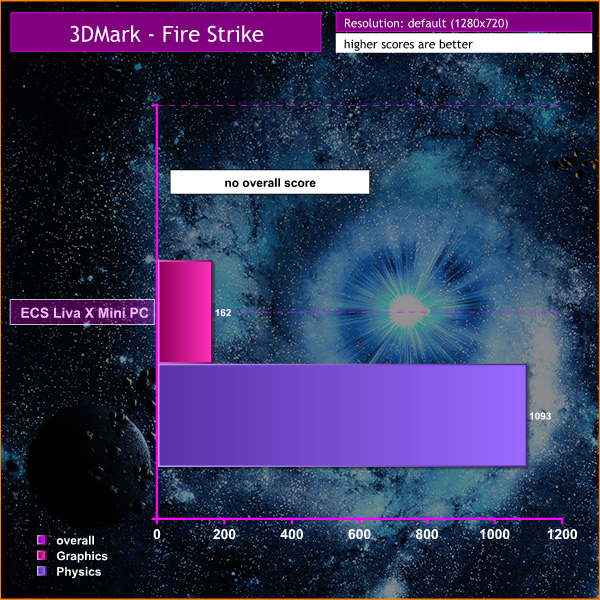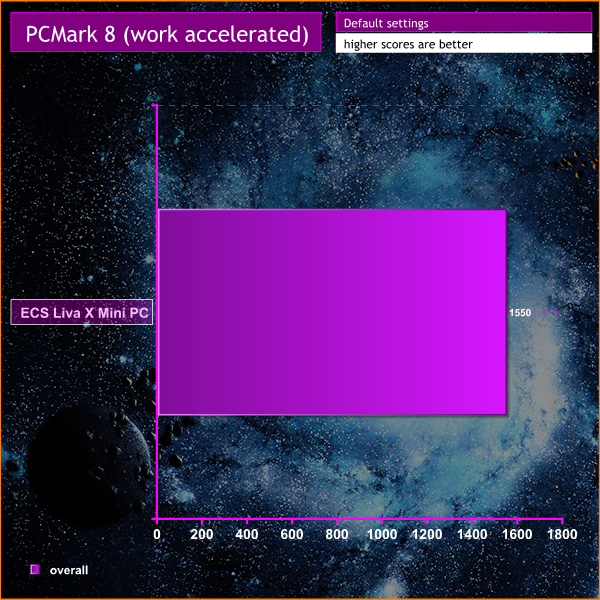 As you'll see from the graphs, the Liva X is a low performer. Very low. Mind you, it only draws 4.5W at idle and 12.5W under load so there isn't much going on under the bonnet. Having said that, the Liva X did manage to run PC Mark 8 and Media Espresso, it just did it rather slowly.
Thermal Dynamics
3D Mark reported a CPU temperature around 75 degrees under load which was much higher than expected, however you won't be running 3D Mark on this system so that isn't really a concern. Still, it was strange to see that reported figure yet the chassis was cool to the touch.
Acoustic Performance
ECS Liva X is passively cooled and therefore silent.
Closing Thoughts
The ECS Liva X is a tiny, passively cooled Mini PC that will be sold through Maplin, and that makes perfect sense as its natural owner is the sort of bloke who has a project on the go.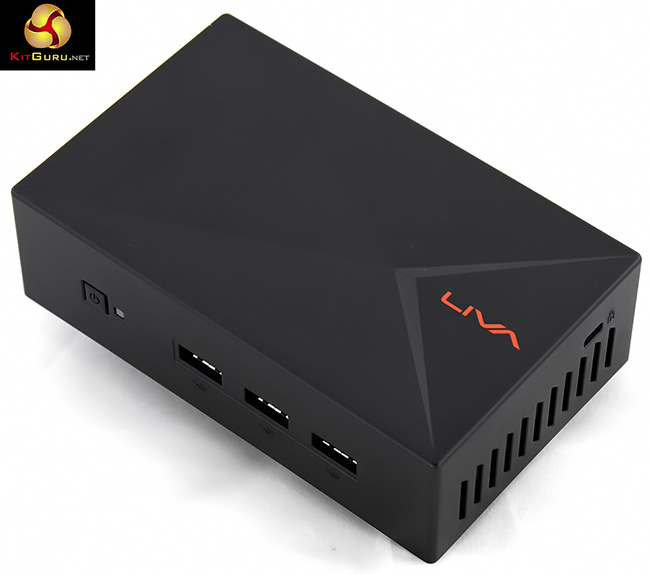 Hopefully you won't buy Liva X and install Windows to use it as a conventional PC as it doesn't have the performance and the graphics drivers are annoying. Far better if you have some cunning plan in mind and need a cheap and silent PC to act the the brain behind the project.
Is that's your way of thinking then Liva X could be right up your alley.
4GB RAM /64GB eMMC without OS £150
4GB RAM /64GB eMMC with Windows 8.1 £155
4GB RAM /32GB eMMC without OS £130
More information, over HERE.
Discuss on our Facebook page, over HERE.
Pros:
Small form factor.
Passively cooled and silent.
USB 3.0 port.
802.11n Wi-Fi.
Option of adding mSATA storage.
Impressively cheap, especially if get a Windows 8.1 license included for £155
Cons:
Non-Windows version is supplied without Operating System when it really should come with Linux.
Intel graphics drivers don't handle HDMI properly.
The need for a mains power supply reduces your options for using the Liva X in imaginative ways.
Lacks the grunt you need for most PC tasks.
KitGuru says: Liva X is quirky and cute but lacks the power to make the grade as a desktop PC.